Site Area:    44.62 m2 (482 sq. ft.)
Building Area:    31.1 m2  (336 sq. ft.)
Total Floor Area:    86.22 m2  (931 sq. ft.)
Structure:    Reinforced Concrete
Photography:     Makoto Yoshida
Here is yet another tiny lot in the middle of Tokyo. Clearly, imagination is the first requirement when determining how to meet a client's needs when faced with a block of dirt just 7 metres x 6.5 metres. Now subtract boundary offsets and the added complexity of the legal requirement to provide off-street parking if one wants to own a car. That left a possible building area of 31.1 m2!  To give some perspective, a typical backyard swimming pool covers an area of around 35 m2!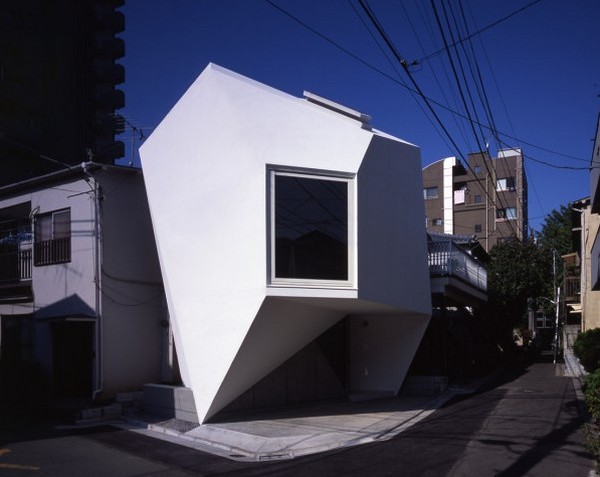 Mineral:
Minerals are phenomena that combine abstract properties (conceptual objects) with nonfigurative properties (objects whose presence of matter is more tangible). Changes from transparent to translucent to opaque occur according to light intensity and angle. The mineral body cannot be regarded as a simple element.
Reflection
Reflection is a recent concept pertaining to the perception of space. Vision is an important factor in the recognition of space. By controlling geometries (facets with three factors: transparent, translucent and opaque) and entangling them in a three-dimensional way inside the internal space, visual reflection is induced. This results in a deviation from the restrictiveness of space.
As people move inside the space, or as light enters from changing angles, the facet's presence changes, creating a dynamic space. In contrast to the abstractness of the polyhedron are the kitchen, counter shelf, stairs, floors and toilet box equipped with functionality that exist as nonfigurative objects.
The third floor bathroom unit features a mirror finish in stainless steel, which combines both concepts of object and reflection, and presents itself as a substitution of both 'minerals' and 'reflection'.
The Relationship with the surrounding environment is expressed in the small plaza open to the street, a piloti like space that emerged after placing the garage on ground floor. Its liberating feeling might trigger some change in the surrounding streetscape.
  Click on any image to start lightbox display.  Use your Esc key to close the lightbox.  You can also view the images as a slideshow if you prefer  

Another very difficult, very small site with an incredibly elegant solution is London's Palmwood House…