Buenos Aires, Argentina – Estudio HMA
Built Area: 126 m2
Exposed Area: 63 m2
Photography: Esteban Lobo
Houses with multiple rows of identical floors sheltering different residents are common in the city of Buenos Aires. It is definitely a challenge for a designer to bring more light, air, and space into this form of housing. Not to mention adding a pool.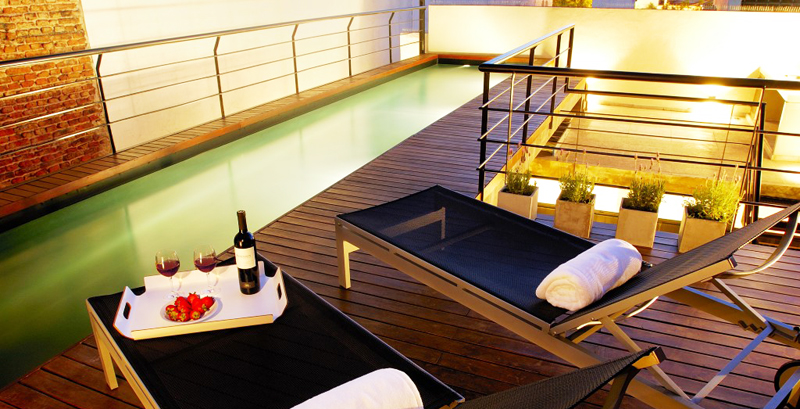 This house consists of three levels. The ground floor contains two bedrooms which both have direct access to the courtyard that separates them. Its hall has a little workplace just in front of the courtyard. The second floor is where you can watch TV, cook, and eat your meals. Given the limitations presented by this building, you'll be surprised to see a complete pool area in the terrace.
Minimum maintenance and sustainability are the major requirements of this house. The pool is equipped with automated cleaning systems from Europe for low maintenance. Dual flush toilet systems, double glass windows, and VRV equipped air conditioning system all help for a sustainable home. Luckily these requirements fit the design aspect, which is aimed at giving contrast to the heavy concrete that make up this structure. Topping it off, this project achieved all factors to having a comfortable and elegant home while maintaining its Porteño identity.
Architect's Notes:
From the beginning of the project we understood the intrinsic qualities associated with this piece of urban fabric. We here deal with a rectangular space with measures that do not exceed 7.50 m x 12.00 m located practically in the heart of the square. This is a dwelling unit of the type of the row houses in the city of Buenos Aires. At the beginning of the last century it was common to build small houses with the conceptual characteristics of the "sausage house" multiplied for the depth of an urban lot. The project then rose as a challenge to customer demands whose programmatic needs far exceeded the possibilities offered by the nature of the terrain. We also had to be aware of the constraints brought by the responsibility of reforming a historic site that was protected by the law of the city of Buenos Aires.
Click on any image to start lightbox display. Use your Esc key to close the lightbox. You can also view the images as a slideshow if you prefer 😎
If you liked this, you will also like viewing …