We show lots of ideas for houses but, if you live in a major city or many parts of Europe and Asia, there's a big chance you will be living in a shared housing project that uses available land more efficiently.  When we look at most apartment/unit buildings, they tend to be very conservatively styled, perhaps in an attempt to make their bulk less obvious.  Father and son Gábor and Bence Turányi know how to step out of the square. The coloured glass looks and is vibrant and is very low maintenance being both permanent and self cleaning. We think you would have to try very hard to be a 'grump' living here as the colours would lighten and brighten your outlook every day.
We love this development and hope you enjoy viewing it.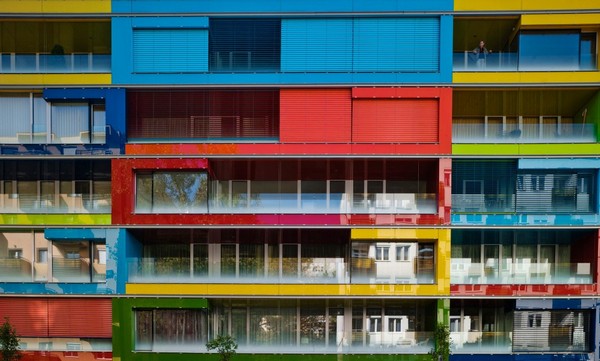 From the architect:
"This colourful apartment block is located in the South of Buda in district XI. It is one out of two residential parts of a multifunctional development called Allee' project. We were inspired by the surroundings of the site with many different apartment blocks from the thirties and sixties of the last century.
The extreme colourful facade is made of shiny coloured glass panels. In the same colour, metal sun blinds keep the sun away from the big glass windows and they also provide privacy for the residents. When the blinds are closed, every single apartment looks like a separate unit.
Apart from its flashy image, the high-quality of the used building materials together with the careful detailing makes this apartment building exceptional in Hungary. It's mainly thanks to the involvement of the very demanding and concerned professional client that this controversial building could be realized in Budapest. The project won several prizes, including the CIJ 'Best Residential Development', the Casalgrande 'Grand Prix' and the 'Pro Architectura' prize in 2010."
Click on any image to start lightbox display.  Use your Esc key to close the lightbox.  You can also view the images as a slideshow if you prefer  😎
If you like this style of building, you may also like 

The Lofts Yungay

…