When most of us think of pre-fabricated housing, images of low quality trailer homes spring to mind.  But in recent years, a combination of new technologies, better designs, experimentation and rising construction costs have seen a renaissance in factory built housing.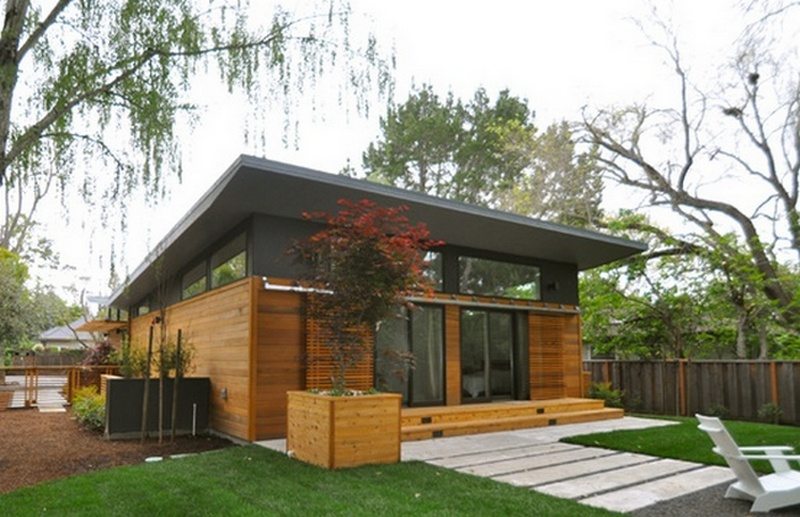 If you picture a typical building site on a windy, rainy day, you'll immediately understand why prefab may be the future for many of us.  A factory built home is weather independent meaning that trades can continue to work efficiently through rain, hail, snow or burning heat.  Now add to that minimal materials wastage and you can end up with a top quality home, sooner and at lower cost, than conventional construction would allow.
Would this mean the end of owner-building?  Absolutely not as a factory built home can be fitted out to any level, including just as a shell.  Instead, it would allow the owner-builder to capitalise on the economies of scale offered by prefab while delivering a weatherproof, lock-up structure ready for fit-out.
Prefab could expand the opportunities for people to be involved in the construction and completion of their own homes.  Owner-building from the ground up requires skills and dedication many of us find daunting, but we'll happily tackle a renovation or small addition. Prefab allows anyone to determine their skill level and then commit accordingly – from a shell to the finished product.
The two homes shown here combine the skills of architect, Michelle Kaufmann and the architectural team at Design 101.  Their respective notes can be found below the gallery.
Can you see the advantages of prefab in your situation?
Click on any image to start lightbox display.  Use your Esc key to close the lightbox.  You can also view the images as a slideshow if you prefer 

Michelle Kaufmann
I am happy to share these photos of a recent project we designed in northern California. I designed the home with Studio 101 Designs and it was built using modular construction by Blazer Industries. The home was set during a 2-day period from 2 modules and then finished (or "buttoned up") after that.
This is a lovely example of designing a space to feel larger than it is through the use of open spaces, high ceilings, high clerestory windows, sculpted natural light and lots of glass doors to outdoor spaces. The home produces its own energy through PV panels, and is designed with super efficient systems to reduce the amount of energy and water required. Through the use of things like radiant flooring, spray in high performance insulation, dual-pane glazing, high efficiency cooling systems, the home exceeds California's Title 24 compliance requirements by 30%. The project went through an exhaustive evaluation as a part of the California Solar Initiatives New Solar Homes Partnership (NSHP) program which helps create a self-sustaining solar market by ensuring high levels of energy efficiency in projects seeking solar system rebates. The 5kW roof mounted photovoltaic system produces the homes energy leading to it being a net-zero energy self-sustaining home.
The siding is FSC certified clear cedar with cement board accents. The flooring is strand woven bamboo, the cabinetry is also FSC certified and interior finishes were chosen for no and low VOCs.
Studio 101
Studio 101 Designs holds the view that the places we live should be useful and functional, beautiful, and durable. These are principles laid out by Vitruvius 2,000 years ago which have guided architects ever since. However, the unstated framework of those principles has always been the constraining economics of time and resources. Today, perhaps more than ever, we are seeing the pressure of those constraints as the world's rate of economic expansion seems to be nearing its limits. We believe the recent economic downturns around the globe are evidence of this unsustainable growth hitting a wall. Our approach is to acknowledge these constraints, and to try to live within them – not to press outward on them. We choose to focus on making buildings that not only aspire to the Vitruvian ideal, but also minimize consumption of resources, time, and energy, both during and after construction. Our strategy is to work closely with clients and builders (on site and at the factory, as the case may be) to design efficient, simple spaces that accommodate multiple uses wherever possible, using materials, methods, and forms that minimize life cycle cost.
We design both prefabricated modular as well as custom site-built houses. Our experience and collaboration with acclaimed prefab-green pioneer Michelle Kaufmann and with factory partners (including Blazer Industries) have convinced us that sustainable prefab modular building is not only feasible, but a potential solution to inefficiencies inherent in traditional construction methods. Having said that, there are situations which require custom site-built solutions for various reasons, and we approach those projects with the same design ideals.
Overall, at Studio 101 Designs, our philosophy is: do more with less.
Want to see the most innovative prefab home we've ever come across?  The Drew House…