Built area:      850 square foot  (79 m2)
Year built:     2013
Most of us want the best home we can afford. Nice suburb, good size, quality finishes. But should we be focussed on the same things if we're building a cabin or any vacation retreat? Isn't the whole purpose of a retreat to get away from all of those every-day concerns? The cabin featured here is all about function and 'bang for buck'. It's about NOT having to worry about being the best but rather just being!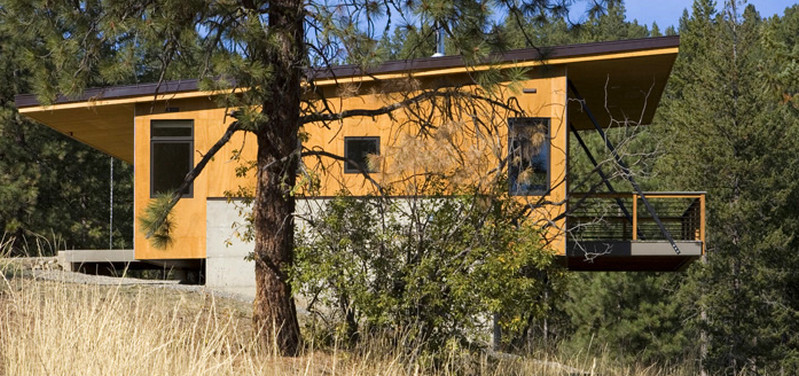 Simple sheet materials and a box design with a skillion roof have reduced wastage and labour costs. This extends to the inside where the use of ply and plasterboard have again maximized material efficiency while emphasizing the simplicity of the cabin's form.
From the architect:
Two concrete walls cradle the box and allow it to cantilever over the hillside, reducing effective site disturbance. Elevating the cabin allowed for unobstructed views down slope and to the mountains beyond, transforming a modest living space from ordinary room to a viewing platform that extends from inside to out.

We believe this project demonstrates our belief that architecturally interesting solutions can be achieved for budgets of all sizes without sacrificing quality or aesthetics.
Click on any image to start lightbox display. Use your Esc key to close the lightbox. You can also view the images as a slideshow if you prefer 😎
If you liked this project, you will also like viewing these cabins…