Built Area: 185.8 m2
Year Built: 2017
Photographs:  Paul Warchol
Ephemeral Edge is a retirement home and weekend retreat. It's located north of New York City, a three-hour drive away. It's a home that enjoys the best of both worlds – a constructed pond and a forested hillside. Both areas feature stunning distant views. To fully maximize such views, the architects designed a curved house.
The house stands along the edge of the pond. The waters reflect the day-to-day life of those who live in the house. Almost like magic, the pond echoes the changes in light, seasons, and temperature. It's like living in water – but not really. One simply gets the sense of being one with the outdoors while safely cocooned indoors.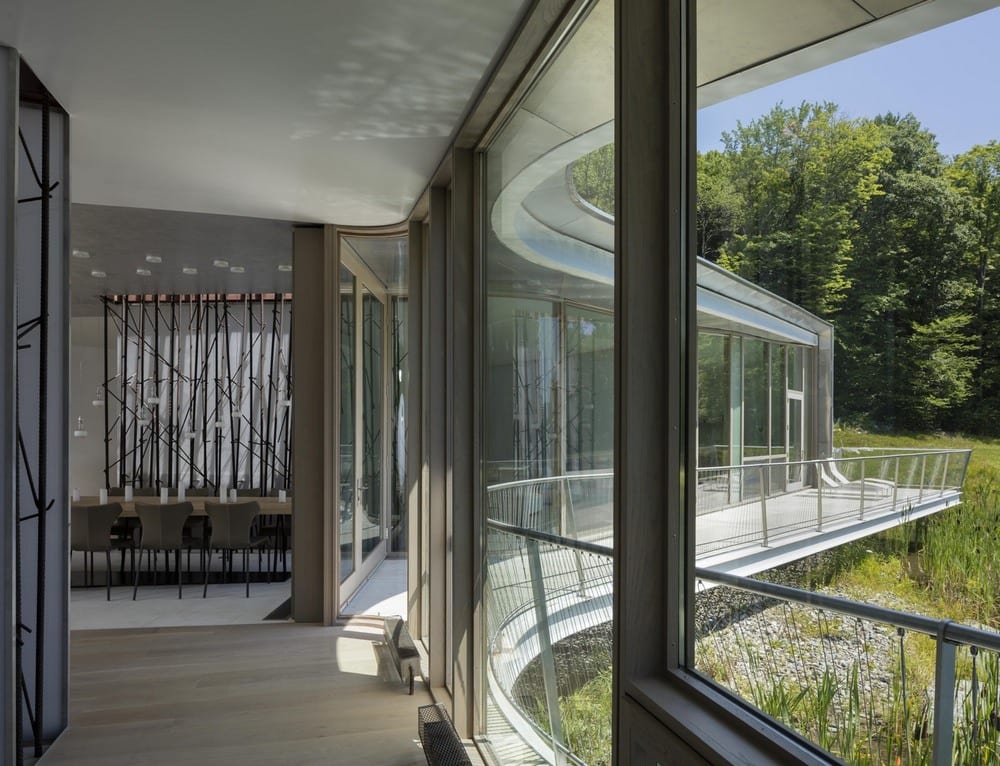 Every twist, turn, nook, and cranny of the house corresponds to its function. Intimate and private spaces are clearly defined from common areas. Despite its size, the house has a dedicated space for everything – a well thought-out plan executed right. To sum it up, Ephemeral Edge is like poetry in architectural form.
Notes from the Architect:
Designed for a family of five, this 1,950-square-foot weekend retreat sits in the outskirts of Austerlitz, a town about a three-hour drive upstate from New York City. The bucolic site lies at the convergence of two diverse conditions: a forested hillside and a constructed pond, both overlooking a panoramic vista in the distance. In order to capture the views, New York–based Dean/Wolf Architects curved the house in plan, allowing the building's steel structure to sit on concrete foundations along the pond's edge, an effect which impressed the jury. "What makes this project attractive is the way the building embraces the pond," juror Joseph Rosa said. Except for a patio that bisects the house, from pond to forest, the forest-side elevation is kept mostly opaque, directing the eye out through the lakeside façade. Glazing on that elevation capitalizes on the site's over-water views; the interior is partitioned such that each room creates a sight line to the center of the pond and beyond.
Click on any image to start lightbox display. Use your Esc key to close the lightbox. You can also view the images as a slideshow if you prefer.
Exterior Views:
Interior Views:
Drawing Views:
If you liked this house, you'll also like Window on the Lake…