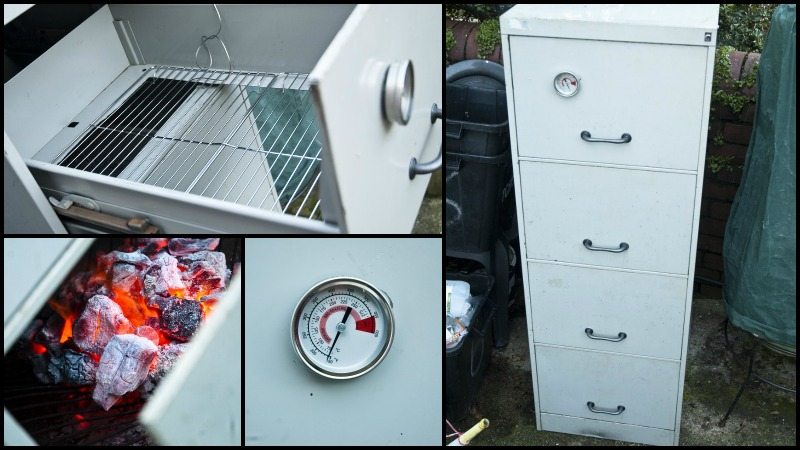 The start of the summer holidays is widely regarded as the unofficial kickoff to the backyard grilling season. But the calendar is becoming increasingly irrelevant as our shared love of all things grilled and smoked becomes more of a year-round obsession – even in regions that experience cold winters!
That's probably why there are lots of smokers and even more plans to make one. But how many are conversation starters like this one??? Old filing cabinets are easy to get hold of – often for free! So, if you've ever wanted to have your very own smoker you will surely love this idea.
Our Pick
Analog Electric Smoker with 3 Smoking Racks
Built-in temperature gauge
Temperature control is easy with analog dial
Wood chip tray slides out for easy ash removal
Three chrome-coated smoking racks
1,500-watt heating element for even, consistent smoking
Buy on Amazon
We earn a commission if you make a purchase, at no additional cost to you.
05/15/2022 01:01 am GMT
The digital era has indeed taken away the need for a lot of the common items we used to have back in the '90s. And though many people and businesses still do need filing cabinets, there has been a decrease in demand for this furniture. Just take a trip to your local thrift stores, or search up Craigslist or Gumtree and you won't have a hard time finding a couple of these units! Maybe you've already got one at home storing moldy old papers that should have been thrown out years ago!
Yes – filing cabinet paints s can contain some hazardous chemicals, but there are paint removers and spray paints for grills that you can use to make your DIY smoker safe.
How to remove paints from your old filing cabinet?
Wash the filing cabinet with soap and water
Wipe all parts of the filing cabinet with a cleaning solution, then dry it with a piece of fabric.
Take out first the loose paints with a cutter or any removing tool, then use paint thinner for the remaining paints that are hard to remove. Remember to use a piece of fabric and gloves when using paint thinners.
Using a paintbrush, spread the paint remover on all parts of the filing cabinet, and leave it for five minutes to absorb (Check the paint remover instructions written on the bottle or box of the product, to ensure how many minutes before it is absorbed). If the paint looks crumpled, then it is ready to be pulled off. 
Again, use a cutter or any removing tool to get rid of the remaining paint. Add more paint remover if necessary.
Lastly, wash the filing cabinet thoroughly with a sponge, soap and water or a cleaning solution. Remove any residues. Let it dry. And now you can start making your own DIY smoker!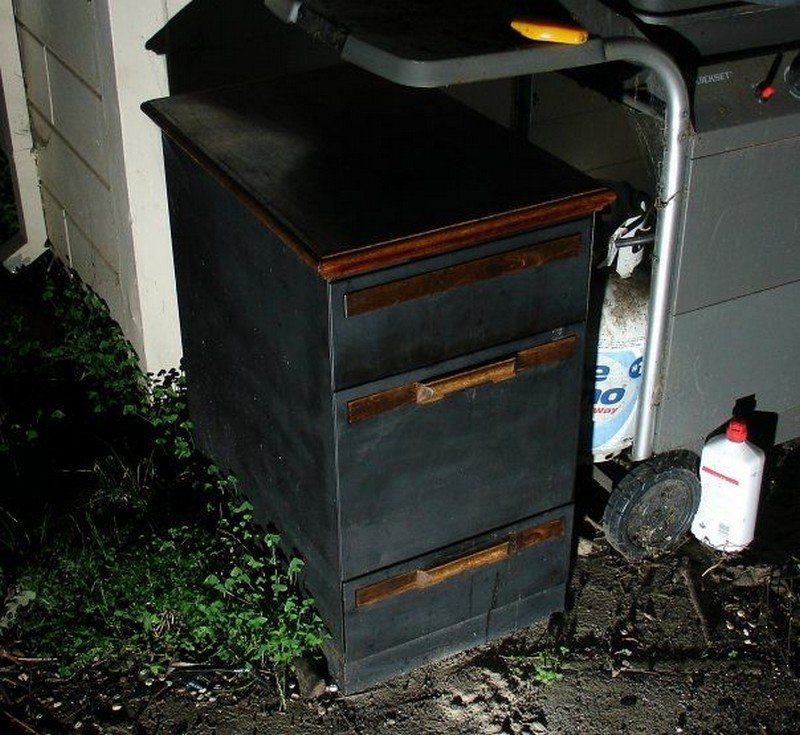 What are the materials needed to make a smoker out of an old filing cabinet?
We say this is one relatively easy DIY smoker project that anybody can do. You're not only helping reduce trash from the landfill, but you'll also end up with some delicious meals on your dinner table! So stop filing paper and start filing a few epicurean delights :D!!!
You'll need the following materials and tools to turn your old filing cabinet into an effective smoker.
Materials:
Filing Cabinet
Aircraft Remover (be careful and follow instructions well when using this product)
Washers, Grommets, Screws, Nuts
Grill Grates
Metal Drawer Handles
Thick Leather Gloves
Rubber Gloves (make sure they can be used for working with the aircraft remover)
Tools:
Hack Saw
Drill
Pliers
Screw Driver
Tin Snips
Hammer
Grommet/Punch Press
Miter Saw
Click on any image to start the lightbox display. Use your Esc key to close the lightbox. You can also view the images as a slideshow if you prefer