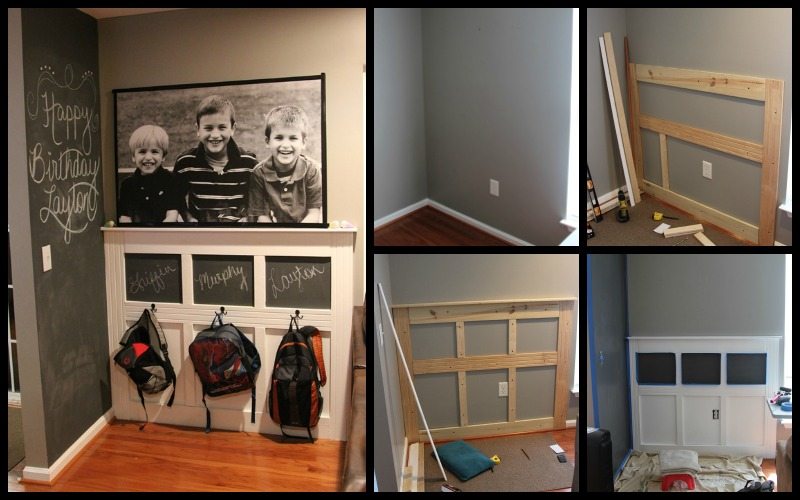 Keeping the school stuff together makes the stress of mornings less for everyone in the family. If you're looking for a storage system for your kid's backpacks, then this DIY backpack station might interest you!
This project not only provides great storage for your bags and whatnot, but it also serves as a beautiful outfit for a rather dull wall. The long ledge on top allows for a display of family pictures and souvenir items.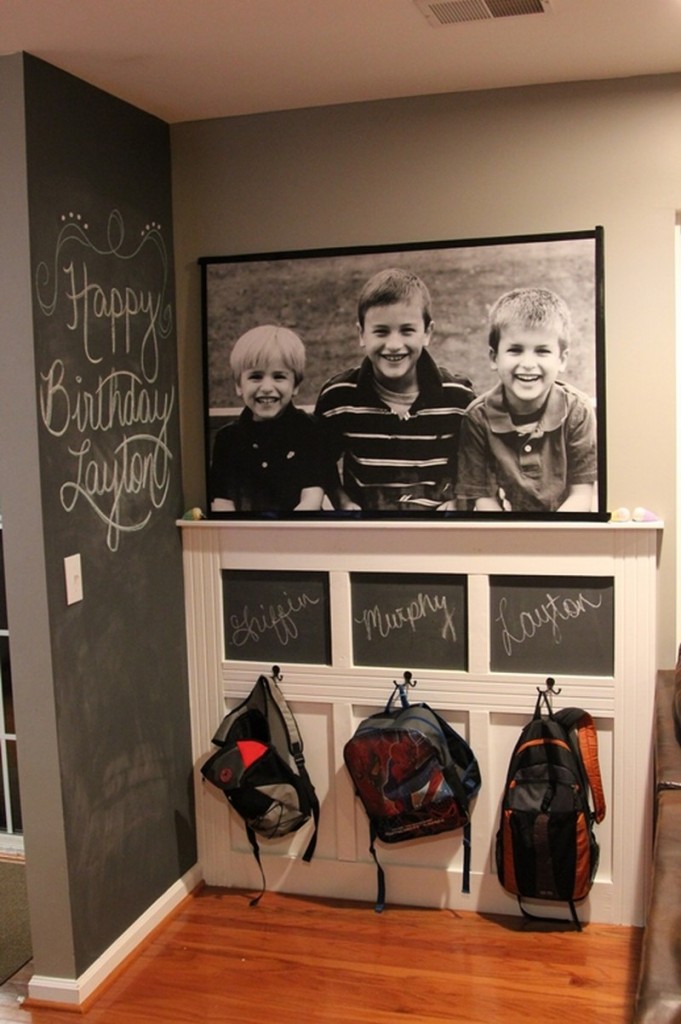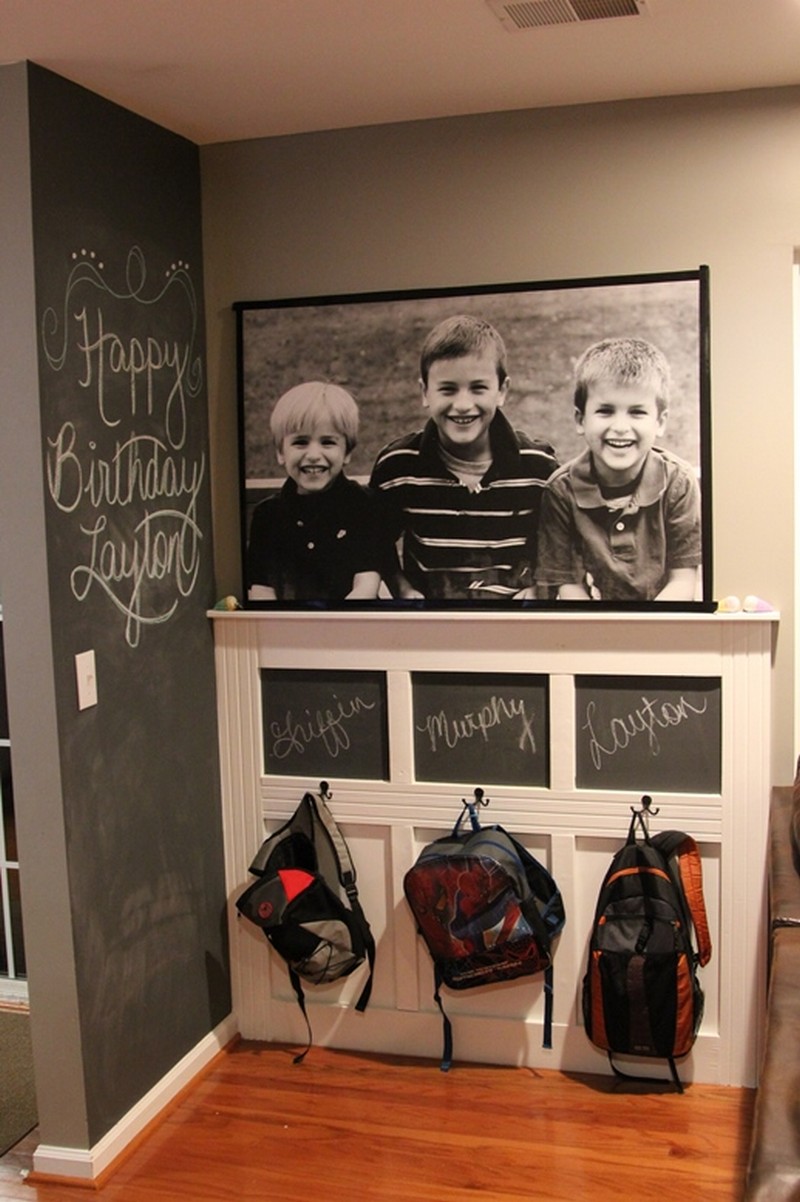 Awesome backpack station idea for your family.
With this DIY piece of furniture, you can have a space-saving storage solution plus a beautiful entryway to welcome anyone entering the house! Could this be your next weekend project?
Click on any image to start the lightbox display. Use your Esc key to close the lightbox. You can also view the images as a slideshow if you prefer 😎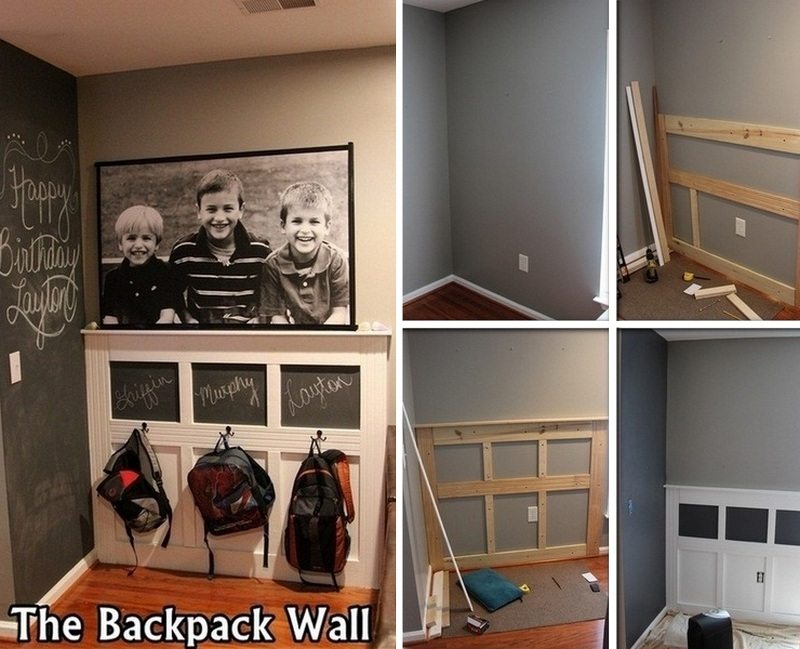 What are the materials needed to build a backpack station?
This is a great way to keep your family organized and make sure everyone's belongings are in one place. First, you'll need to gather some supplies.
Materials:
¾" thick Wood boards (3 and 6 inches wide)
Screw-in Hooks
Wood Filler
Carpenter's Tape
Primer and Paint
Chalkboard Paint
Tools:
How to build a backpack station?
If you're like most people, you probably have a backpack full of textbooks, materials, and other essentials that you need to tote around with you on a daily basis. lugging all that weight around can be a pain, and it's easy to forget things when you're constantly on the go.
One way to make your life a little bit easier (and your bag a little bit lighter) is to build a backpack station. This can be a simple shelf or cabinet near your door where you can store your bags and all of its contents so you're never caught off guard without something you need.
Here are a few tips for building the perfect backpack station:
1. Measure the wall area
Using your tape measure, measure one side of your wall. Make sure it's big enough to hang all your kids' backpacks.
2. Cut and mount the 1×6
Cut and mount the 1×6 on the left side of the wall. Make sure the blade is parallel to the wall. You may need to adjust the blade depth to get the desired look.
3. Cut and mount the 1×3 for the studs
These studs are placed horizontally across the bottom, middle and top. The middle one is where you will add the hooks
4. Cut and mount a 1×3 for the shelf
To make it look nicer, you can add another 1×3 on top of the horizontal piece located above the middle stud. This will serve as their small shelf.
5. Add wood putty
Be sure to add wood putty on the seams and screw holes before you begin painting. It's important to let the putty dry completely before proceeding. This will help ensure a professional-looking finish.
5. Sand it down
Once dry, you can now smoothen them by sanding and wiping off the dust.
6. Add hooks for the backpack
Don't forget to add the hooks for your backpacks! You can use an ordinary C-hook or screw-in hooks for your backpack station.
7. Apply paint
To make it look like the ideal backpack station for your boys, why not paint it blue or green! or maybe a pink or yellow for your girls' backpack station! After painting, just let it dry for a few hours or a day.
8. Mount the chalkboard
A large chalkboard and a frame of your kids can be added on either side for a touch of more detail. You can add notes to the chalkboard for your kids! Such a personal touch! Isn't this the perfect backpack station for your kids!
Great job! Your kids can now enjoy using their backpack station! This will help them keep their backpacks organized and ready to go to school each day. 😎
Thanks to Scatter Shot for this great project.
If you liked this project, you will also like viewing these storage ideas…