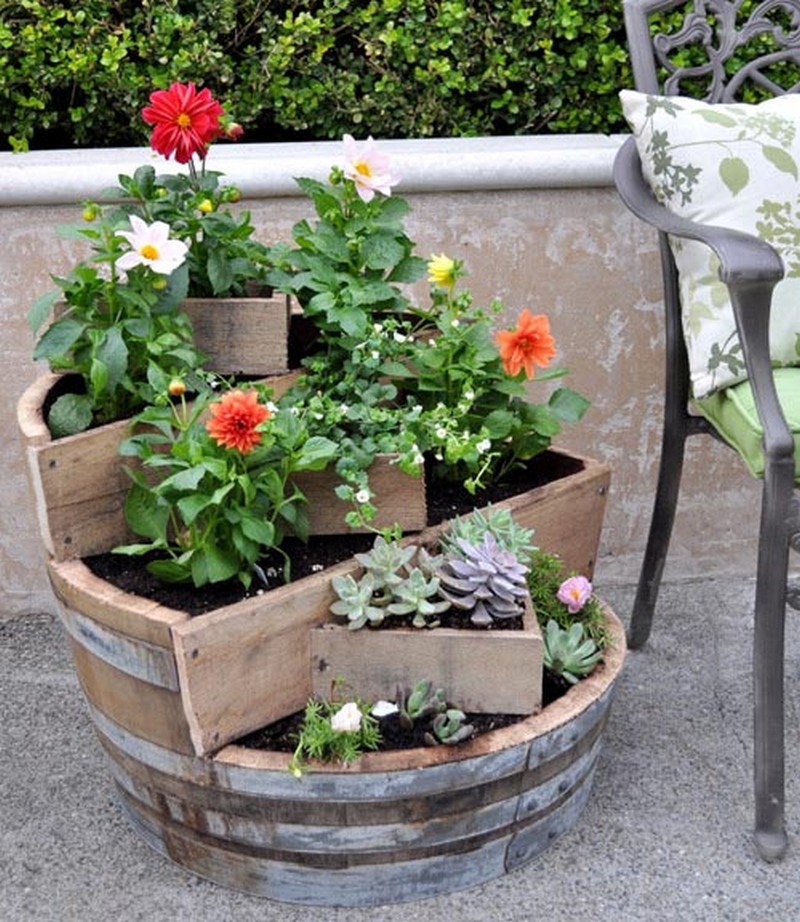 Want to have an impressive planter for your outdoor space? How about this DIY wine barrel planter? Wine barrels are a great option for those looking for a unique planter, especially if you have very limited outdoor space.
Having a garden could be one of the frustrations of those living in small homes where there is little to no outdoor area. If you can relate to this, a space-saving garden is a good solution!
This 3-tiered wine barrel planter comes from only one barrel. By using old pallets, you can add more compartments for more kinds of plants to grow in.
Do you like its rustic, weathered look? Make one for your garden now! 🙂
Materials:
Wine Barrel
2 strips of Wood ½x6x26"
7 strips of Wood 1/2×10-12" (length varies with mitred corners)
Wood Screws
Twine
Tools:
Jig Saw
Compound Miter Saw
Power Screwdriver with Drill Bit for holes
How to make a DIY Wine Barrel Planter?
The Wine Barrel
A wine barrel is a large, often wooden container used to store and age the wine. Wine barrels can be made of a variety of materials, including oak, chestnut, and cherry, but oak is the most common.
The size of a wine barrel can vary, but most hold between 59 and 80 gallons (225 and 300 litres) of wine. Wine barrels have a characteristic round shape and are often bound with metal hoops.
The inside of a wine barrel is usually coated with a food-grade resin called "bark" that helps protect the wine from oxygen.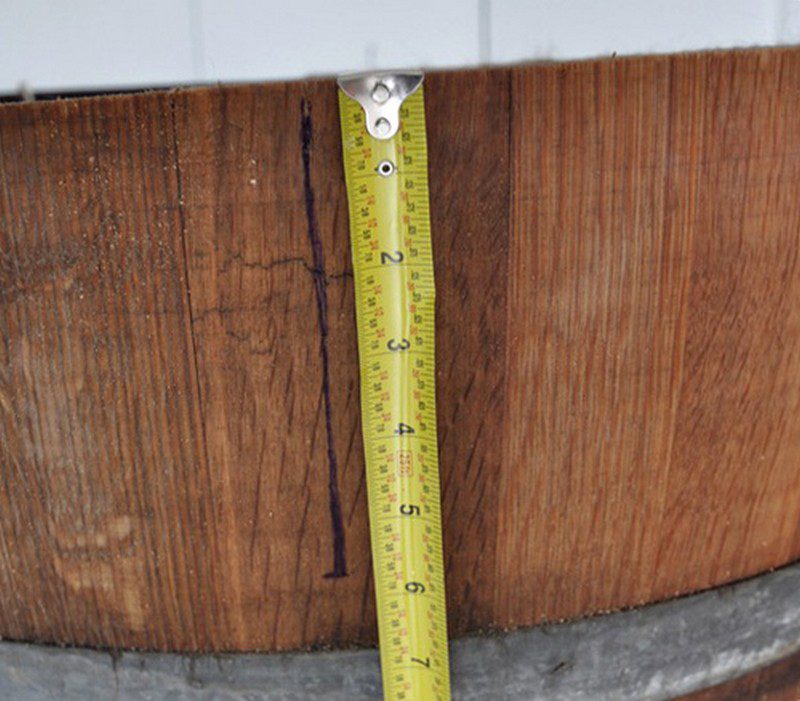 Planning
When you want to turn a wine barrel into a planter, it's important to plan ahead and decide what kind of look you're going for. That way, you can safely cut the parts of the barrel that you'll need and avoid any accidents. If you're not sure where to start, consider looking for some inspiration online or in magazines.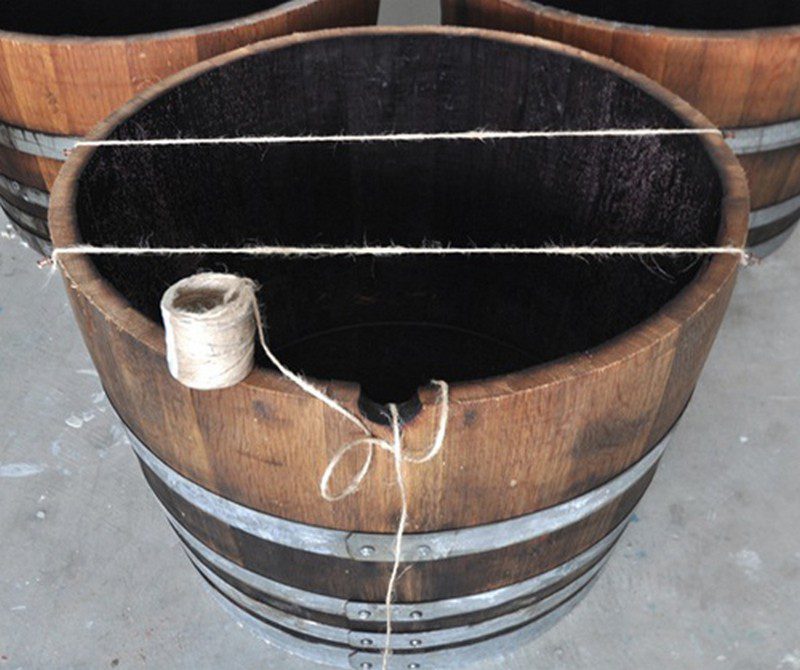 Cutting
Once you have a general idea of what you want your wine barrel planter to look like, you can start measuring and marking the barrel accordingly. When marking the barrel, use a thick tip pen so you could see the markings properly when you cut the barrel.
Then, use a jigsaw to carefully cut along your marked lines. If you're not comfortable using a jigsaw, you can also ask a professional to do the cutting for you.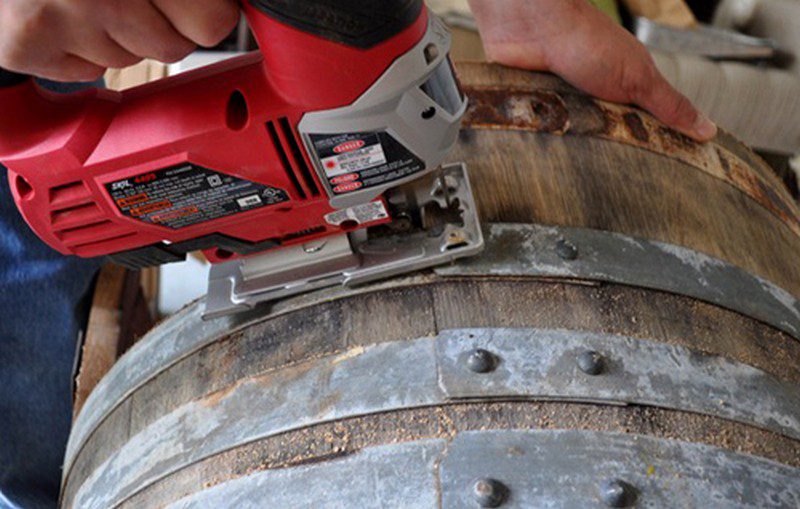 Assembling
After you've cut the barrel to the desired shape, you can now add the partition for your wine barrel planter using old pallets. Make sure to cut the pallets to fit snugly inside the barrel, then nail them into place. This will create a sturdy frame for your planter. Then, sand down any rough edges and finish it off with a sealant.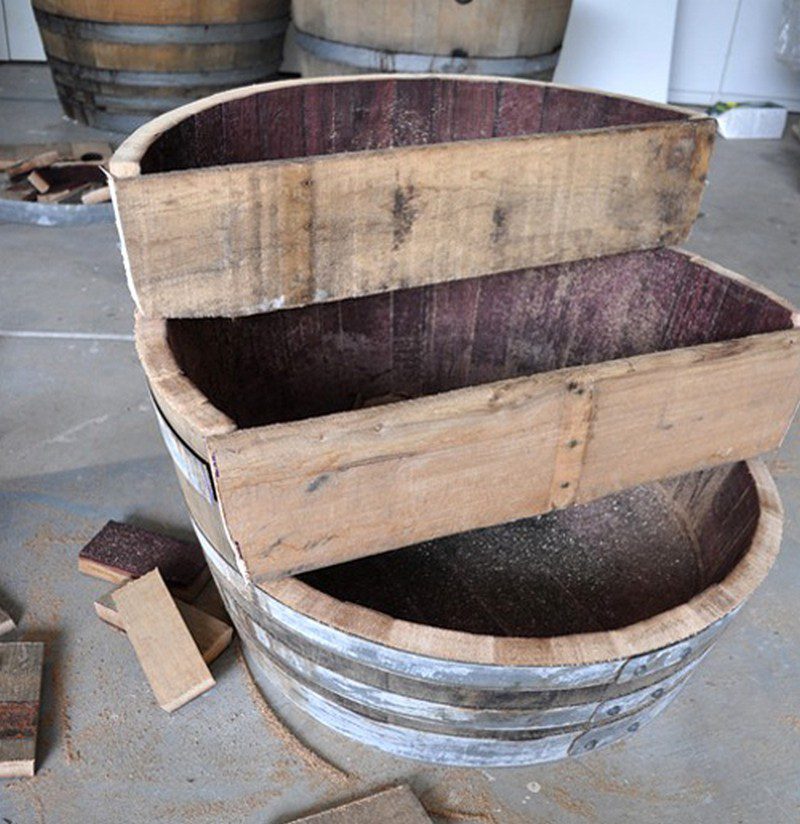 When planting in a barrel, it is important to drill holes in the bottom for drainage. This will ensure that your plants do not rot. If you do not have drainage, the water will pool at the bottom of the barrel and the roots of your plants will be sitting in the water, which will cause them to rot.
If you want your wine barrel planter to be colourful, you can paint it the colour of your choice. Would you want to add this wine barrel planter to your tiny outdoor space? Well, if you do, grab a wine barrel now!
Click on any image to start the lightbox display. Use your Esc key to close the lightbox. You can also view the images as a slideshow if you prefer 😎
If you liked this project, you will also like viewing these recycled and repurposed…