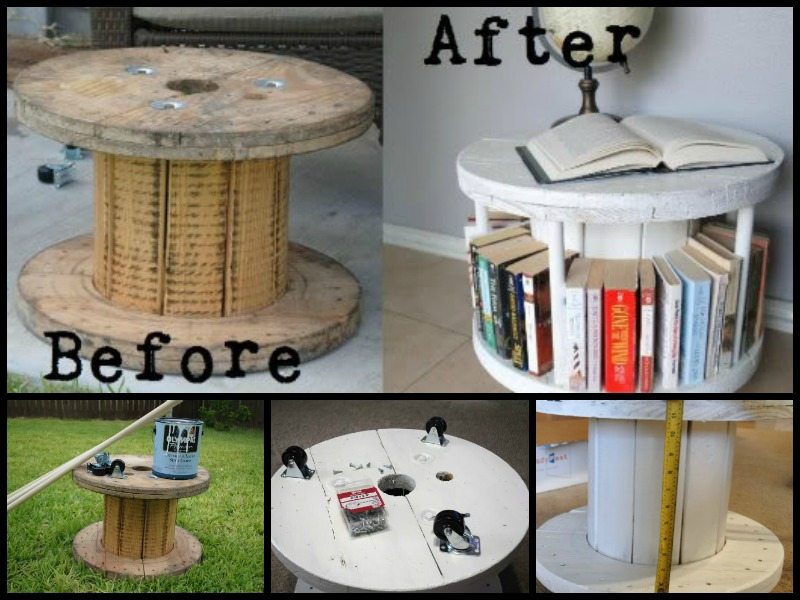 Looking for a way to upcycle an old spool? Why not turn it into a bookcase? A Spool Bookcase for a bookworm. 🙂
Reading books enriches our lives and alters our perspective of the world. Reading is an art. Books help us open our imaginations. They give us knowledge, wisdom, courage, and entertainment.
We read to educate ourselves about the ideas, people and events around us. We read to hold a conversation with the author. We read to learn about ourselves and others. We read to escape reality.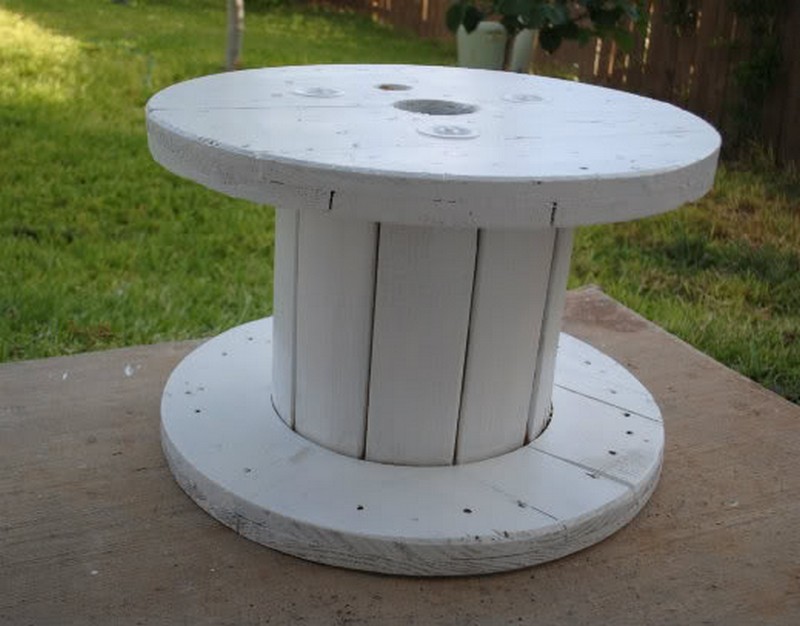 And if you're like me who loves to read, then you must have a lot of book collections.
When we upcycle, we are taking a small – but important – step toward improving the environment.
If you do not buy anything new, fewer new things have to be manufactured. The vast majority of manufacturing processes hurt the environment.
Every item you upcycle, you ensure one less item in a landfill somewhere, too. That's always good.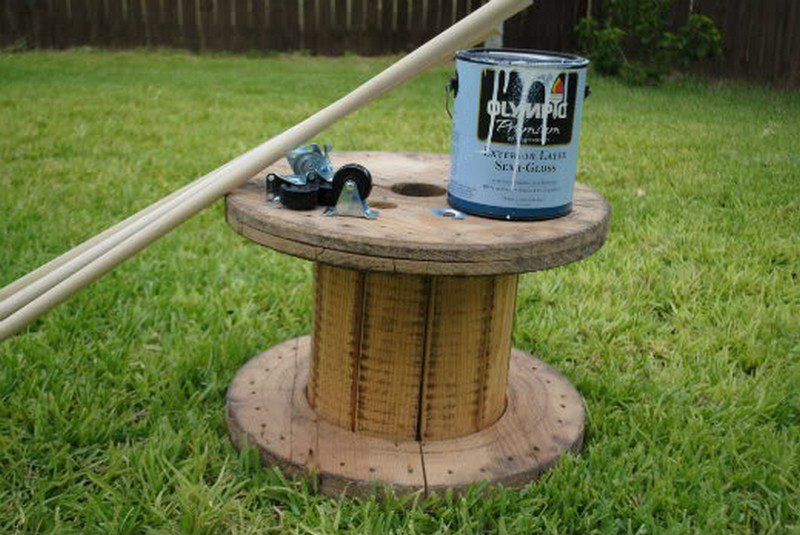 As a self-proclaimed bookworm, I have a small library of books. Of course, shelf space is a premium in my apartment and I have to make sure I find the best way to store my books.
I also have a small collection of spools that I like to use in art projects. So I decided to use these spools to create a small shelf that can hold my books.
What would you use this spool bookcase for?
You'll need these materials:
Small Cable Spool
Wooden Dowels
3-4 Swivel Wheel Casters
Moulding Glue
Paint
Screws
And these tools:
Here's how you do it!
Prepare your small cable spool for the DIY Spool Bookcase project.

Before you can use the small cable spool, you need to clean it up a bit. First, wash it with some water, then let it dry. To clean a spool, place several paper towels inside then soak them with water.
Place the spool inside, and allow it to drain anywhere from 10 minutes up to an hour. Remove the paper towels and dry the spool with a lint-free towel.
Then sanding the cable spool will prepare it for the clear finish or paint.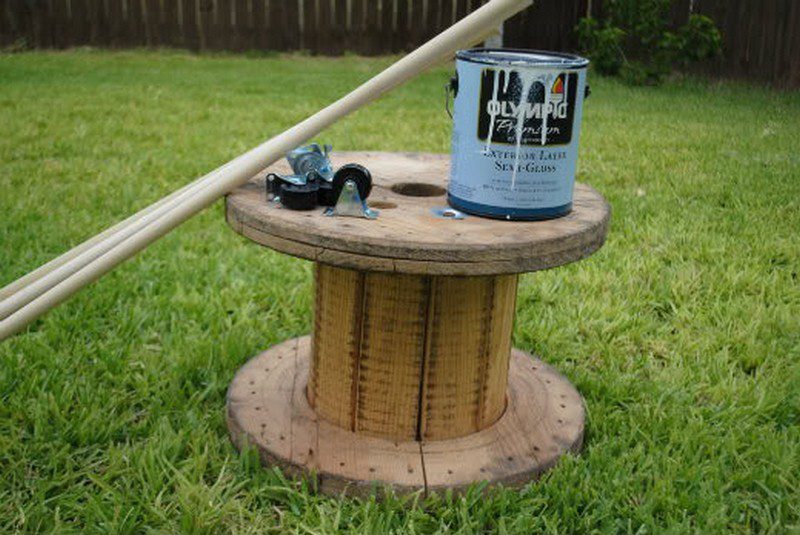 After cleaning it up and sanding it, paint your cable spool with your desired colour.

Paint the cable spool in black or white to match any room. Or paint it based on the colours of your room.

You may then want to attach the wooden dowels, these wooden dowels will serve as your spool bookcase divider.

Simply screwed in the wooden dowels and then attached the dowel to the spool. This will hold your books while also allowing plenty of airflow to the book.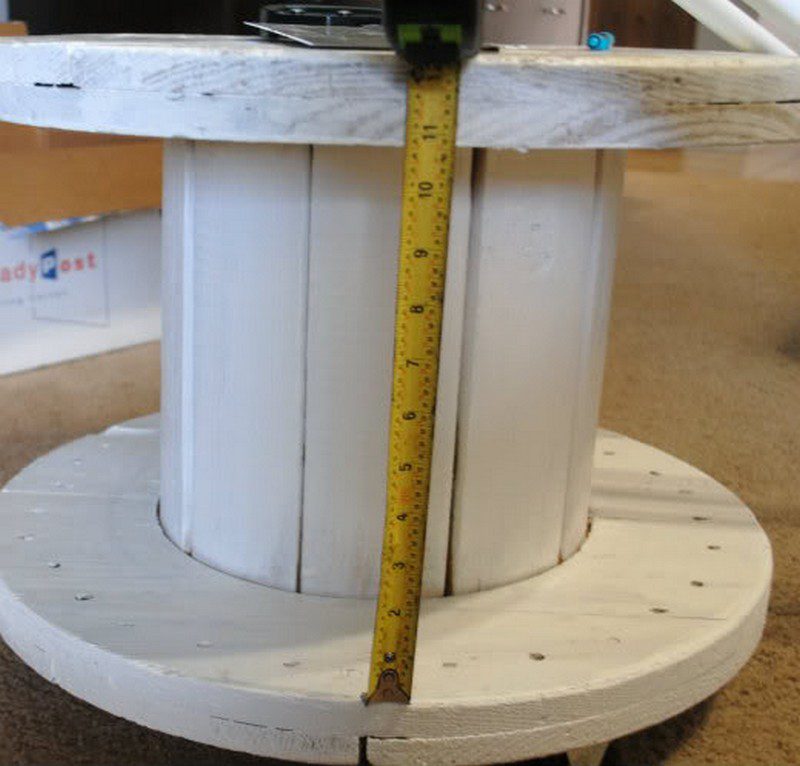 After attaching the wooden dowel, you may or may not attach caster wheels. But attaching caster wheels will conveniently help you bring your spool bookcase to any part of the house.

The casters are designed to be mounted to the bottom of the spool and the unit will work exactly like a regular bookcase with wheels.
This is one of the easiest and most versatile upcycling projects you can find on the web. It looks great painted, though it would look equally impressive bare!
So what do think? Will this spool bookcase satisfy your needs for your book storage collection?
Click on any image to start the lightbox display. Use your Esc key to close the lightbox. You can also view the images as a slideshow if you prefer 😎