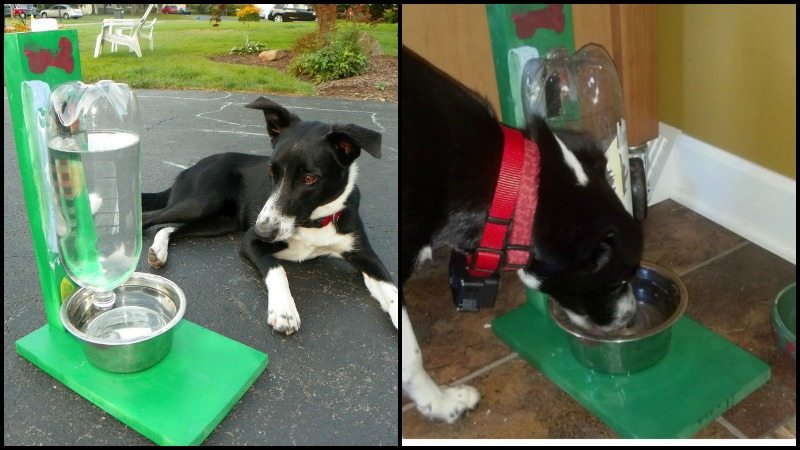 Do you worry about your pets running out of the water while you're out the entire day? This clever DIY might be the answer for you!
This water bowl idea is made with materials you most likely already have at home. You can use scrap wood from previous projects as long as you think they will be stable enough to hold a large plastic bottle. Using an industrial Velcro tape is a good material for securing the bottle in position.
Its concept is simple yet awesome as it makes use of a little science trick. This DIY water bowl is very easy to do, even big kids can make it!
Do you think your pet could use one?
Materials:
2x4x16 Lumber
1x6x12 Lumber
2L Plastic Bottle
Dog Dish
2 sets of Velcro Tape (this industrial grade tape is perfect for this project)
Wood Glue
Nails
Paint (optional)
Tools:
Steps:
Outline the position of the vertical lumber. Take the 2 by 4 and position it in the middle of the end of the 1 by 6.  When you found the spot you like, outline around the outside of the 2 by 4 with a pencil.  You are marking where the boards are going to attach to each other.
Glue and clamp. Once you outline the bottom of the 2 by 4, glue it onto the 1 by 6 in the spot that you picked. The outline should help you line it up.  Once you do that, clamp it!
Nail and Velcro. Nail the 2 by 4 to the 1 by 6. After that, stick the 2 soft pieces of Velcro on the 2 by 4 piece of wood.  Look at the pictures to see how I placed them. Use the 2L bottle to measure where to put the soft Velcro Make sure that one piece of soft Velcro is almost to the top of the 2L bottle so it stays. The end of it should stick into the bowl at the height you want the water to fill up too.
Once done with that, stick the hard Velcro to the soft Velcro.  Put the 2L bottle on the sticky side of the Velcro and you are DONE!!!
Remember: Wherever the tip of the 2L bottle is that is how high the water will be.  I have had to move the bottle down because so much water was spilling.
Thanks to JimTiffinJr for this great project!