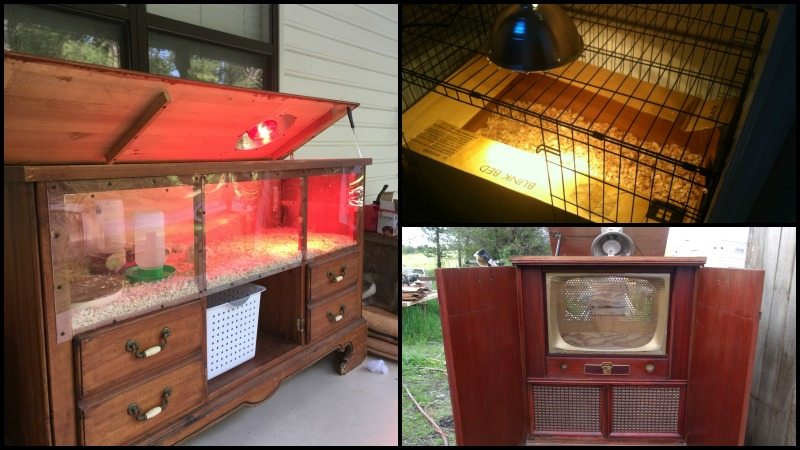 Whether you just want fresh eggs, learning to be more self-reliant, or want just your own home-grown chickens for meat, you'll find raising chickens is a perfect solution. It's easy, too, once you get the basics down pat.
Our Pick
Chick Brooder Heating Plate
Chicks stay warm and cozy underneath our heating plate, just like they would naturally. Simulate a mother hen even more by purchasing our comfort feathers to add!
Buy on Amazon
We earn a commission if you make a purchase, at no additional cost to you.
04/23/2022 12:07 am GMT
Planning on raising chicks in your backyard? Then you are going to need this list of clever brooder ideas. 🙂
Brooders are like a baby's crib – you only get to use them for a short period of time because baby chicks grow so fast. So why buy a brooder for your baby chicks when you can provide them with a nice heated shelter with these clever ideas?
These DIY chick brooder ideas are definitely as good as a brand new brooder. But what's better is that they can help you keep your expenses down by avoiding unnecessary spending. Plus these are all repurposing projects – you're helping in reducing 'trash' by giving old items a new purpose!
Now if you are expecting baby chicks in your yard soon, have a look at the ideas we have for you below. You most probably have one or two of the items on this list already! If not, you can always ask your friends and rellies or find what you need at a thrift store or a garage sale. Then turn it into a clever chick brooder!
Click on any image to start the lightbox display. Use your Esc key to close the lightbox. You can also view the images as a slideshow if you prefer

Old Dresser
Who doesn't have a dresser at home? But if you've already used it for a different repurposing project (or you're still using it), there are plenty of old dressers in thrift stores!
Kiddie Pool
Do you have kids that are now too big for the kiddie pool you bought a couple of years back? You can use that just by adding some fencing to protect the chicks.
Stock Tank
A stock tank definitely works too. Again, don't forget to put a wire mesh on top to keep predators from reaching your baby chicks!
Large Tote
We're confident many of you have large totes in your garage or storage! So why not temporarily use it as a chick brooder?
Dog Crate
Still, got that crate your dog used when he or she was still a puppy? Simply improve the barriers by installing a wire mesh or adding cardboard inside, and that's it – an easy DIY chick brooder from a dog crate.
Old Cabinet
Most cabinets can easily be turned into a chick brooder, too. Even an old TV stand!