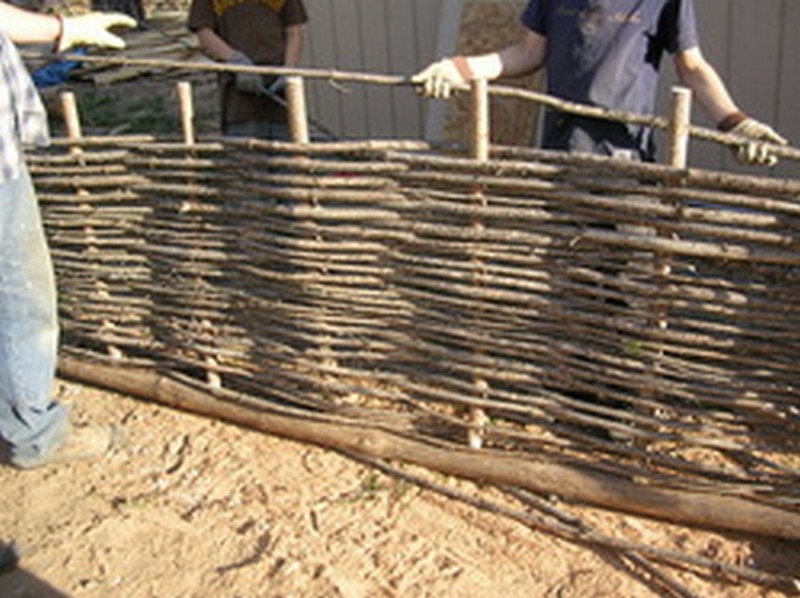 Pine wattle fencing (or wicket fencing if you're in the UK) is a fun family project. Many trees and shrubs are suitable for the materials and it is a totally hands-on experience. In fact, there's not a nail to be found.
With a little imagination, this idea can be used all around the home to create interesting focal points – simple screens as well as fences, caging, or raised bed planters. It can be woven through spokes in a single weave or in clusters to get that basketweave appearance.

Pine and willow are popular choices for materials. It's organic and inexpensive since they are made from repurposed cuttings and twigs. Despite being made of twigs, they actually make sturdy fences as they hold together nicely once they're woven. They can also last a reasonable time.
They take a bit of time to build but then you can always make it a family affair. Or you can ask neighbors to help one weekend and end the activity with an alfresco dinner. Either way, it should yield wonderful results. For inspiration, check out the pine wattle fences in our gallery…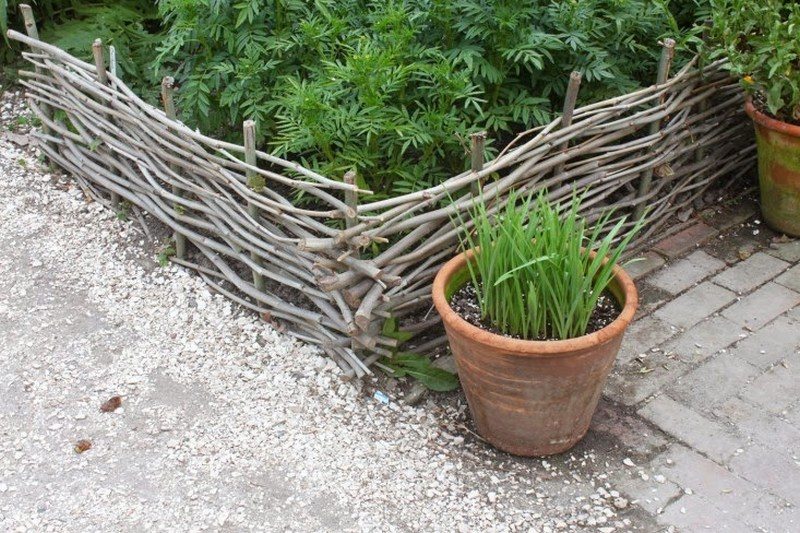 What are the materials needed to build a DIY Pine Wattle Fence?
With the use of a few materials in the forest and your creativity, you can make your own Pine Wattle Fence. Below is the list of materials to get started.
Materials:
Pine wattles
Lumber 5×7 & 2×4
Nails and screws
Tools:
How to build a DIY Pine Wattle Fence?
1. Measure and gather the materials.
Measure the area where you want your pine wattle fence to be located. Collect all the needed materials. If there are no pine trees in your area, you can use any alternative branches that will give an awesome rustic look to your fence, like a bamboo split in half.
2. Make a hurdle jig.
Lumber can be a hurdle jig, lay this horizontally and mark a pattern using the tapered wattles. You can nail them to keep them stable before making the markings on the lumber. Drill 1.5-inch holes. We recommend spaces to be 16 to 18 inches. The bigger the wattle, the bigger the spaces should be.
3. Cutting the big wattles.
Make 2 stacks of these, estimate around 1.5 inches in diameter and the pile is recommended to be 1 inch or less.
Place the shorter end of the wattles in a shaving horse after trimming it to three to four feet long. As we score the short end of the wattles gently, we're using a hand brace equipped with a 1inch drillbit. Draw a taper on the wattle's end, use this as a reference for the remaining wattles. These big wattles serve as the stand or the main support of the fence.
4. Attach the big wattles.
Securely attach the wattles vertically to the hurdle jig. To make sure they are tightly attached, use a hammer.
5. Weave the thinner wattles.
Finally, weave the thinner wattles around or alternately to the bigger wattles. Then secure these by tying up and nailing them to the bigger wattles.
For the last part, remove the hurdle jig. We recommend you bury the big wattles in the soil. You can trim the thin wattles that are off the fence, to be perfectly even. Now you have a naturally beautiful and sturdy pine wattle fence! 🙂
Click on any image to start the lightbox display. Use your Esc key to close the lightbox. You can also view the images as a slideshow if you prefer 😎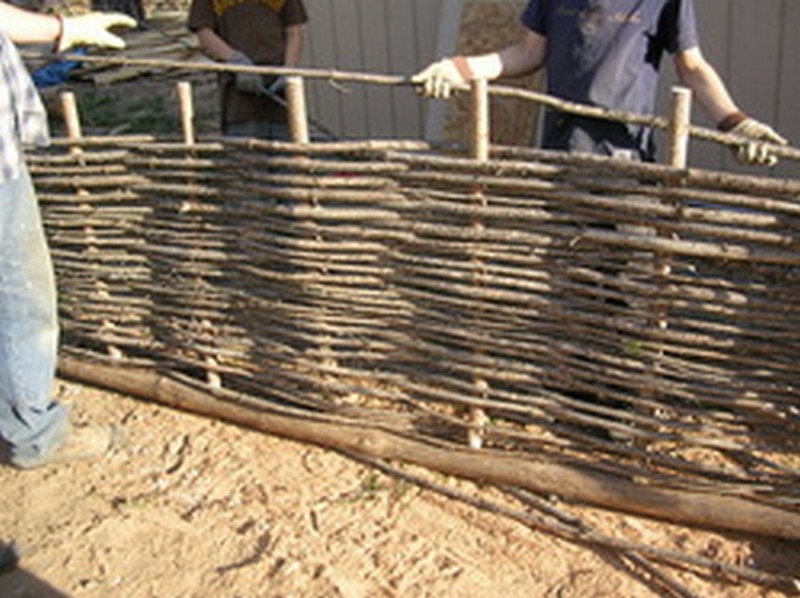 If you liked this project, you will also like viewing these gardening ideas…