If you need a piece of furniture to keep your front entry in order, but don't have a lot of money, this could be the project for you.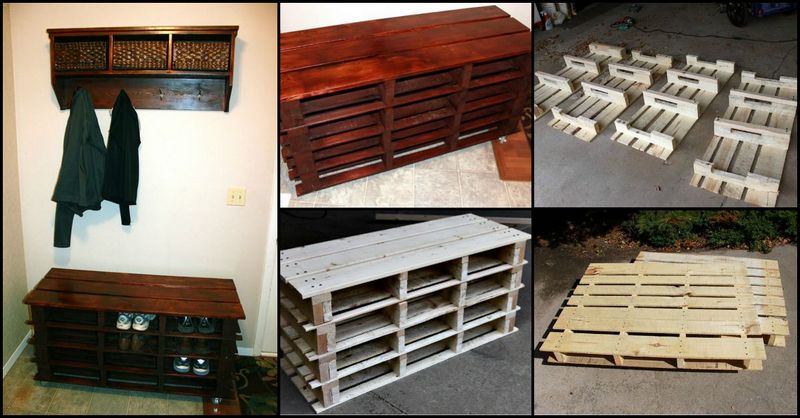 Made from recycled pallets, this creation will give you a place to store the shoes, bags and everyday clutter that accumulates at the front door. This project proves that you don't need to spend heaps of money on extra storage space.
Want to know where to get pallets? You can get all the details in this post: Pallets – where do you get them?
And if you're not sure which pallets are safe to use, you can get all the facts – and instructions on how to dismantle a pallet, in this post: Pallets – fact and fiction (or how to tell a safe pallet from a toxic one)…
Be aware that branded pallets are not single use. Always ask before taking any pallet.
You'll need these materials:
3 pieces 1″x6″ cut to 48″ lengths for the top
8 pieces 2″x4″ cut to 18″ lengths for center supports (ripped down the middle of the pallet)
8 pieces 2″x4″ cut to 18″ lengths for side supports
8 pieces 2″x3″ cut to 18″ lengths for bottom side supports
Wheel Casters
Wood Stain and Seal
Screws
Nails
And these tools:
Tape Measure
Circular Saw
Drill
Hammer
Chisel
Paint Brush
Click on any image to start lightbox display. Use your Esc key to close the lightbox. You can also view the images as a slideshow if you prefer 😎
If you liked this project, you will also like viewing these furniture ideas…