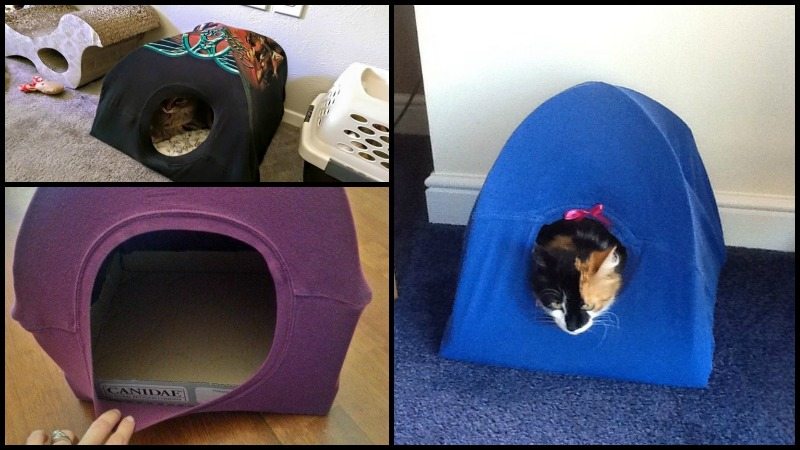 Ours is a pet-loving society. Since time immemorial, humans have kept animals for companions. Pets provide physical and emotional benefits, too. Caring for pets allows us to enjoy the outdoors, a little exercise, and socializing with other pet owners. As Sigmund Freud once said, "Time spent with cats is never wasted."
If you have a pet cat, you know how they love small, protective spaces… a box, a linen basket, a bookshelf! If that sounds like your cat, this project is definitely for you. All you need is a large T-shirt, two hangers, no skills and zero tools and you can build your cat an igloo!
This little DIY cat tent is super easy in just five minutes. If it takes longer, it's because your cat is laying on the T-shirt and refuses to budge!
Owners who have done this for their cats say their furry mates loved this tent instantly. Some wouldn't leave without some solid coaxing! So if you still don't have a cat fort for your beloved feline, try this quick DIY project first. If your pet is the one in a thousand who doesn't like it, no hard feelings, since you didn't a lot of effort or expense into making it! 😉
You'll need these materials:
2 Wire Hangers
Old LargeT-Shirt
Pillow
15 x 15 inch Cardboard
Safety Pins
Tape
And this tool:
Click on any image to start lightbox display.Use your Esc key to close the lightbox. You can also view the images as a slideshow if you prefer  😎
You'll find a link to a video below the image gallery.
Thanks to 
If you liked this project, you will also like viewing these pets accommodation…