Built area:    131.0 m2
Year built:    2018
Photographs: Warren Reed, Leo Edwards
CORE is actually an acronym which stands for carbon positive, zero waste, recyclability, and economics. Core 9 was designed as a compact, low maintenance, and stylish home that suits the Australian climate.
The home is eco-friendly as it makes use of passive solar and renewable energy sources. This three-bedroom residence boasts of a water-harvesting system and superior thermal performance. To make it affordable, the energy star rating may be adjusted.
Core 9's façade is made of timber with visible solar panels positioned near the top. An inverted roof truss gives the home lots of natural light.
The straight floor plan facilitates passive cooling. Double glazed windows were used in order to help lessen carbon emissions. The interiors give a sense of comfort and warmth, making the place perfect for the family.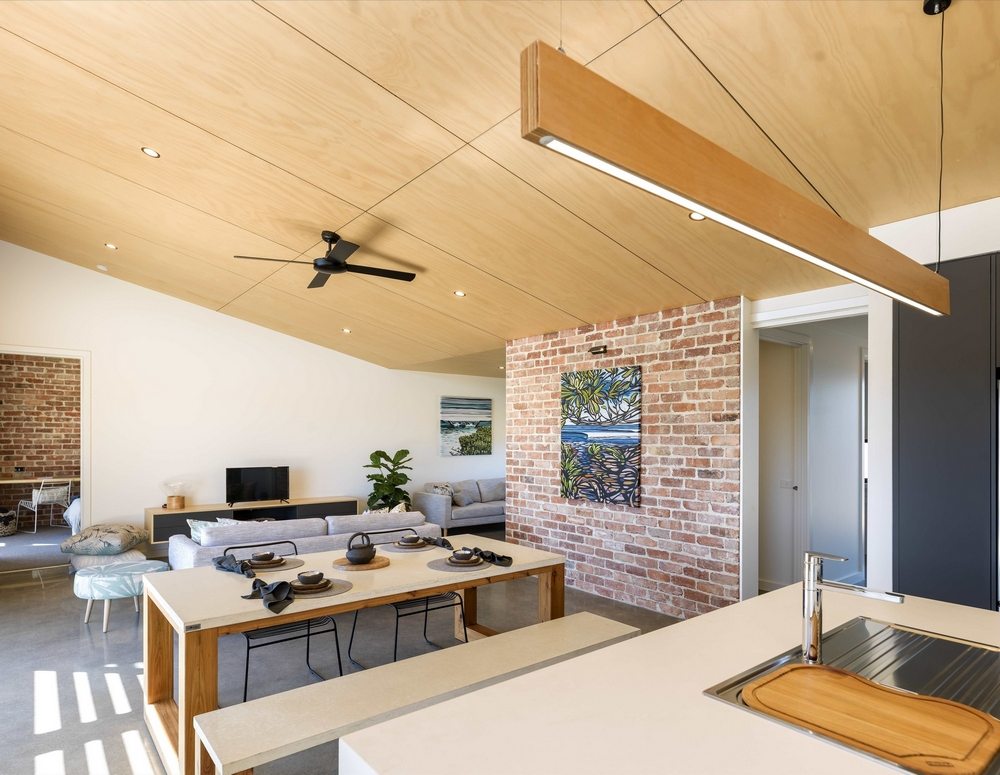 Notes from the Architect:
With the rising cost of energy and the need to conserve our precious resources, a sustainable home is becoming a highly desirable and more economical option long term. To respond to this challenge and demonstrate how this can be achieved the CORE 9 prototype has been built at The Cape. THE CORE 9 integrates sustainable materials with a low embodied energy, and a considered mix of solar power, solar hot water, and rain water harvesting, to reduce and or totally eliminate household utility bills.

We firmly believe good design principles should be available to everyone who wants to build their own home, regardless of budget. To this end, we created a construction scale allowing the building to be adapted to any star rating between 6 and 10-star. We also set out to design a house suitable for the modern family, with three bedrooms, two bathrooms and opening plan living areas. The design was adapted to increase the northern light and maximise cross ventilation.
Click on any image to start lightbox display. Use your Esc key to close the lightbox. You can also view the images as a slideshow if you prefer. ?
Exterior Views:
Interior Views:
Drawing Views:
Expandable House is another project for sustainable homes in Batam, Indonesia.