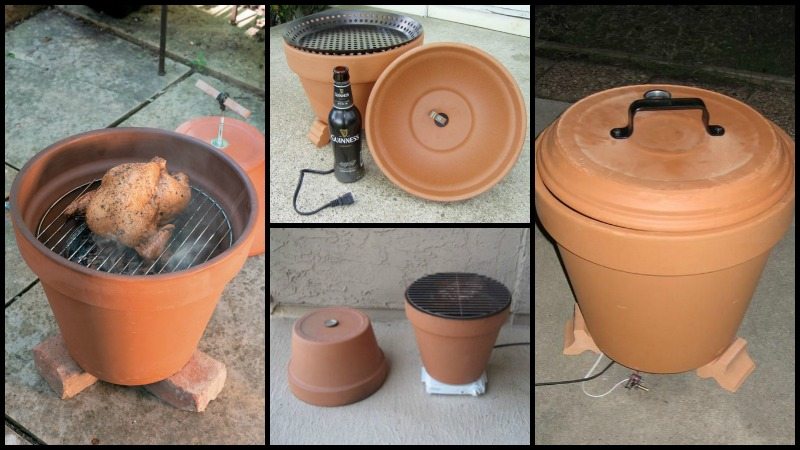 Clay pot smoker doesn't necessarily have to be a big project, especially if you are just a small family who simply wants to enjoy a little outdoor cooking during the weekends. Building your own clay pot smoker can be a fun and rewarding project, and it doesn't have to be expensive either.
There are plenty of plans and tutorials available online, so doing a little research will help you find the perfect smoker for your needs. With a little time and effort, you can easily build a smoker that will provide you with years of enjoyment.
Why use a clay pot as a smoker?
A clay pot is a relatively safe source of smoke. It doesn't contain dangerous chemicals, and more importantly, a clay pot smoker does not produce smoke that is harmful to humans.
The great thing about smoking with a clay pot is that it is very easy to control the temperature. This is important because you want to be able to low and slow cook your food to perfection. Another advantage to using a clay pot is that it is very easy to clean.
One big advantage of using clay pots as smokers is that they're not too big, so you can easily move them around. This is great if you want to smoke different kinds of food at the same time, or if you need to move your smoker to a different location.
Our Pick
Analog Electric Smoker with 3 Smoking Racks
Built-in temperature gauge
Temperature control is easy with analog dial
Wood chip tray slides out for easy ash removal
Three chrome-coated smoking racks
1,500-watt heating element for even, consistent smoking
Buy on Amazon
We earn a commission if you make a purchase, at no additional cost to you.
06/14/2022 08:10 am GMT
When we think of DIY smokers, we usually imagine drum or barrel smokers which could be a challenge for some of us to convert into smokers. Projects such as these also tend to take more than a single weekend to accomplish. Now if you're looking for something cheaper, easier and quicker, you can make this clay pot smoker.
This has got to be the easiest DIY smoker project, which will only take a few hours to make. You can easily make it in the morning and be smoking your food in the afternoon! You might even already have the needed materials in your home right now!
You can also take this opportunity to make use of metal pans that have broken handles if you have one. With a clay pot smoker, you can enjoy all the delicious flavors that smoking produces, with very little effort. Enjoy!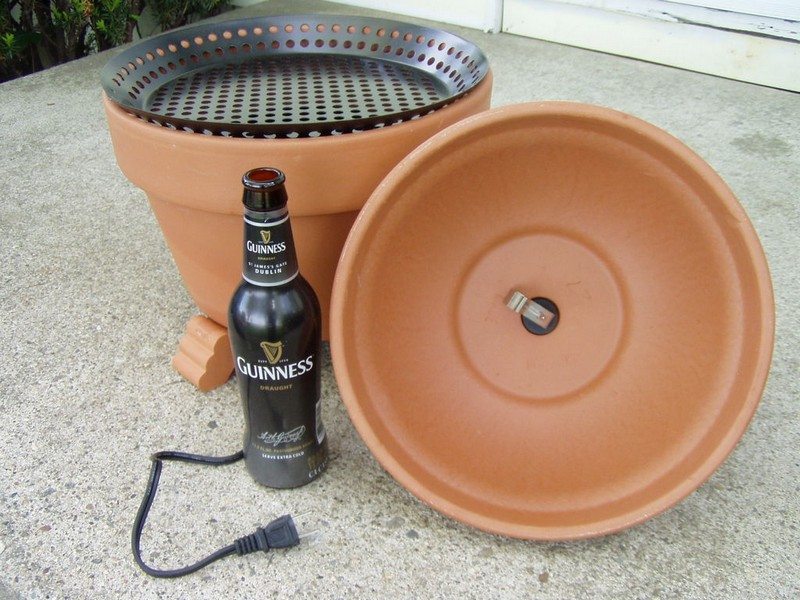 Clay pot smokers have many advantages over other smokers. Clay pots are very efficient at holding heat, so the smoker can maintain a consistent temperature for a long period of time. This is perfect for smoking meat, as it allows the meat to cook evenly and slowly, resulting in a juicy, tender final product. Clay pots also don't rust or corrode like other materials, so they last much longer.
What you'll need to make a clay pot smoker?
You'll need these materials:
Electrical Hot Plate (1,000 watts or greater)

Using 1000 watts or greater hot plate to cook food is better, it controls the temperature of the food better, also it cooks the food more evenly, last it distributes the heat better.

Clay Pot (12 to 16″ diameter)

Enough for cooking food for a small family.

Smaller Clay Pot or Tray (for the lid)
Circular Cooking Grate (sized to pot interior)
5-7 pcs 2″ thick Brick or Patio Block Scraps
Metal Pie Pan
Oven Thermometer (with range up to 220 degrees Fahrenheit)
1 pc 3/8″ or 1/2″ x 6″ Eye Bolt, with 2 Washers and 2 Nuts
1 pc 6″ long Wood Dowel (for handle)
And these tools:
Click on any image to start the lightbox display. Use your Esc key to close the lightbox. You can also view the images as a slideshow if you prefer

Thanks to Mother Earth News for this great project. You can get step-by-step instructions here…