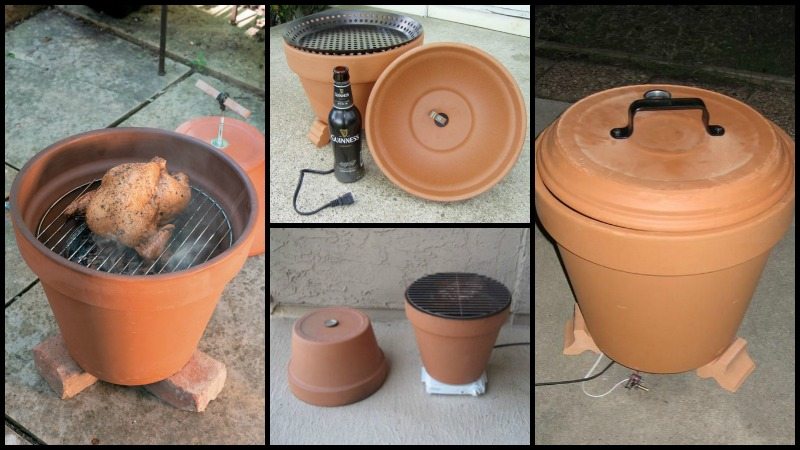 A clay pot smoker doesn't necessarily have to be a big project, especially if you are just a small family who simply wants to enjoy a little outdoor cooking during the weekends. Building your own can be a fun and rewarding project, and it doesn't have to be expensive either.
There are plenty of plans and tutorials available online, so doing a little research will help you find the perfect smoker for your needs. With a little time and effort, you can easily build a smoker that will provide you with years of enjoyment.
Why use a clay pot as a smoker?
A clay pot is a relatively safe source of the smoke. It doesn't contain dangerous chemicals, and more importantly, it does not produce smoke that is harmful to humans.
The advantage of smoking in a clay pot is that the temperature can be easily controlled. This is important because you want to be able to cook your food slowly and evenly. Another benefit of using a clay pot is that it is very easy to clean.
One big advantage of using clay pots as a smoker is that they're not too big, so you can easily move them around. This is great if you want to smoke different kinds of food at the same time, or if you need to move your smoker to a different location.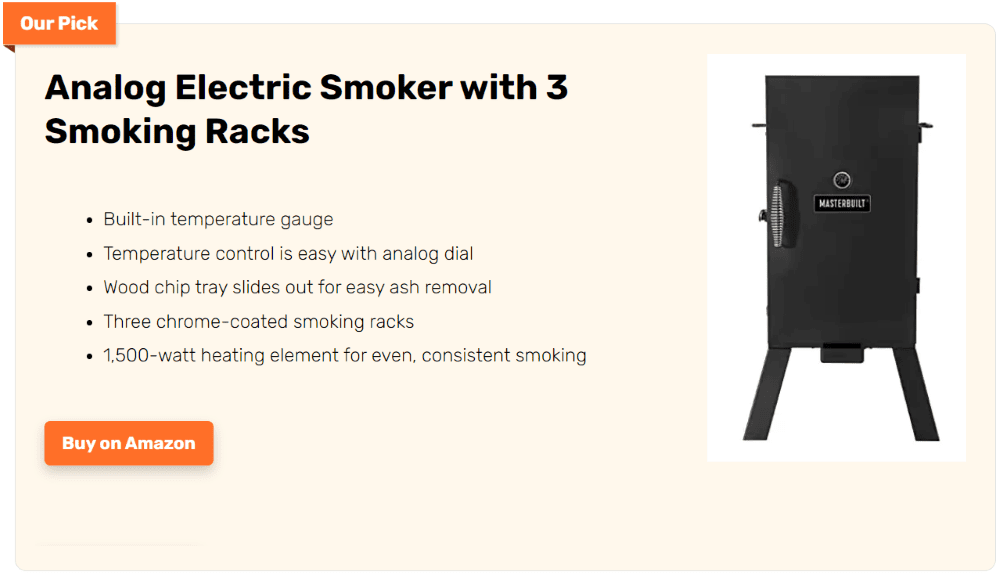 When we think of DIY smokers, we usually imagine drum or barrel smokers which can be a challenge for some of us to convert into smokers. Projects such as these also tend to take more than a single weekend to accomplish. Now if you're looking for something cheaper, easier, and quicker, you can make this clay pot smoker.
This has to be the easiest DIY smoker project, which will only take a few hours to make. You can easily make it in the morning and be smoking your food in the afternoon! You probably already have the needed materials in your home right now!
You can also take this opportunity to make use of metal pans that have broken handles if you have one. With it, you can enjoy all the delicious flavors that smoking produces, with very little effort. Enjoy!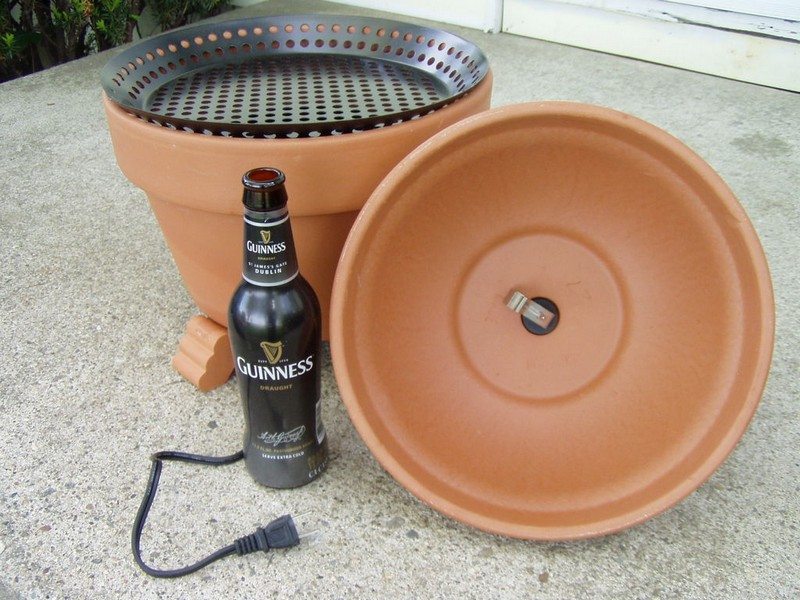 Clay pot smokers have many advantages over other smokers. Clay pots are very efficient at holding heat, so the smoker can maintain a consistent temperature for a long period of time. This is perfect for smoking meat, resulting in a juicy, tender final product. Clay pots also don't rust or corrode like other materials, so they last much longer.
Building a Clay Pot Smoker with Ease
Making your own clay pot smoker with a hot plate and an oven thermometer is a great way to get delicious smoked meats, vegetables, and other dishes.
To begin, you will need a clay pot with a lid, a hot plate, a thermometer, and a few tools. Start by creating a hole in the center of the lid for the thermometer to fit through. Next, place the hot plate in the bottom of the clay pot. Connect the thermometer to the lid and place the lid back onto the pot. Finally, place the food you want to smoke inside the pot and cover the lid.
Use the hot plate to heat the clay pot and adjust the temperature with the thermometer. Once the desired temperature is reached, your DIY clay pot smoker is ready to use. You can now indulge in the delightful flavors of your smoked dishes!
An Affordable Way to Enjoy Delicious Smoked Meals
When it comes to smoking meats, there are a few different methods to choose from, each with its own advantages and drawbacks. Most commonly, people choose between a DIY clay pot smoker or an electric smoker. While both methods have their own pros and cons, it really comes down to personal preference and the type of smoker that suits your lifestyle and needs best.
A DIY clay pot smoker is an excellent option for those who are looking for an inexpensive and low-maintenance way to smoke their meats. This type of smoker is affordable to purchase and easy to set up, making it a great option for beginner or casual smokers.
What You Need to Know About Electric Smokers
The temperature inside a clay pot smoker can be difficult to monitor. And if you don't have the time to tend to it frequently or build your own clay pot smoker, you probably need to consider using an electric smoker.
Top 3 Electric Smokers to Consider This Grilling Season
To help you make an informed decision, we've put together a roundup of the top three electric smokers to consider this grilling season.
1. EASY SMOKING: Char-Broil Analog Electric Smoker
The Char-Broil Analog Electric Smoker provides the ultimate smoking experience. Featuring an insulated cooking chamber and large capacity wood chip box, this smoker allows you to maintain an even temperature while infusing food with a smoky flavor. The water pan prevents the meat from drying out, keeping it perfectly moist and tender for the duration of the cooking process.
To make smoking even easier, this smoker includes three chrome-coated smoking racks, giving you plenty of room to smoke several types of meats and vegetables at once. With its superior design and great features, this smoker will allow you to create delicious, flavorful meals in your own backyard.
PROS:
It has plenty of room to smoke several types of meats and vegetables at once
It is easy to clean and maintain
It comes with one year warranty
CON:
Wood supply needs to be replenished quite often if for longer smoking sessions
All in all, this smoker is a must-have for anyone looking for a superior smoking experience. "I love this smoker," says a buyer. "It is a marvel of simple, easily repairable design and smoking efficacy. Assembly is super-easy and quick.
Refilling wood frequently can be inconvenient for those trying to maintain a long smoking session, but with a little planning and preparation, it can be easily managed. "Having to refill the wood supply in the electric smoker every hour or so is, the only drawback so far," explains a buyer.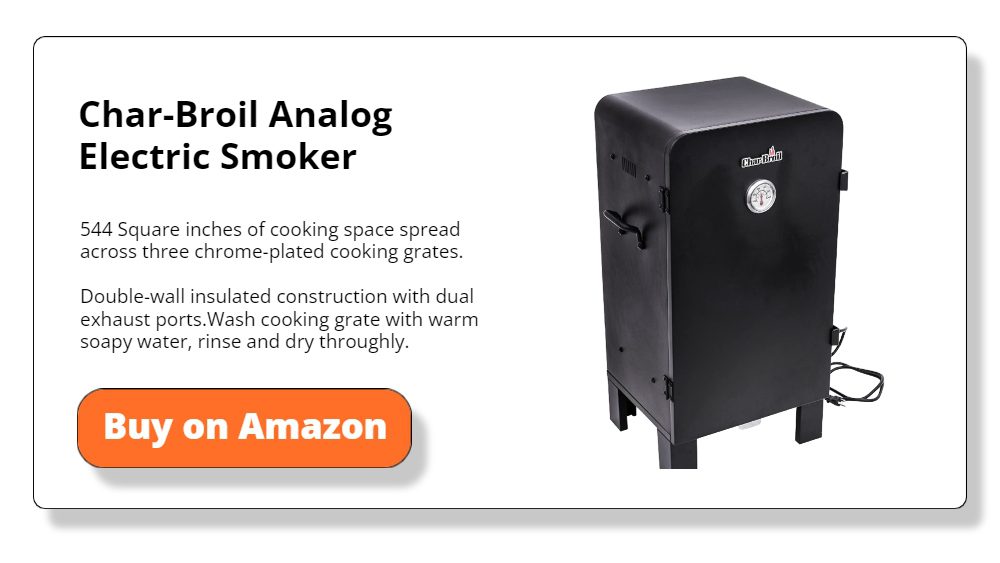 2. DEPENDABLE FLEXIBILITY: Royal Gourmet SE2801 Electric Smoker with Adjustable Temperature Control
This smoker features 457.86 sq. in. of cooking surface spread over three adjustable chrome-coated smoking racks, providing 1500-watt heating power with a fully adjustable and removable digital controller. An integrated thermometer allows for a quick check of the internal temperature, while the Grease Management System offers a removable steel drip pan for easy cleaning.
PROS:
The three chrome-coated racks are easily adjustable to accommodate food items of varying sizes
Convenient to use, with cool-touch technology on the spring door handle that prevents scalding
CON:
Suitable for smoking in warm, outdoor temperatures
You can create a variety of masterpieces with this smoker. "It is easy to use," explains a buyer. "Simple to assemble…thoroughly enjoying using my smoker."
But, this can be only a great option for low and slow smoking needs. "Works great for smoking if you use it in warm outdoor temperatures in weather below 60 degrees on the highest setting it barely gets to 200 degrees in temps above 70 easily gets to 250," says a buyer.
3. VALUE FOR MONEY: Char-Broil 17202004 Digital Electric Smoker Deluxe
This top-of-the-line smoker has all the features you need to create the perfect smoked flavor. It features insulated, double-wall construction to keep your food at a consistent temperature, and a powerful 750-watt heating element for consistent heating.
The advanced control panel with an easy-read, blue LED display allows you to adjust the temperature and settings to suit your needs easily. A built-in food thermometer helps you keep track of your food's temperature, and a large, stainless steel locking latch ensures a smoke-tight seal. The glass door and stainless steel, dual-tone finish complete the look, making this smoker functional and stylish. It is an excellent choice for those looking for an efficient, easy-to-use smoker for a good price.
PROS:
Set the temperatures and cooking times with ease
A great value for its price point
CON:
Not for chefs looking for a "wet smoke" flavor
The purchase is definitely a good deal. "Overall a good purchase at a pretty reasonable price," says a buyer.
And although traditional grills and smokers are more expensive and more labor intensive, they are still an incredibly popular cooking method due to the unique flavor profile that they can create. "If you are not into "wet smoke", then stick with traditional and most likely larger and more expensive ones," explains a buyer.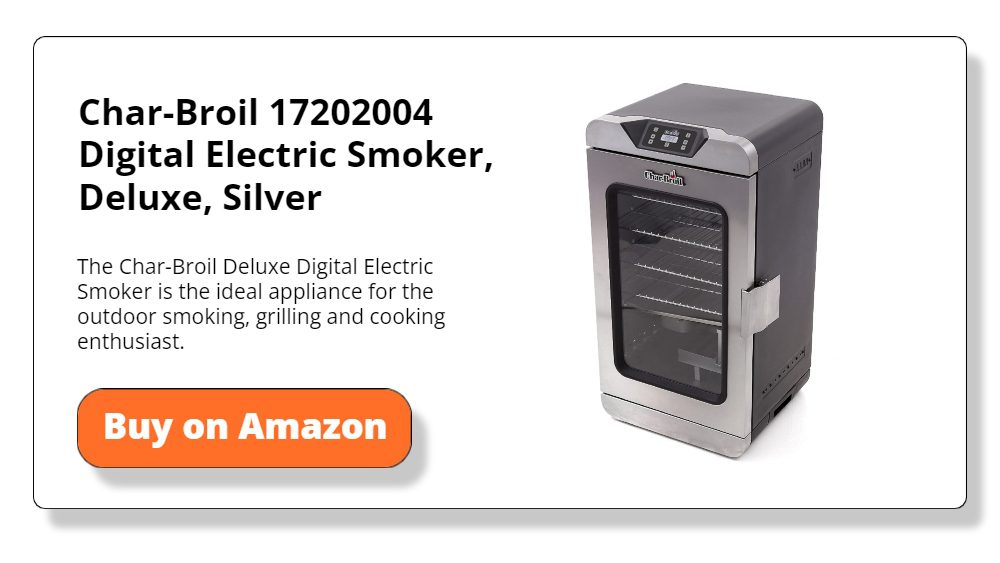 Conclusion
For those looking to enjoy a flavorful smoked meal without a hefty price tag, constructing a DIY clay pot smoker is an ideal option. Making one's own dependable home smoker is straightforward and can be achieved with basic household items.
While electric smokers are an excellent choice for anyone looking for a simple, low-maintenance way to enjoy the flavor of smoked food. Whether you're a novice or a pro, electric smokers are a great option to start your journey into smoking food.
Click on any image to start the lightbox display. Use your Esc key to close the lightbox. You can also view the images as a slideshow if you prefer

Thanks to Mother Earth News for this great project. You can get step-by-step instructions here…