Do you like smoked meat? Smoking offers a lot of advantages. Not only do you get great-tasting food, but smoking also acts as a natural preservative. You'll know that what you serve to your family and friends is delicious, healthy, and safe.
What is a Cedar Smokehouse?
A cedar smokehouse is a layout where meat is hung and smoked using cedar wood. Cedar smokehouses have been used for centuries by many different cultures.
Cedar smokehouses provide a distinct flavor to meats that cannot be achieved through other methods of cooking. The cedar smokehouse is a great way to preserve meats for a long period of time.
One advantage of having smoked meat is that it can last for a long time without spoiling. This is because the smoking process dehydrates the meat, which makes it difficult for bacteria to grow.
This means that smoked meat can be stored for months or even years without going bad. Additionally, smoked meat has a unique flavor that is often prized by meat lovers.
Smoked meat is popular in many countries, but especially in the United States and Canada. It is a type of cured meat that is typically made from beef but can also be made from pork, lamb, or mutton.
The meat is cured with a combination of salt, sugar, and spices, and then smoked over a period of time, typically several hours.
If you want to smoke your own meat, why not build yourself a smokehouse.
Building a cedar smokehouse is not a difficult task, but there are a few things you need to know before you get started.
First, you need to choose a location for your smokehouse. It is important to choose a location that is away from your house or any other buildings. The smoke from the smokehouse can be a nuisance, and you don't want it to get into your house or any other buildings.
Second, you need to make sure that the location you choose has good drainage. The smokehouse will produce a lot of moisture, and you don't want it to pool up and create a mess.
Third, you need to make sure that the location you choose is level. The smokehouse will need to be placed on a level surface to ensure that it cooks evenly.
The one featured here is made from very simple materials, using basic tools – and it's been built by a self-professed amateur! By following the instructions in the link below this gallery, you'll be able to make your own regardless of your skill levels.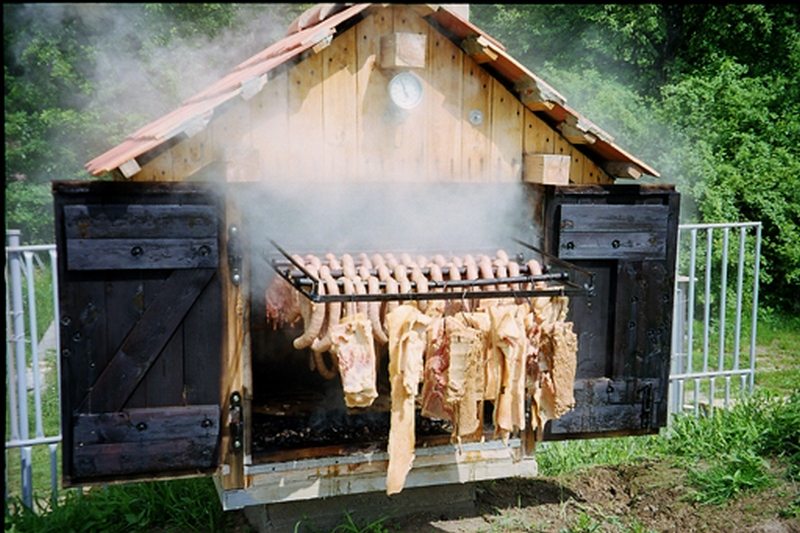 The best part of building it on your own is that you can customize the size of the smokehouse, allowing you to fit it in your yard. You can also minimize the cost by using local materials that are abundant and cheap. And you don't need to pay extra for the services of a contractor building it for you.
By the way, have you tried smoking cheeses or mushrooms? Yum!
You'll need these materials:
2 x 4 Cedar Wood
Black Stove Pipe
Stove Door
Concrete Blocks
Clay Bricks
Fire Bricks
Fire Clay
Mortar
Bolts
Door Hinges
Door Knob
Bolt Lock
2-1/2 inch Deck Screws
Wood Screws
3 pieces 16 Gauge Steel Plates
Metal Mesh
And these tools:
Trowel
Electric Drill
Handsaw
Power Drill/Driver
Level
Click on any image to start the lightbox display. Use your Esc key to close the lightbox. You can also view the images as a slideshow if you prefer 😎