Co Nhue, Tu Liem, Ha Noi Vietnam –
Built Area: – 44m2
Year Built: – 2013
Winner: American Architecture Prize 2017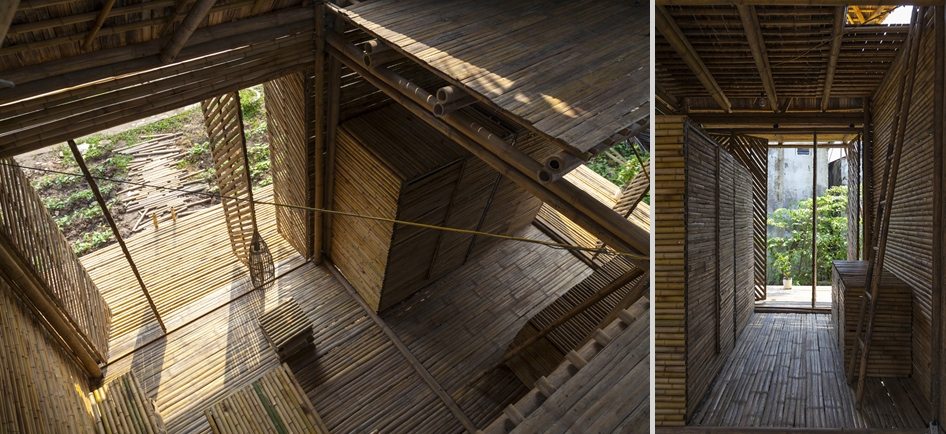 The goal of this Blooming Bamboo home is to solve the housing problem of millions of people.
Bamboo remains a massively under-rated building resource in the first world. Sure we use it in laminates but that is ultimately a little different from using pine for chipboard. Of course, being a grass, bamboo is certainly a more sustainable resource than pine but much of the inherent strength of bamboo is lost when it is highly processed. In their natural state, many bamboo species are harder and stronger than steel on a weight-for-weight comparison. It is also surprisingly durable, with some varieties capable of in-ground use exceeding 40 years!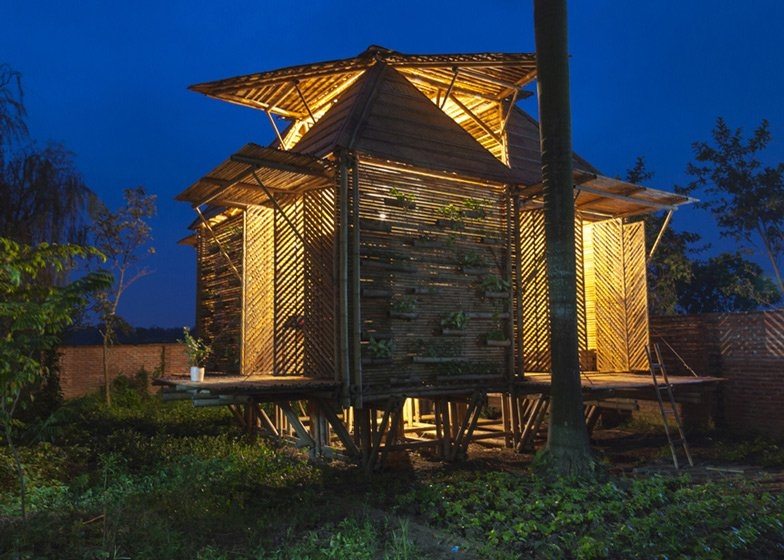 5 Advantages of Blooming Bamboo
Bamboo is a readily available, inexpensive material in Vietnam. HandP Architects decided to design and build this prototype to demonstrate multiple benefits:
1/ Cost: These homes can be completed for less than USD$2,500
2/ Speed of construction: The design can be built in less than 25 days
3/ Skill requirements: Construction methods are well within the skill levels of the average person
4/ Functionality: The homes had to meet the reasonable expectations of owners in terms of comfort and usability
5/ Safety: The homes are designed for high flood risk areas
From the H&P Architects:
"In Vietnam, the natural phenomena are severe and various: storms, floods, sweeping floods, landslides, drought, etc… The damage every year, which is considerable compared to the world scale, takes away about 500 persons and 1.2%-GDP-equally assets and reduces the involved areas' development
One solution to houses and homes for millions of these people is the goal of this BB (Blooming Bamboo) home.
From the bamboo module of d=8-10cm & d=4-5cm diameter and 3.3m or 6.6 lengths, each house is simply assembled with bolting, binding, hanging, placing… This pulled monolithic architecture is strong enough to suffer from phenomena like a 1.5m-high flood. Currently, H&P Architects is experimenting with a model to suffer a 3m-high flood. The space is multifunctional such as House, Educational, Medical, and Community Center, and can be spread if necessary.
From the fixed frame using d=8-10cm bamboo, the housing cover can be finished according to its local climate and regional materials (d=4-5cm small bamboo, bamboo wattle, fiberboard, coconut leaf…) in order to create vernacular architecture.
The users can build the house by themselves in 25 days. Besides, it can be mass-produced with modules and the total cost of the house is only 2500 USD. Therefore, the house can warm people in the most severe conditions and help them control activities in the future, also remarkably contributing to ecological development as well as economic stabilization. This will give conditions for the self-control process and create a connection between vernacular culture and architecture"
Click on any image to start the lightbox display. Use your Esc key to close the lightbox. You can also view the images as a slideshow if you prefer.
Concept drawings: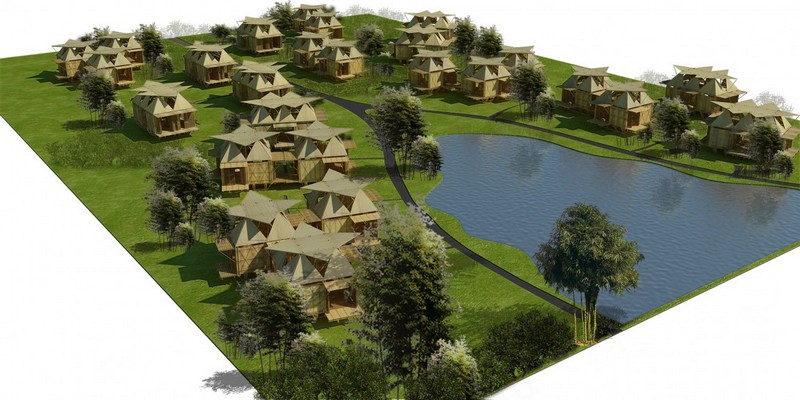 Finished home – Blooming Bamboo
Another very innovative bamboo home you'll enjoy viewing is Forest for a Moon Dazzler…