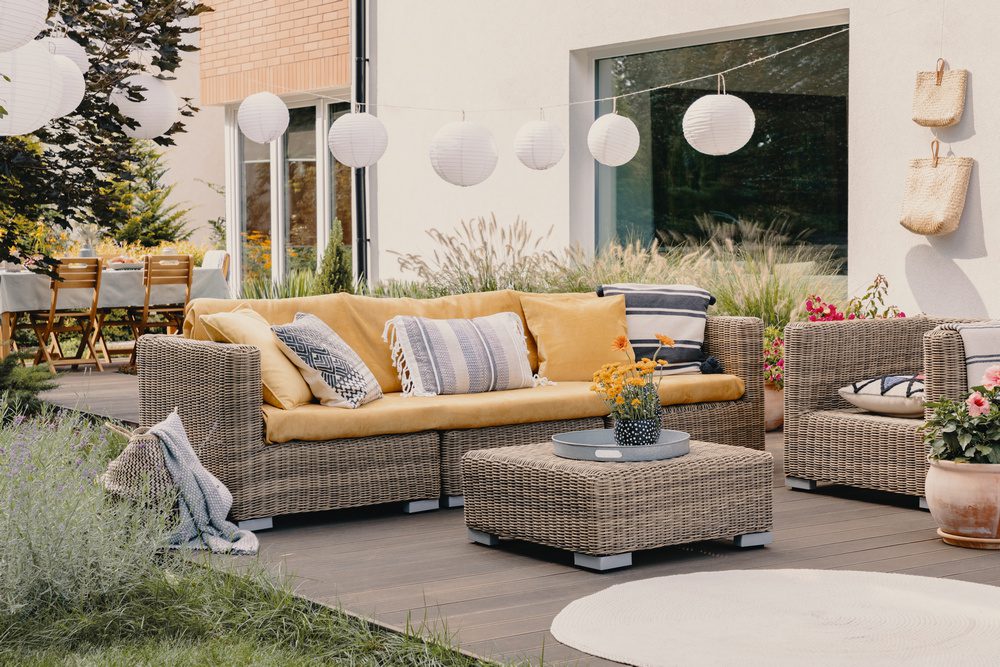 If you enjoy living outside and have a patio, then it may be time to spruce it up and make it livable. Your patio extends your house and deserves to fit in with your style and personality.
And since your patio is an extension of your house, it's important to have a design that flows from the house to the patio in a concrete way. By changing your patio, you'll be getting a place to unwind and get some fresh air.
You also get a chance to enjoy the outdoors all through the year, even with harsher weather. Your spruced-up patio will be the perfect place to entertain, especially with additional features. The advantage of patios is that it adds value to a home if you ever want to sell your house.
However, sprucing up a patio can be a daunting task that may get frustrating without ideas. Discussed below are some great ways of turning your patio around.
Switch Up Your Pillows
Pillows are amazing statement pieces that give space an extra wow factor. However, most people don't change pillows regularly, making them tired and worn out. And since many people use pillows, it becomes a carrier of bacteria, which may cause them to have a bad smell and look terrible.
As a result, you can switch up your pillows based on what fits your theme and style while still maintaining an aesthetic look. Ensure that the pillows you choose won't easily go out of style and are functional and comfortable.
Use your surroundings to get some inspiration and opt for long-lasting materials that survive in harsh outdoor weather. Additionally, the pillows should be flexible enough to allow different feelings whenever possible.
Plants Are Always A Good Idea
Potted plants are always a great idea as they add color and life. You can begin by getting a plant wall that acts as an amazing backdrop. It also adds visual interest and creates a focal point.
You can also use potted plants as a centerpiece, but avoid using large ones that don't leave space for cutlery and block people when having a conversation. If you're a plant lover, you can get flowers that'll add fragrance to the space around you.
You can also use potted plants to create a walkway by lining it up on two sides. The versatility of potted plants also lets you hang them, and, when mixed with the right lighting, will elevate the space.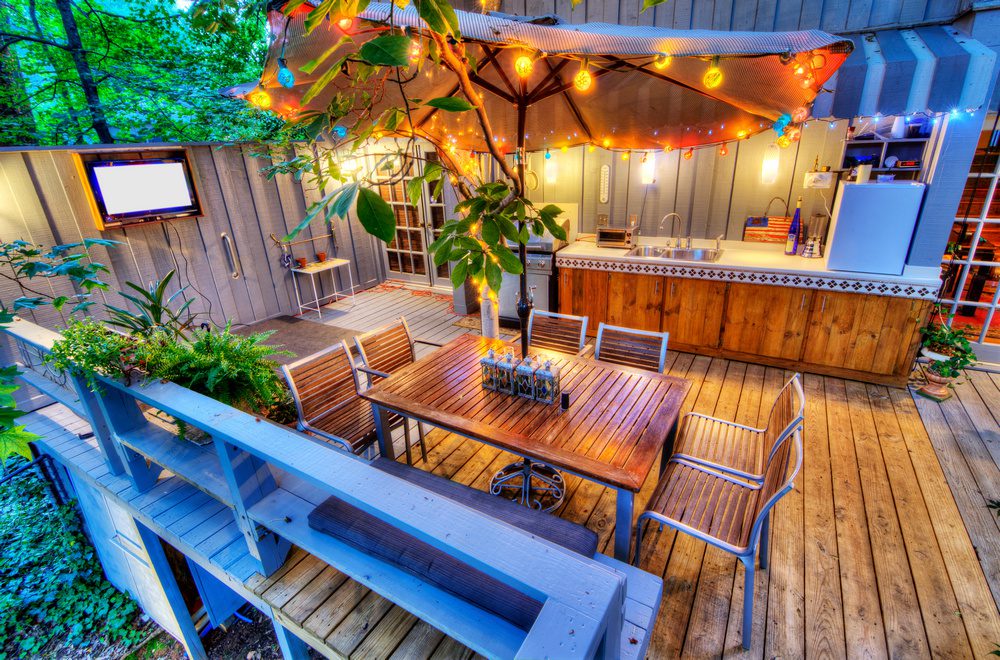 Hanging Creative Lighting
When incorporating lighting, ensure you blend the three types: ambient, task, and accent. First, you can access the amount of lighting you need before settling for anything. Next, take measures to avoid getting lighting that'll be too large.
Ensure that you're also getting sturdy lighting that withstands different weather elements. Invest in LED lighting that won't use much energy and is maintenance-free. The beauty of choosing to light is you'll get one that's perfect for each event. For instance, you can opt for intimate lighting when entertaining close friends and bright lights for dinners with family.
You can choose different types of patio lighting, including a pendant that hangs from the roof to create a statement piece. Another great option is portable lighting that makes it easy to move from one place to another, depending on the need.
Wash-downlights on a wall will also make the space look classy. Another classic lighting is the pendant options that look perfect over a dining table. If you feel adventurous, you can go for floor lamps that offer stylishness and practicality.
Add Color
Color can be added in more ways than one in a patio space. When adding color, go for colorful furniture that stands out without contrasting with the rest of the space. You can opt for colorful pillows instead of tan- and boring-colored ones.
You can also use colorful pots with different colored plants that add a colorful variation. Using colored pieces, including a mat, will add color and create a cozy space. You can go all out with different patterned mats for that extra statement.
A fresh new paint job is one of the greatest ways of adding color to a patio. Look for an option that complements your space without having a great contrast with the rest of the space. The color should form a cohesive feel with the furniture and throw pillows.
If you enjoy art and feel a little extra, a mural will be the perfect choice to cover a wall. It's also an additional way of creating a focal point on your patios.
Get A Suitable Rug
Your patio size and shape will help determine your rugs' shape, size, and design. Go for synthetic outdoor rugs that'll last longer even with harsh conditions, including constant sunlight. These rugs don't hold or absorb water, making them easy to maintain.
These décor pieces are perfect as they protect the flooring while improving the space style. Go for rugs in shapes that match your outdoor furniture. If you have round furniture, round rugs will be the best fit.
And since most outdoor rugs come in toned-down colors, you can get one with interesting patterns. Ensure that your choices complement the rest of the furniture and décor pieces.
Get New Seating
Patio furniture needs to be comfortable, functional, and aesthetically pleasing. Go for wicker furniture fitted with plush cushions that make it more comfortable to be safe. Try it out before settling on an option when getting new patio furniture. Ensure that both you and your guest will get the best comfort out of your furniture.
Go for foldable options and don't take up so much storage if you need to move it into your garage or shed. Remember that you aren't limited to neutral tones but can experiment with brightly colored options.
But with all this in mind, get quality patio furniture that can withstand all the conditions without replacing it prematurely.
Bottom Line
You can make your patio look amazing by elevating everything that goes into it. However, you'll need to go for quality items considering all this will be outdoors. Put all your creative juices and avoid sticking with safe choices.
Your patio can look stylish if you choose to get inspiration from different places, including online. Ensure that everything you pick aligns with your theme and can create a concrete feel.