While you can hope that nothing ever damages your house, it is important to be prepared for the worst. Most homes these days are protected against theft and fire with locking devices and smoke detectors. However, too many homeowners ignore a far greater underlying threat.
For most homes, the danger doesn't come from fire or external flooding from overflowing rivers or torrential rains. The most imminent threat is from water, but it's water that is from a source much closer to you.
There has been a significant surge in the incidence of water damage to homes in the US and Australia lately. One recent report estimates a 72 percent increase in the size of property-related claims filed by Australian homeowners. Insurance experts say the increase is almost entirely due to internal water damage and water leaks.
The US Insurance Information Institute has noted the same pattern in America. One out of every 50 American homes has filed a claim for water damage in recent years. In all, 30 percent of all home insurance claimed across the US in that time involved water damage.
How to Protect Your Home from Water Damage
The good news is that you can limit – or even stop – water from destroying your home. Devices like smart water-leak detectors, smart water monitors, and smart water-shut-off valves can help you avoid costly home repairs.
These devices can detect water leaks and warn you. Some can even shut off your water supply to prevent serious damage to your home.
1. Smart Water Detectors
Smart water-leak detectors are the quickest, easiest, and most inexpensive way to protect your home and belongings from water damage. You simply arrange one of these palm-sized sensors in a spot where you are likely to see a leak. For most homes, that's around a water heater or clothes washer.
If your plumbing springs a leak, the water should make contact with the sensor. That will trigger it to send a notification to your phone. Some models will even sound an alarm. Other models have long sensor cords that allow you to monitor a slightly larger area.
We recommend that you get a few units of Flo by Moen Smart Water Detector. These smart devices monitor for leaks as well as for temperature changes in case your pipes are prone to freezing.  
This water detector worked perfectly during our testing. While positioned flat on a floor, it responded instantly when it came in contact with water. The device sounded a beep alarm and generated push and email alerts. Most importantly, the Flo Smart Water Shutoff immediately turned off the water supply when the water reached the device. The disc extension cable also worked flawlessly.
That said, water detectors do have a few limitations when compared to other available options. For example, a water-leak detector can only sense water that physically touches it. If water runs in a different direction, then you can expect potentially serious water damage.
The devices are likewise only useful in small areas where water is likely to pool. They can't detect dripping faucets or leaks buried deep in your walls.
2. Smart Water Monitors
Your next option provides your home with a little more protection. A smart water monitor offers a more comprehensive way to track impending plumbing catastrophes. There are several models available, but the devices typically fall into one of two categories. You will need to strap one type onto your water supply line. The other type is physically plumbed into your line.
These devices monitor the flow of water in your pipes. Some also detect changes in pressure. If water flows at too high a rate or for too long, they will send you a notification.
The Flume Smart Home Water Monitor straps around your home's existing water meter in minutes.  You won't even need to call in a plumber or tools for installation. The device sends data about your water usage to your favorite smart devices. The monitor provides foolproof, real-time leak detection and notifications through your smartphone and Alexa devices. That means you can protect your home from water damage remotely.
You can even set a budget for your water usage with the device. Whenever you run water using one of your faucets or spigots, Flume will calculate how many gallons you're using. The device reads your meter as the water company does. But you can break usage down by weeks, days, and even individual showers.
You'll need some time with the device before you get a clear overview of your water use. But, trust us, it will be far more helpful than your monthly water bill. The truth is we found more use for Flume's weekly budgets and real-time water-use charts than its leak detection capabilities.
3. Smart Water Shut Off Valves
The best option is also the most expensive and complex. The more advanced versions of smart water shut-off valves have all the features of smart water monitors and much more. The devices have an electro-mechanical switch that can stop your home's main water supply if a pipe bursts or freezes.
These devices are expensive, and you'll probably need a licensed plumber to install them. However, many home insurance companies will offer you a discount for installing one as well as a potentially discounted or rebated price. This means you might just break even.
The Flo by Moen Smart Water Shutoff system is among the most popular smart shut-off valve models. The Flo is a smart water meter that monitors water usage throughout your home. The device tests your system for leaks and protects your home against water damage with an automatic shutoff feature.
Moen recommends having the meter professionally installed by a licensed plumber. The company will even help you find one in your area. You might need to shell out anywhere from $250 and up depending on your plumbing configuration.
This smart water meter performs daily system integrity tests and will alert you to any leaks. The Flo will also l let you know how much water the fixtures in your home are using. This can help you manage and conserve usage. Most importantly, it will track your home's water pressure, temperature, and flow rate. The device will shut down the water if it determines that any of the readings have reached critical levels.
As with the Flo, the Phyn Plus Smart Water Assistant is installed in your main water supply. The device monitors your water usage. Like the Flo, it alerts you of potential leaks. The device will shut off your water if you don't respond in a timely fashion.
The Phyn Plus is fully weatherized for both outdoor or indoor installations. The device is – in essence – a motorized valve. That means you'll need an electrical outlet within 15 feet of the valve to plug in its power supply.
The Phyn Plus comes with threaded fittings. The installation will require adapters and piping to connect to your existing water system. The entire assembly is almost 17-inches long, and so you'll need to make sure you have enough space. Again, we recommend that you have a professional install the device.
Both the Phyn Plus and the Flo are expensive, but the alternative could be even more costly. A leak or burst pipe while you're away can cost you thousands of dollars in repairs. Again, too, when you install a smart water shut-off valve, you just might get a discount on your home insurance.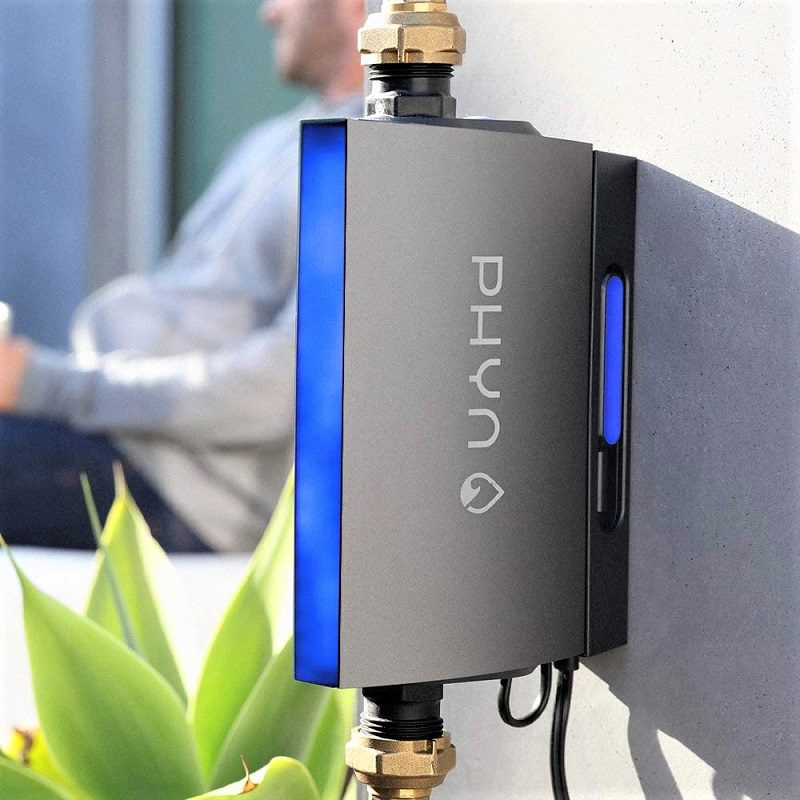 Better Safe Than Sorry
It's important to note that these smart devices rely on estimates. They will sometimes react in error, which can occasionally be a problem. For example, the devices can sometimes be over-or under – sensitive. Someone taking a bath at an unusual hour might trigger a nerve-wracking alert that the house is flooding.
Still, we think homeowners should consider these devices for their ability to stop potentially disastrous water leaks. These can cause significant damage to a home in a matter of minutes.
That said, the devices are also limited. Smart shut-off valves cannot detect water flowing into your home from sources outside your pipes. That includes rain, floods, and melting snow. If your home is vulnerable to water from the outside, consider subscribing to your area's flood monitoring systems.
---