Work boots have been around for as long as people have had to work. Neolithic hunters fashioned them from deer leather on a mesh of braided linden bark stuffed with moss for insulation. The ancient Romans had two versions to choose from: with or without hobnails for traction.
Today, you'll find work boots for just about every job out there. They typically offer heavy-duty protection and good insulation. The best options are oil-resistant, slip-proof, and waterproof. Some will even protect you against electric shocks.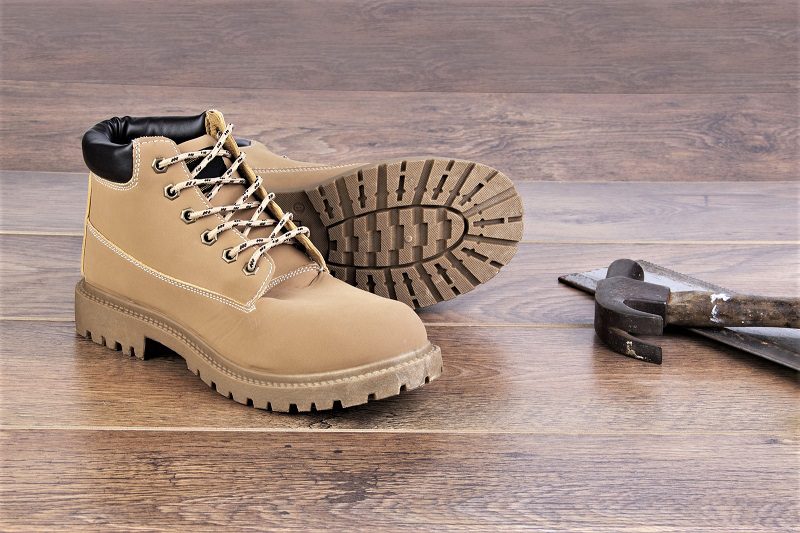 Boots for Every Job
With such a wide and varied selection, you might find it hard to find the right work boots for you. To help out, we've put together a list of five of the best work boots you can buy online right now.
Our selections are based on our own testing and the standards of the American Standards for Testing and Materials (ASTM). We've also relied on the opinion of the experts from websites such as Popular Mechanics and Sturdy Boot for additional information.
1. CAT Excavator Superlite
Apart from safety and durability, manufacturers will often design work boots with a specific feature in mind. With the CAT Excavator Superlite, it's obvious that comfort was on the top of the list.
These work boots are some of the most comfortable we have ever worn. They almost feel like athletic sneakers on your feet. That's mainly because of the composite safety toe, nonmetallic construction, cushioned insole, and a contoured footbed with a rebound foam.
The Superlite's outsole is made of a rubber material that resists slipping in both wet and oily conditions. The boots are waterproof and the rubber toe cap and abrasion-resistant heel cup protect the boots against the usual wear-and-tear. Even more impressive, these boots are impact-resistant and will protect your feet against electrical hazards.
Buying from Amazon means you won't have the benefit of trying on several sizes. We recommend that you rely on the sizing standards of the ASTM. The Cat Excavator Superlite boots are dead-on true-to-size according to those standards.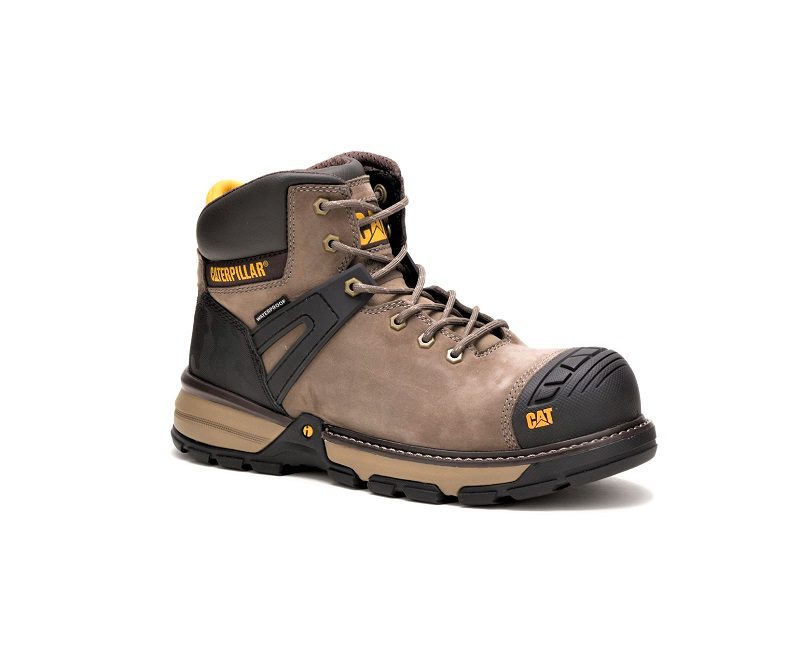 2. American Leather Tobacco Plain-Toe Work Boots
Thorogood's American Leather Tobacco Plain-Toe Work Boots are also surprisingly comfortable. These high-cut boots are patterned after a style that has won the praise of experts from all over the world. The tobacco oil-tanned, full-grain leather is soft and pliable right out of the box – no break-in required.
The boots run true-to-size ASTM, too, but they fit better with mid-weight to heavier socks. The speed hooks allow for quick lace-ups.
Thorogood's soft, nonslip MaxWear wedge outsoles feel comfortable and stable even when you're standing on a wet or oily surface. Thorogood also makes a steel-toe option available to people who need that level of protection.
We like that these boots are fully serviceable. Once you've put miles and years on them, you can take advantage of Thorogood's refurbishment program. The brand offers full service to give your boots a new life.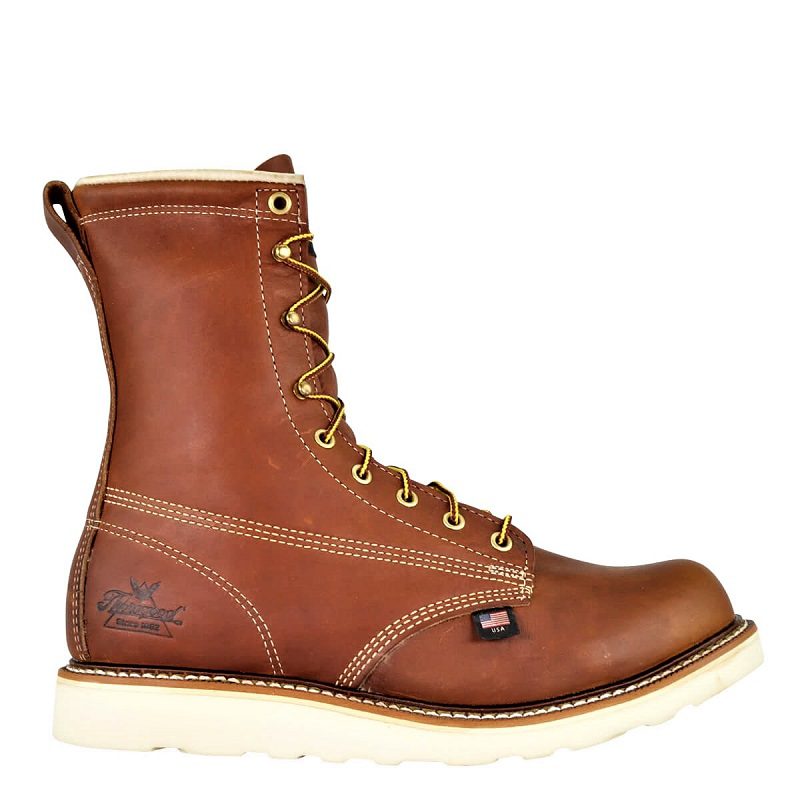 3. Keen Troy Composite Toe
Keen designed its Troy Composite Toe Work Boots for jobs that regularly give the feet a beating. But the company says these boots are medium-duty footwear and may not be ideal for construction sites or extreme conditions. Troy Work Boots showcase the KEEN.BELLOWS Flex technology, an ergonomically engineered system designed to offer multidirectional flexing at the toes.
The Troy has a partial rubber cap around the front to protect against cuts or scuffs. Keen uses a rubber material across the forefoot, as well. This forms a hinge where leather typically cracks from repeated bending.
These boots are comfortable and lightweight. The lining is waterproof. The manufacturers also use a lightweight air-infused PU midsole to ensure support and comfort. Meanwhile, the air-injected heel reduces the impact on your body. The result is a work boot that protects your feet from discomfort, as well as a few work hazards.
4. Carolina Elm Plain-Toe Work Boots
Carolina Elm Plain-Toe Work Boots are styled after traditional all-leather loggers. While boots of this style often require days of break-in, Carolina's work boots are fairly comfortable right out of the box. Sure, it might take you two days to get these boots loosened up. But, even so, they aren't going to cause your feet any real discomfort.
We liked the padded tongues, which help keep the boots comfortable even when you lace them tight. The Elm runs true to ASTM size. The metal speed hooks appear to be forged, rather than stamped out of flat sheet metal.
The Elm will keep your feet dry if you have to work in a damp environment. The boots have a light waterproof lining. The water-resistant tongue webbing continues almost to the top of the boot, too.
You should expect some discomfort when operating the gas pedal in some cars. But you likely won't experience the same discomfort with the more upright position when driving a pick-up.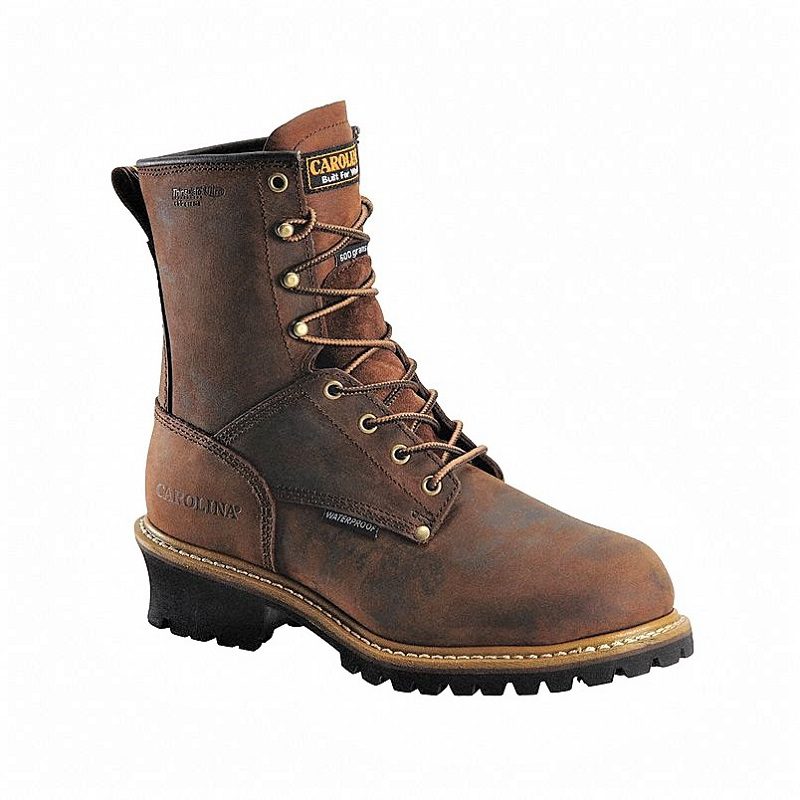 5. The Danner Arcadia
The Danner Arcadia provides excellent support and stability, mainly because of Danner's famous stitch-down construction 8" and waterproof lining. These military-style boots are sturdy and made from high-quality leather and nylon, ensuring a snug fit. The Arcadia isn't the most comfortable option out there, but the boots do keep your feet reasonably warm and dry.    
The boots will provide a stable platform and traction even on dirt inclines and wet or oily surfaces. The fiberglass shank and 8mm Vibram sole allow enough flex to be reasonably comfortable while still resistant to torsion. You can even run in these boots, although they aren't the lightest work boots in the market.
The Acadia comes with a composite safety toe and a lugged outsole for extra traction. The textile-plus-leather material feels more ergonomic and cooler than all-leather options. As advertised, the Acadia runs narrow and long. Unless you have narrow feet, Popular Mechanics suggests an EE width and buying down at least a half size.
Choosing the Right Work Boots
Whether you're looking to buy your first pair or trying to find a better option, select your work boots carefully. Making a selection based on your occupation is always the smartest route when purchasing work boots for everyday use.
The International Labor Organization estimates that some 2.3 million women and men succumb to work-related accidents or diseases every year. The global construction industry has a disproportionately high rate of the recorded accidents.
That said, the work boots on our list should suffice for your home workshop. They are also suitable or for a range of typical home repairs and maintenance jobs.
---