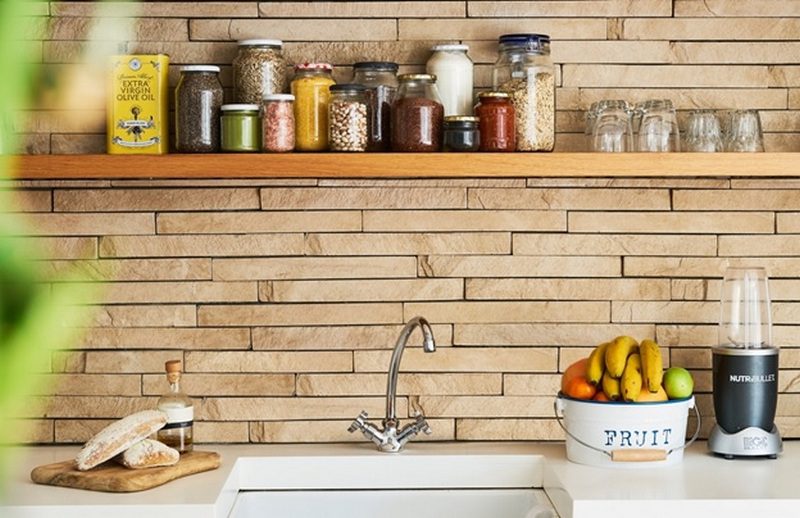 The kitchen is the room of a house we use most often, so it is common for many of us to want certain upgrades for it. Some can improve your kitchen on an aesthetic level while others are geared towards practicality. Depending on budget and vision your kitchen can be revamped with just a few tweaks. Functionality and design applied to a kitchen make for a cozy inviting space. Renewing a kitchen can be fast and easy, and does not require a lot of tools.
1. Optimized shelving space
A kitchen has many tools, pots, and pans, which need to have a space where they won't be in the way, while also being accessible.
Kitchen cabinets might not cover every inch of your walls, leaving empty corners, which can still be used for extra storage with some corner shelves. Stylish open shelves add a nice aesthetic to your kitchen as well as provide more room for those beautiful jars you've been keeping hidden, or for herb containers.
Open shelving can be combined with peg rails to hang utensils for easy access and extra storage space, as well as add a beautiful feature to the kitchen.
Another way to optimize storage is with pull-out cabinets. Space is inevitably lost around the fridge sometimes, and a fitted pull-out cabinet expands storage capacity and accessibility. There won't be any reaching for the very back, or taking everything out, as it can easily be taken out and inserted back.
Even a trendy-looking wine rack helps save up space and makes a kitchen look even slicker. Matching a wine rack with the furniture either by choosing one made of wood or metal will add a point of interest to your kitchen.
2. Water filter system
Water is needed for just about everything in the kitchen, especially for cooking and of course for cleaning. Investing in a water filter system in the kitchen will mean higher quality, tastier, limescale-free water. Particularly a space-saving under-the-sink filter or a budget-friendly countertop water filter, both bring out improved quality water to your kitchen.
When trying to pick which of the many options available to treat and filter the water, you may stumble on a slew of sources. Some of the best to be had are available from a highly dedicated group of people thoroughly researching and providing such information. They call themselves the Masterz of Water and they may be the stepping stone in your journey of choosing the perfect water filtration system for your kitchen.
Water filters are very useful and practical when it comes to reducing water hardness, too, and protecting kitchen appliances. Washing with filtered water will reduce watermarks that remain on plates and dishes after they dry.
3. Kitchen mixer tap
A kitchen equipped with a mixer tap instantly projects a modern look. Not only is it a stylish update for a kitchen, but it also has some very practical uses. For one, it regulates water pressure with its built-in aerator and saves water in the process. It's very efficient when washing dishes as it can extend further out of the tap and offer a whole range of movement with only one hand.
There are several varying styles to a kitchen mixer tap, designed to fit every aesthetic or practical need. Some versions come with a spraying functionality, the better to save water and wash vegetables in preparation for meals.
4. Kitchen island or peninsula
If the available space permits it, a very good way of expanding your usable kitchen space would be to update it with a kitchen island or peninsula. This provides more workspace and even extra storage underneath.
This update might seem like a more costly one, but it need not be. A simple sturdy table could double as a kitchen island or peninsula, for it does not have to be integrated into the existing kitchen furniture. It may even be a better option as it can be taken away when moving.
Alternatively, expanding the existing peninsula with an overhang and legs for adjacent dining space. With a few chairs in place, it will look like an entirely new counter.
5. Pendant lights
Having good lighting in your kitchen will accentuate certain features and brighten the overall room. A few overhanging pendant lights above the kitchen island or peninsula do just that and make the workspace that much more bright and open.
Pendant lights come in many different styles, and they all make a kitchen look incredibly chic. Rigged with energy-saving light bulbs, pendant lights will offer the perfect lighting at no extra cost to your electricity bill. They can even be installed with dimmer and recessed lights for better brightness control.
6. Hood extractor
Among some of the best kitchen updates to implement is a hood extractor. Using the stove with a hood extractor above will remove cooking smells to keep the kitchen as fresh and clean as possible. Most modern hood extractors are also equipped with grease and charcoal filters. It minimizes the amount of grease that usually ends up on the tiles splashback next to the stove and extracts smoke in the process as well.
This makes cleaning that much easier as there is not going to be a huge mess after. It doesn't hurt that a hood extractor garners a modern look either, that with its usefulness, makes it an ideal upgrade for any kitchen.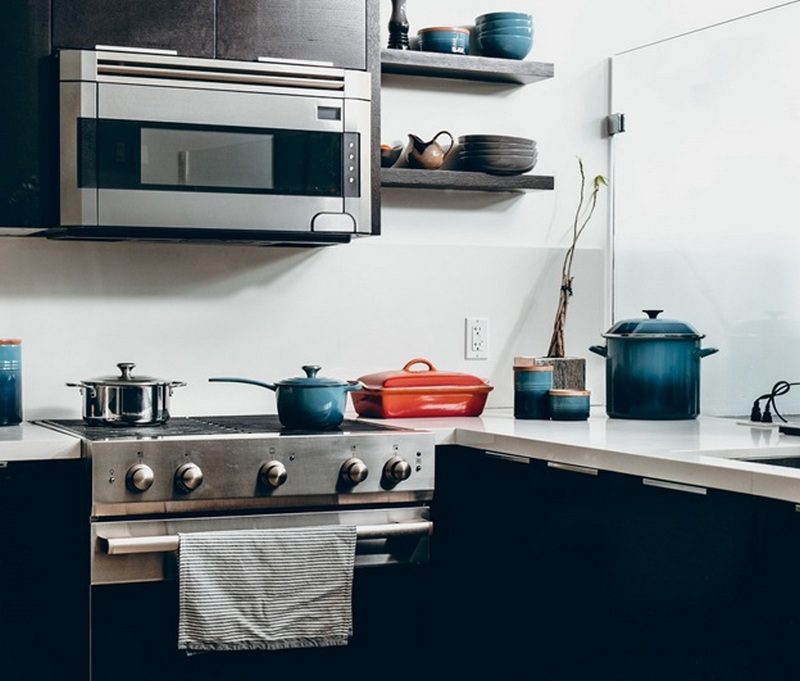 7. Chalkboard wall
Painting one of the kitchen walls in jet black chalkboard paint will spruce up the room in a flash. It doesn't even take much time as it is only one wall, and there are other color variations besides black. A chalkboard wall makes it so that it can be used to write on. Either for quick mementos or as a very helpful way of keeping kids busy, a chalkboard wall in the kitchen can be a highly useful investment. It is also a very inexpensive way of updating a kitchen, as there is no need for many cans of paint for only one wall.
Furthermore, magnetic variations of chalkboard paint make it usable with fridge magnets, adding a nice new feature to the mix. This kind of paint job can be interpreted as a kitchen practical version of an accent wall, but with some personality.
8. Cupboard revamp
A highly cost-effective method of tidying up a kitchen is by painting the cupboards. Replacing them entirely might not be an option in many cases, but a splash of paint with some new knobs and handles will give your kitchen a fresh look. Paint or lacquer could even extend and preserve existing cupboards of furniture for a longer period.
An update like this is oriented more towards the aesthetic part of a kitchen, but even a little more coziness is welcome in what many consider the heart of the house.
9. Smart kitchen appliances
On the more pricey side, some high-quality tech improvements can render a kitchen more efficient. We often follow recipes while cooking and constantly having dirty or wet hands will mean that flipping through a book or notes will be both time-consuming and damage the paper. So using a tablet or virtual assistant like Alexa to find a recipe hand-free is a helpful way of dealing with issues like these. Not to mention it saves up on paper.
Some other useful technologically advanced kitchen tools come in the form of smart stoves that have timers included so that they turn off by themselves. Other high-tech stoves have self-cleaning functions that burn off spilled grease and food residue for easy cleaning with no scrubbing, or harsh chemicals.