The next your time come across a window shutter in the dump, or if you have one that you're thinking of throwing away, consider these great ideas for recycling those old window shutters first.
You can retain their old, scratched, peeling appearance and retain that rustic charm when you upcycle them into shelves, a bench, dumbwaiter, or divider.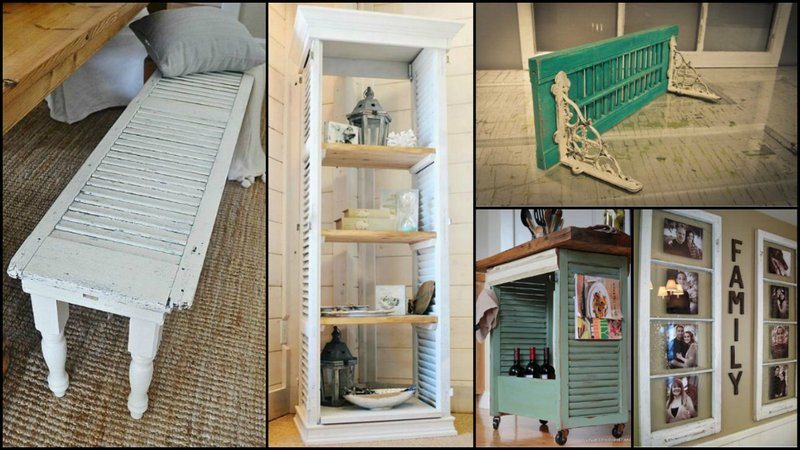 Old shutters lend that ambiance of times gone by, which is why it can be transformed into an accent piece that's both decorative and functional in any room. You can blend it with the new as it is or lend it a new look with a fresh coat of paint, polishing or sanding.
The next time you see old window shutters, don't throw them away – not just yet. Well, not until you have taken a closer look at our gallery of ideas for recycling or upcycling old window shutters. You just might change your mind about throwing them away. It's also one way for you to reduce the garbage in the environment.
Check the gallery below for ideas and inspiration and see how a little creativity can go a long way.
Click on any image to start lightbox display. Use your Esc key to close the lightbox. You can also view the images as a slideshow if you prefer 😎
Bench
Need seating in your home or garden? This inexpensive bench made from an old window shutter might work for you.
Bookcase
This is a perfect place to store your growing book collection. It's sturdy, easy to build, and is made from repurposed window shutters.
Headboard
It's amazing what you can do with a bit of imagination and a couple of old window shutters. Instead of buying a new headboard, why not make one from repurposed window shutters.
Kitchen Island
Want to add a kitchen island, but don't want to spend money buying one? Gather a couple of old window shutters and some timber, and you can build yourself a stylish and inexpensive kitchen island.
Privacy Screen
Don't have a fence but would like some privacy in your outdoor area? You don't have to build a full-size fence, these privacy screens made from window shutters give you privacy in your patio or deck.
Coat Hanger
Hang your coats in style with these repurposed window shutter coat hangers!
If you liked these projects, you will also like viewing other recycling ideas…