What do you do when you have limited space but need to work from home and you still need to have a storage shed.  This Platform 5 client specified a 'shoffice'.  The result is, in our opinion, a very attractive, equally functional workspace.  Here are the architect's notes: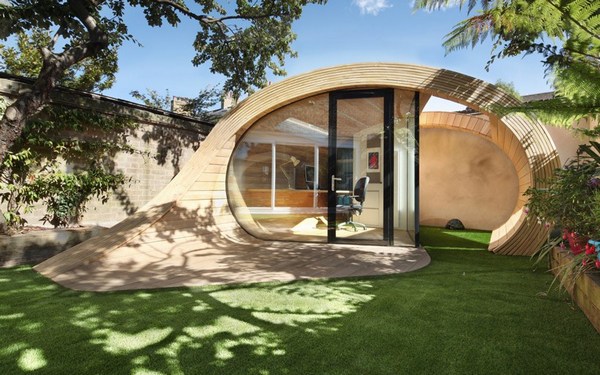 "Shoffice (shed + office) is a garden pavilion containing a small office alongside garden storage space located to the rear of a 1950's terraced house in St John's Wood with the brief requiring the shoffice to be conceived of as a sculptural object that flowed into the garden space.
The glazed office space nestles into an extruded timber elliptical shell, reminiscent of a wood shaving, and forms a small terrace in the lawn. The interior is oak lined and fitted out with a cantilevered desk and storage. Two rooflights – one glazed above the desk with another open to the sky outside the office bring light into the work space."
Click on any image to start the lightbox display.  Use your Esc key to close the lightbox.  You can also view the images as a slideshow if you prefer  

We can think of many ways this could be used. How would you use it if it was sitting in your garden?
If you like this, the Tetra-Shed is sure to be of interest…