Jipyeong-myeon, Yangpyeong-gun, Gyeonggi-do, South Korea – BCHO Architects
Project Year :     2014
Developed Area :     161.78 m2 ( 1747.22 Sq ft2 )
Photographs :     Sergio Pirrone
Sometimes, we see things in the most unexpected places. This home, for example, appears to be embedded in the ground when viewed from a certain angle – and it sits amidst lush forests and rolling rice fields.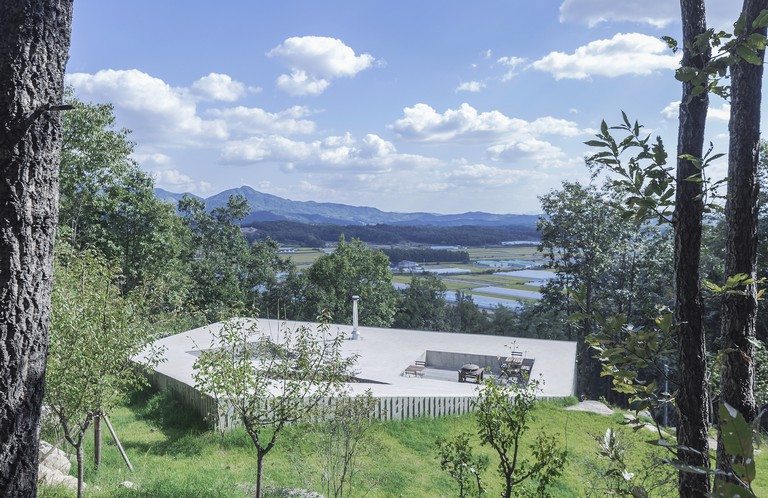 Despite the huge space, this home calls for clutter-free living with nothing but the bare essentials. One room rolls over to the next in a seamless fashion, allowing natural light to easily go in.
It's easy to understand why the Tilt Roof House is the subject of many interesting conversations.
Architect's Note:
Set amid peaceful mountains and rice fields an hour east of Seoul, Korea, The Tilt Roof House is part of a community master plan proposed by the clients and their friends in Sukokri neighborhood.  Sharing common passions for travel, nature, and design, they decided to create a small artist community where they could go hiking and do outdoor activities together. As part of Sukokri artist community, the subterranean Tilt Roof House shows architect's understanding and consideration of "Ki", which is the traditional term for the universal energy that permeates everything.  Tilt Roof House tries to respect the natural energy flow of the existing mountains.
Click on any image to start lightbox display. Use your Esc key to close the lightbox. You can also view the images as a slideshow if you prefer 

Exterior View  :
Interior View :
Drawing View :
The idea of a subterranean house is interesting, but did you know there's one that's literally underground? Read about it here.