Grilling with charcoal on a combustible platform is a fire hazard worthy of Wiley E. Coyote. Flames, embers, and heat from the grill base can cause a fire on a timber deck or porch. You should never use a charcoal grill on a wooden deck. Your best – and safest – option is a gas grill.
While grilling on a concrete or brick patio is ideal, you can use a gas grill safely on a wooden deck. Unlike a charcoal grill, you don't have to worry about flying embers when using a gas grill. There is also no need to use chemical fire starters. These can be hazardous around dry wood.
There is, of course, still the risk that comes with having propane and heat around flammable objects. However, with proper safety, you have less to worry about when using a gas grill.
How to Use a Gas Grill on a Wood Patio
If you plan to host a barbecue, you should prepare in advance. Keep in mind the obvious fact that wood and fire are a dangerous combination. You should make doubly sure that you have taken proper precautions.
Below are a few tips to keep your family, yourself, your guests, and your home safe when grilling on a wooden deck or porch.
1. Set up your gas grill several feet away from the house.
The first thing you have to decide is where to situate your gas grill on a wood deck. You will need to find a spot several feet away from the main house. The farther your grill from your house, the better.
Do not set up under eaves or near trees with overhanging branches. A fire surrounded by wood and dry, flammable materials is an accident waiting to happen. Do not crowd the grill. Make sure there is ample space on all sides of your gas grill.
Confirm that the site you chose for your grill is level. Make sure the grill will not tip over. Block or lock the wheels on your gas grill to prevent it from rolling.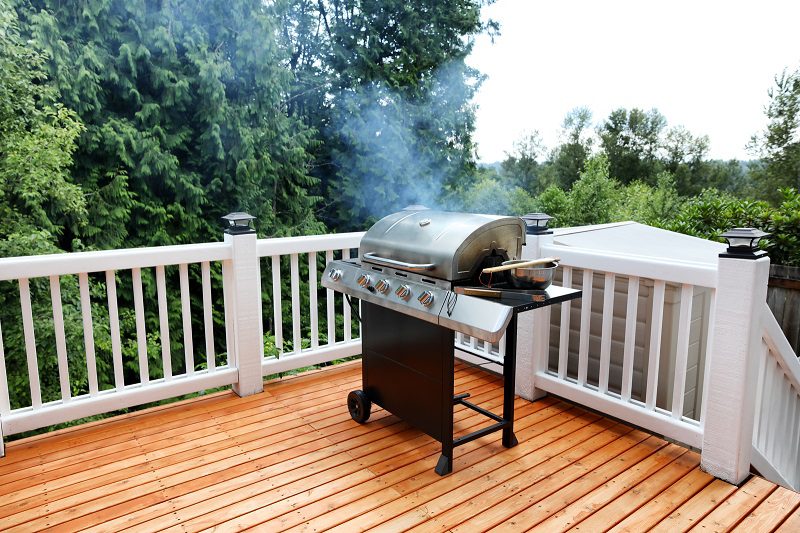 2. Reduce the accumulation of grease around the grill.
Remove any flammable accumulation of grease from your grates before and after each use. Unclean, greasy grills are among the leading causes of fires while grilling.
You can reduce hazards by utilizing fire-resistant materials and tools, as well. For instance, you can use drip pans underneath your food. This will help reduce the grease that reaches your grill.
We favor Fig and Leaf Drip Pans. The base of each of these pans measures 7.5 inches by five inches. This makes it compatible with many of today's best gas grills, including those in the Weber Genesis series.
3. Open the lid before turning the gas on.
Make sure you open the lid before turning on the gas. A closed lid will accumulate gas. This can cause an explosion if there is a delay in hitting the ignitor.
Gas can also build up if the ignitor fails to light quickly. When this happens, wait about five minutes for the gas to dissipate before re-igniting
4. Use a heavy-duty grill mat.
We suggest that you use a grill mat. Not just any grill mat will do, either. You will need to find a mat that is heavy enough so that it isn't blown around by the wind. The mat should also be large enough to cover your whole grill area with a few extra inches all around.
We recommend the Grillaholics Grill Mat for its price, size, durability, and versatility. You can use this heavy-duty grill mat for cooking and baking besides grilling, as well.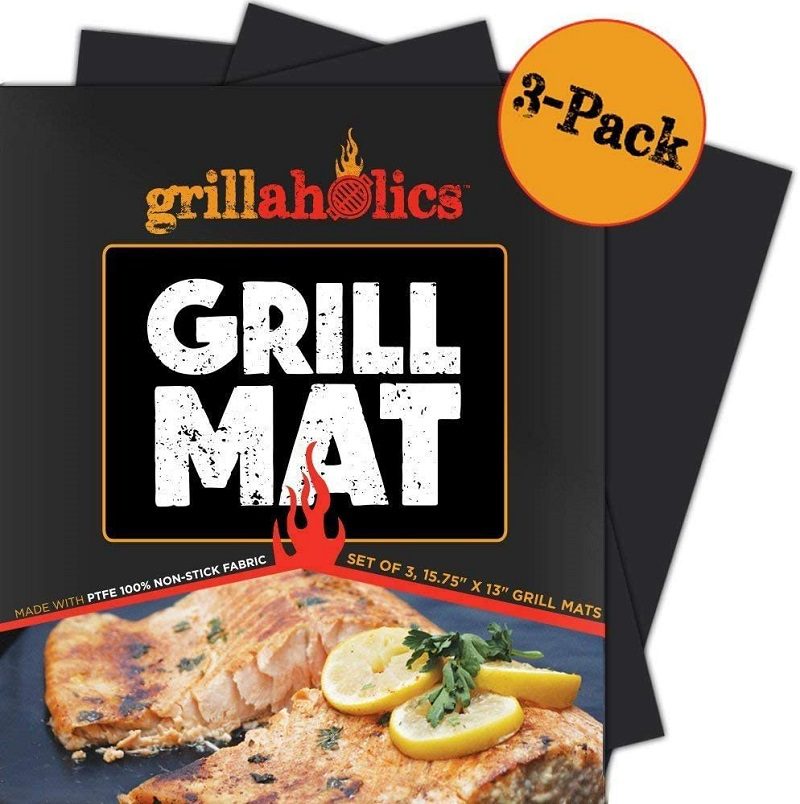 5. Keep the grilling area clear of flammable materials.
Good grilling requires constant motion on your part. You are always moving around, adding food to the grill or basting with a small brush. That can keep you quite busy. Even so, be sure that you avoid keeping any items that could catch fire near the grill.
Do not set such things as napkins or paper towels on nearby surfaces. Keep all flammable items away from the grill area. For safety's sake, keep the surrounding three-foot radius around the grill clear when possible.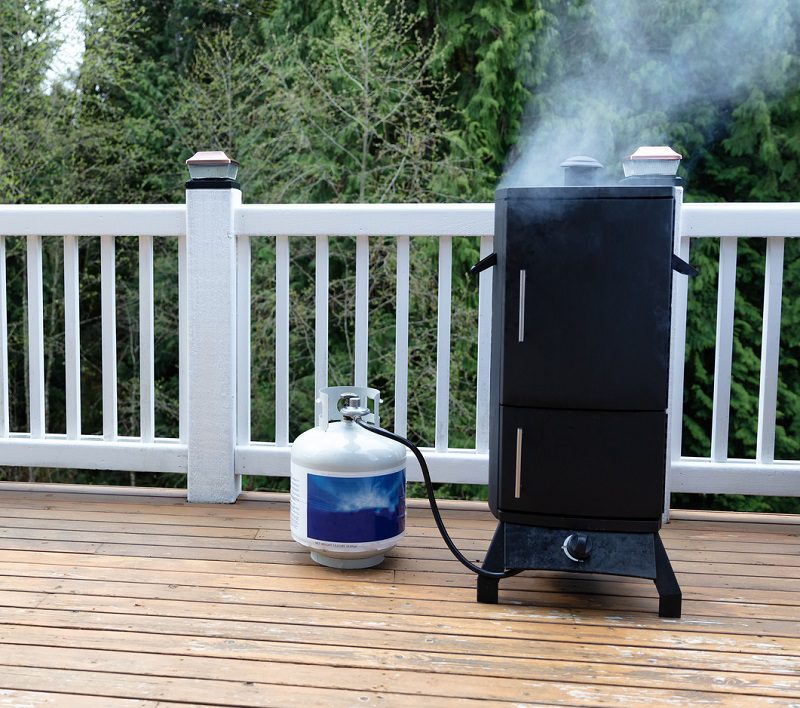 6. Take note of the weather.
Keep an eye on the weather. Depending on where you live, winds can pick up in an instant. Windy weather can quickly start a fire, setting nearby items and objects aflame.
If the winds pick up while you're grilling, wait for it to dissipate before going on. In the worst case, you may have to accept that safe grilling simply isn't possible.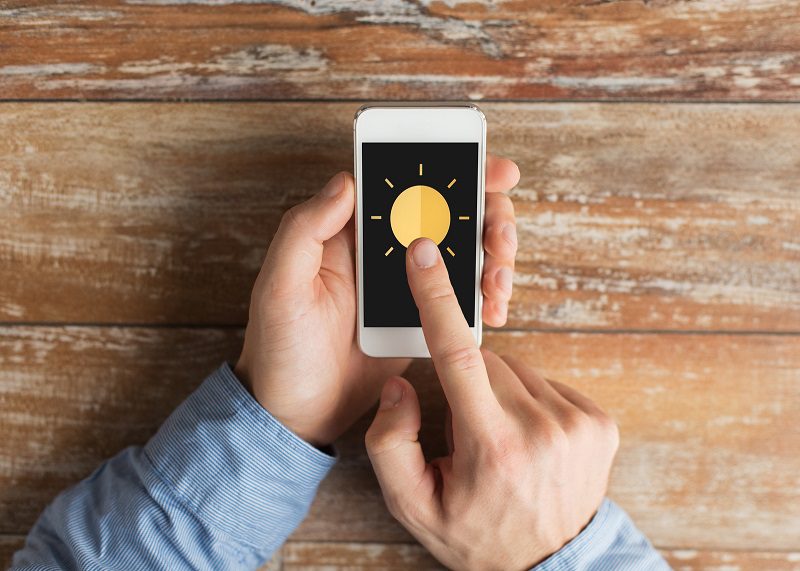 7. Keep a fire extinguisher within reach.
Even the best grillers have to put out an unruly flame from time to time. When you are grilling on a wooden deck, you increase all the risks that are inherent in grilling. That's why you need to make sure that you have a fully charged fire extinguisher near you.
For this, we favor the Amerex B402. This dry chemical fire extinguisher is long-lasting and reliable. It's also the perfect size for general home use. The B402 will snuff out all kinds of fires: trash, flammable liquids, wood, and paper. It will even safely put out an electrical fire.
If you don't have a fire extinguisher, you can use baking powder as a quick substitute. Baking powder is available in most kitchens. You just need to sprinkle some on an accidental flame to put it out quickly. Don't use water. Water increases grease fire.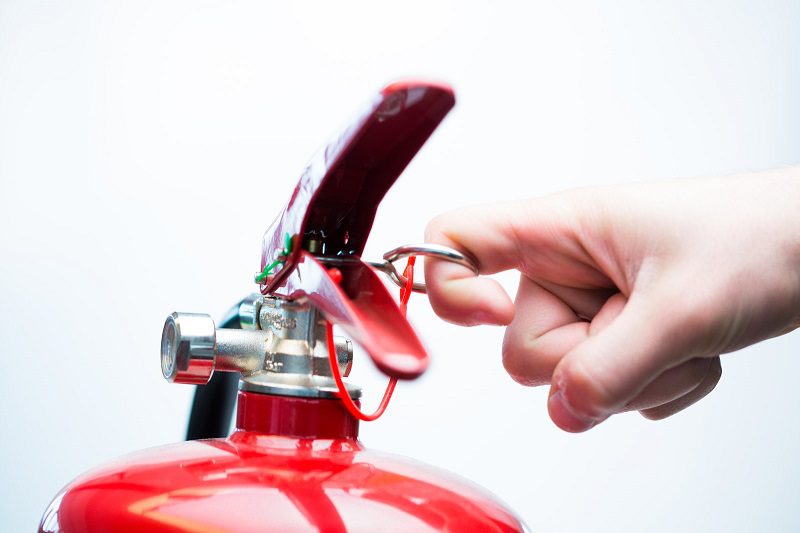 8. Use the two-zone grilling method.
Experts recommend that you use a two-zone cooking method to prevent dangerous flare-ups while grilling. The method involves establishing two different sides on the grill – hot and cold areas. This allows you to move the meat quickly to the cooler area when a flare-up occurs.
This will also help prevent fat from dripping onto the flames, and thus, minimize the flare-up. After moving the meat to the cooler area, you can put the lid back on the grill and wait until the flare-up dies down.
Keeping It Clean
You can grill safely on a wood porch or patio provided that you use a gas grill. But your gas grill is just like any other electric appliance. It requires regular cleaning, especially after each use.
Cleaning prevents the spread of bacteria and the build-up of flammable grease. If you allow grease and fat to build up on your grill, they provide more fuel for a fire. Grease is a major source of flare-ups.
---