Nothing beats the satisfaction of picking up tools yourself and starting a DIY project at home, except for the feeling of fulfillment you'll get once it's completed.
Of course, there's always the option of bringing in a professional, or a whole team, to tackle domestic construction jobs of all sizes. So which should you choose?
Things to Consider: Hire Someone or Do It Yourself
This doesn't have to be a tough choice, so long as you ask the right questions up top. Here are the main factors to go over as you start laying the groundwork for your home construction project.
What Are Your Skills?
Whether or not you have the necessary skills to manage and complete a home construction project yourself is the first thing to take into account. If you don't, then hiring someone might be a good option.
As part of this, consider your abilities and experience in whatever areas of construction will be needed to get the project over the line.
Bear in mind that you will also need knowledge of building codes and regulations that must be followed during any construction or renovation project. Even if you don't actually need to adhere to any specific standard, the point is that you need to be able to tell the difference between a project that doesn't require particular permissions to complete, and one that does.
It is also helpful to understand basic architectural design principles when planning out your project. Again, non-experts can do amazing things when they put their mind to it, but the more you know, the greater your chances of achieving what you set out to do.
What Does Your Diary Look Like?
Most of us don't have very different schedules, so one person might be able to squeeze in a large-scale set of work on their property more easily than another. And of course, if you don't have enough time to manage the entire process, outsourcing it will avoid leaving you spread too thin.
Recruiting experts to step in can also make sense if getting the work done quickly is of paramount importance. For instance, if you need extra space right away due to an expanding family, then you might not be able to afford to wait.
Of course on the other hand, if there is no particular rush and you can afford to dip into this project during your spare time, over the course of several days, weeks, or even months, then you've got a bit more flexibility in terms of how you proceed.
What Tools and Materials Will You Need?
Without the right tools and materials, you'll be stuck with a great design for an extension or remodel, but have no way of moving forward. This is another key part of picking between going solo or roping in the pros.
If you choose the DIY route, then make sure that you have all of the necessary supplies before starting work. If you've already got plenty of hardware cluttering up your tool shed or your garage, that's all good. But even then, you'll still have to source the materials and consider things like how they'll be delivered and handled on-site.
Conversely, hiring someone to handle things like the provision of materials and the implementation of specialized tools and heavy equipment, could be more attractive to anyone who isn't quite as well prepared for major DIY work themselves.
What About Safety Risks & Liability Issues?
In any construction project, there are always risks associated with safety to take onboard. Then there are potential concerns over liability, should something go awry.
If you decide that DIY is the way to go, you'll have to effectively carry out a risk assessment of the entire project beforehand. And of course, it's also in your purview to be cognizant of building codes and regulations in your area, as mentioned earlier. If you aren't, then you could be liable for costs and other complications if something goes wrong in the future.
Meanwhile, if you're hiring someone for the job, then you need to check that any contractor you work with is insured in case something goes wrong during or after the completion of a project.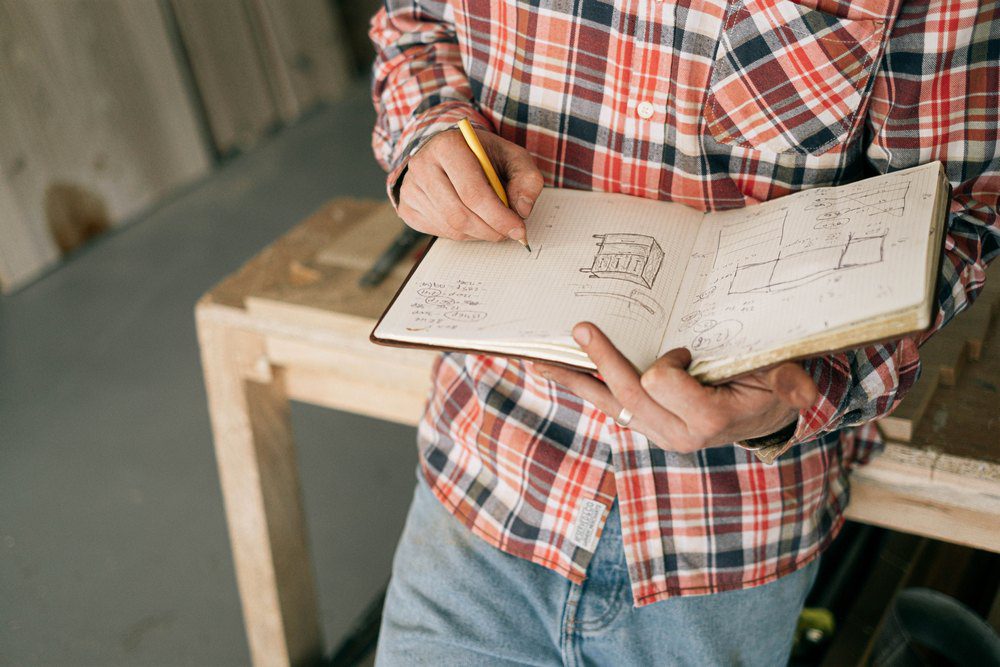 How Much Do Contractors Cost to Hire?
It's always important to consider your budget when making decisions about home construction projects. If you decide to hire someone, then make sure that you get quotes from several contractors and compare their rates.
There are plenty of estimating and invoicing apps to facilitate this, Make sure any contractors are using this type of software, so they will be able to accurately and consistently price up a project, keeping you in the loop from day one.
It is also important to ask for references so that you can check out previous work done by any potential candidates. Additionally, some states require contractors to be licensed or insured, so if this applies in your area, then don't forget to inquire about these details before signing on with anyone.
What Quality of Finish Do You Want to Achieve?
The last thing to bear in mind is that even if you're capable of doing the work yourself, there's an added layer of competence that a professional contractor will be able to bring to bear on finishing off a construction project.
This comes back to time and resources. If you are willing to take things slow, accept that you'll make mistakes, and be willing to rectify them, then the DIY route is definitely worth taking, as you'll be much more satisfied when all is said and done.
Of course, if you know that you have a small time frame and a limited budget, or you simply don't have the patience to put up with setbacks, then bringing in the pros is better all around.
Also don't forget about maintenance costs, which are a long-term issue in any construction scenario. If the quality of the finish is of a high standard, then there will be fewer issues in this regard.
Wrapping Up
There's no single right answer here, so it's down to you to compare your options, calculate the costs, and be honest about your own abilities, before deciding on how to proceed with a home construction project.
If in doubt, speak with friends, family, and colleagues about any work that they've completed on their homes, and get a sense of what challenges they faced, what advice they'd give, and whether they'd recommend doing it yourself or hiring someone instead.
Sometimes the middle ground is the best way forward in terms of both affordability and effectiveness. Do what you can yourself, but know your limits and hire pros to deal with those duties that are beyond you. You'll be much happier with the results.