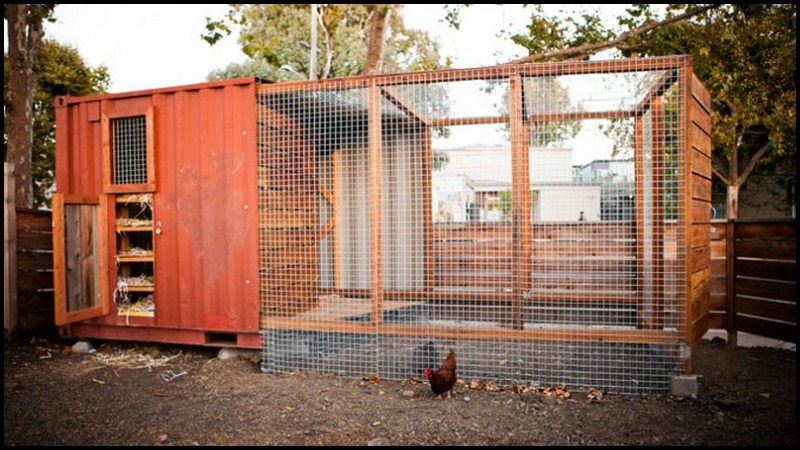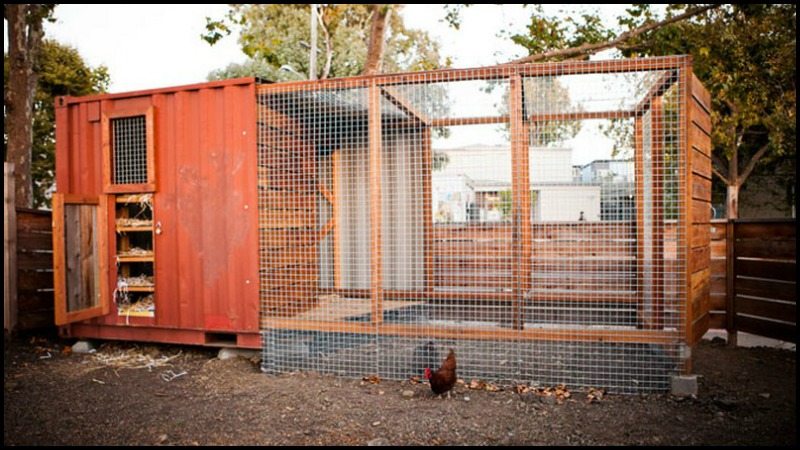 Would a shipping container fit as a chicken coop? If you ever think about producing fresh eggs for business, you're definitely going to need an adequate and proper chicken coop for that. But what is a 'proper' chicken coop in the first place?
According to the author of the book entitled "Reinventing the Chicken Coop", a chicken coop should be comfortable and safe for the chickens and suitable for laying eggs.
Of course, we also want something that is easy for us to clean. Now as long as these standards are met, your chicken coop can be anything you want it to be! Here's one example – an old shipping container…
The container was split into two and its other half was made as a shed. The coop, which includes a chicken run, was built with huge amounts of wire mesh and old redwood fencing they found on Craigslist. Today it houses 40 happy chickens!
This unique chicken coop was built by business partners, and authors of the above-mentioned book, Matthew Wolpe and Kevin McElroy.
The project was done as a workshop under City Slicker Farms in West Oakland with volunteers from various socially responsible companies.
Take a quick tour by viewing our album below.
If you want to learn even more about the Container Coop and its builders, you can head over to Just Fine Design/Build.
A shipping container transformed into a chicken coop
Shipping containers are made in factories and have been extensively used to ship goods across the world. They are most commonly rented or purchased by businesses to store their goods.
They are used by business owners of all sizes and are a great way to keep products safe and secure. The standard shipping container (with dimensions of 8 ft x 8 ft x 9 ft) is a great starting point for a chicken coop.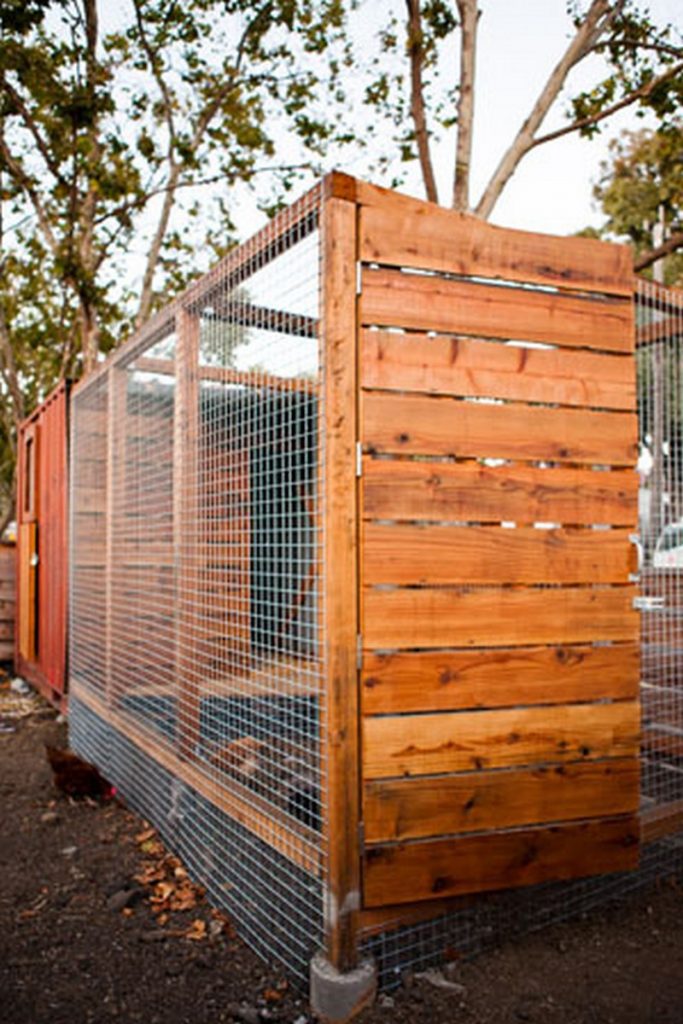 But, you can customize your chicken coop with a few ideas. First, you can build the chicken coop over this container, or you can use the container as a base and build a raised wooden structure around it.
The idea is to add a ramp to the steel container door so your chickens can enter and exit the coop. You could also build a coop over your shipping container, leaving the door as an accessible entrance.
Make sure you can also easily access your chicken coop if it is over the container if you want to add more space to it. You can build the chicken coop inside the container. You can build platforms, ramps and partitions inside the container to be able to grow more chicken.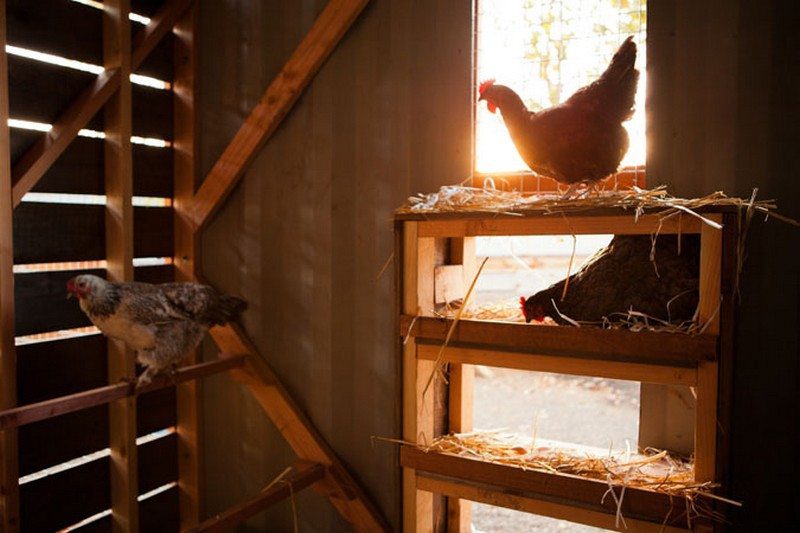 Or you can cut the containers in half and build a wire mesh wall with the use of lumbers or steel bars, whatever materials are available.
If you have the skills to work with wire mesh, you can use it to build a barrier that will keep chickens in their chicken coops and the predators out.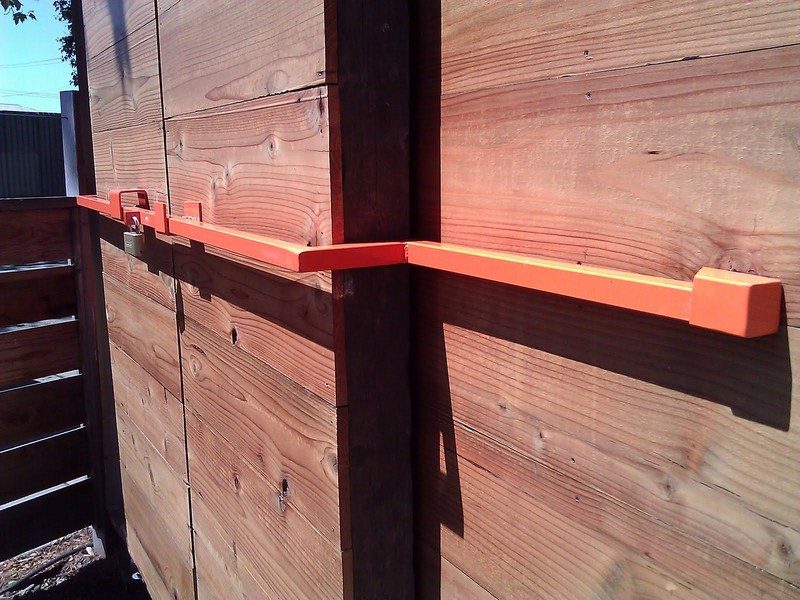 Using wire mesh to build a wall is an easy and affordable way to protect your flock. Simply attach mesh wire to the wooden fence using wire mesh clips or nails.
Do you want to try transforming a shipping container into a chicken coop? Which idea do you like most?
Looking to build a chicken coop but don't want to spend a fortune? Check out our free chicken coop plans here…
Click on any image to start the lightbox display. Use your Esc key to close the lightbox. You can also view the images as a slideshow if you prefer.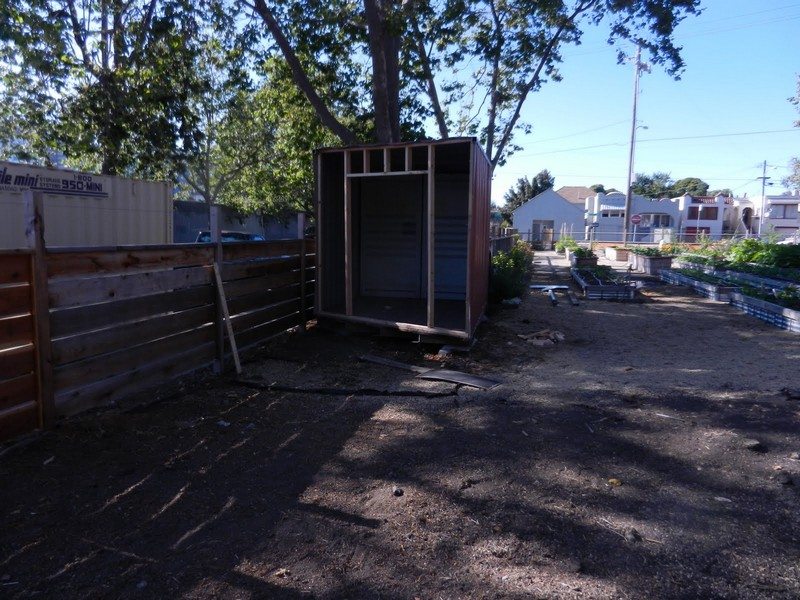 Here's a tour of another shipping container turned into a chicken coop:
If you liked this, you will also like these Shipping Container Homes and Buildings…