Project Year :     2010
Developed Area :     100.0 sqm ( 1076.39 Sq ft )
Photographs :     Kai Nakamura
In true Japanese tradition, the Roof on the Hill is a minimalist structure composed mainly of interconnected rooms. The absence of doors allows for seamless connection, making the space seem larger than it actually is .
Although the bright, open feel of the house may be attractive for some people, those with privacy issues may not be totally welcoming of the whole concept.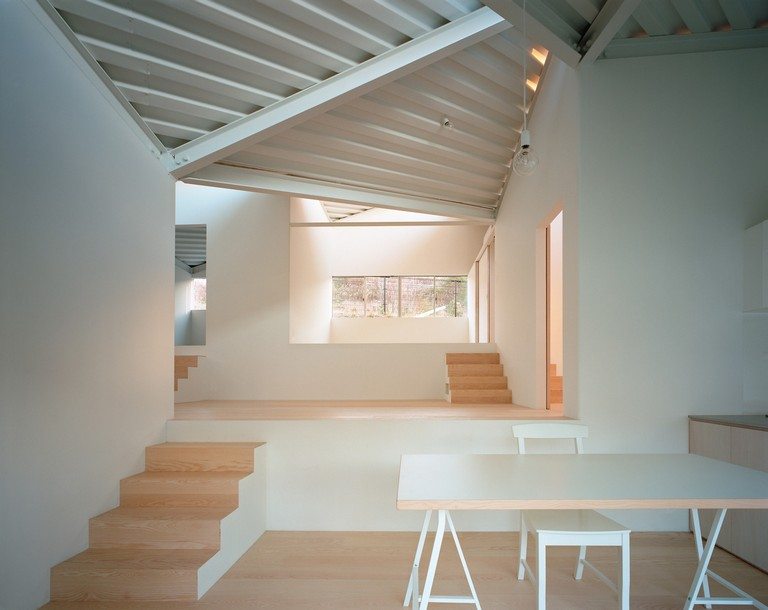 Notes from the architect:
At the center of Osaka, We designed a residence that is composed of three buildings sandwiching two courtyards, so as to bring light to a narrow site surrounded by neighboring houses on three sides. As each building will hold one-room-sized space on each floor, we decided to connect rooms with tube-shaped corridor and staircase that cross the courtyards. Every room is not divided by doors, but instead is linked by long stretching-shaped entrances. They are loosely connected, but are able to gain appropriate sense of distance for habitation.
A part of the first floor is pilotis. The floating tube further crosses the courtyard diagonally and obstructs or reveals sights and noise between rooms, rooms and neighboring houses, rooms and street through pilotis. The sunlight that reflected on the exterior wall of the tube penetrates into the interior space from various angles. It creates intoned sequences by overlapping of the tube and the landscape seen beyond, as if multiple folding screens stand.
Because there are two tubes that connect the third floor and the second floor, a loop the links the space three-dimensionally avoids the residence to the dead end. The interior which is not confined by private rooms or doors enables not only to offer many different routes to get to the destined place, but also to have a feeling of city-scape thanks to the tubes serve as the half-public space, and also to the half-open, half-protected courtyards by three-dimensional move of those tubes.
Click on any image to start the lightbox display.  Use your Esc key to close the lightbox.  You can also view the images as a slideshow if you prefer  

Exterior Views :
Interior Views
Drawing Views
If you find the design interesting, you may want to check another Japanese creation, the Wall House.