Here's the perfect bed for cats who like to bask in the warmth of the sun (don't they all?) and those cats that like a high vantage point (hmmmm…we're talking about all cats then) 🙂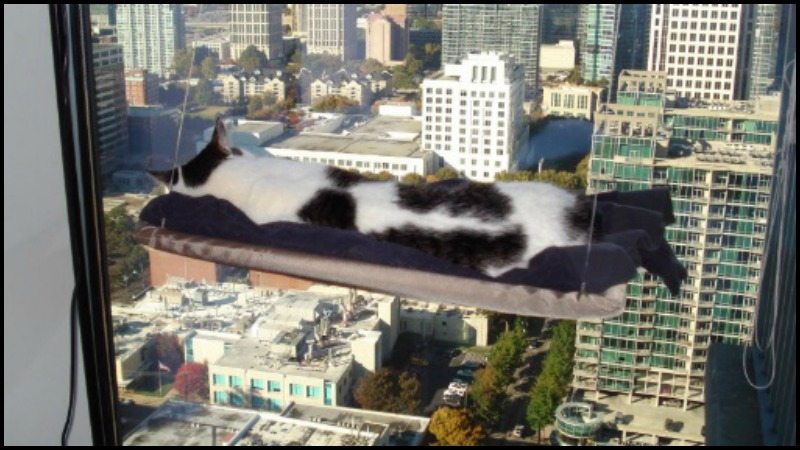 This window mounted cat bed provides your cat a front row view of nature, weather, people, and more without taking up valuable floor space.
It installs in seconds to glass windows and doors. It features industrial strength suction cups that hold up to an amazing 50 pounds (23kgs)! If your cat is heavier than that, it's either Garfield or it needs a cage!
"This cat window seat is AMAZING! It held one VERY large cat plus five foster kittens with no signs of wavering. It has let go from the window a few times but not a lot by any means. My cats also chew on the plastic anchor strings but so far they haven't been able to damage them too much. LOVE this product!"
Now you have to be careful when buying one though. There's a great quality version and a very bad quality version! Both include a label that says DRP-SUNY-BLT6 Sunny Seat on the box. But you would know if you got the good kind from the size of the box, which should be 24″x14″x1.5″.
If you got the smaller, 14″x7″x3″  box size then it's the product made with cheap, thin PVC plastic and poor suction cups!
You can get a window-mounted cat bed on Amazon. Although they apparently get their units from two different manufacturers (which results in some people receiving disappointing window-mounted cat beds), you can always return the unit to them for replacement!
Click on any image to start the lightbox display.  Use your Esc key to close the lightbox.  You can also view the images as a slideshow if you prefer  ?
If you liked these, you will also like viewing Your Pet's Home…