If you can't compost your scraps, you have two options – landfill or a waste disposal unit. Surprisingly, a waste disposal unit (WDU) may be the more environmentally friendly option of the two! However, the challenge with many WDU's is that they do not grind the waste sufficiently leading to clogging of your drains. Another concern is the racket they make as they grind away at your left-overs. You've probably experienced both issues!  The InSinkErator Evolution Excel is claimed to be almost silent while being up to three times more efficient at breaking down your scraps. Here's our review…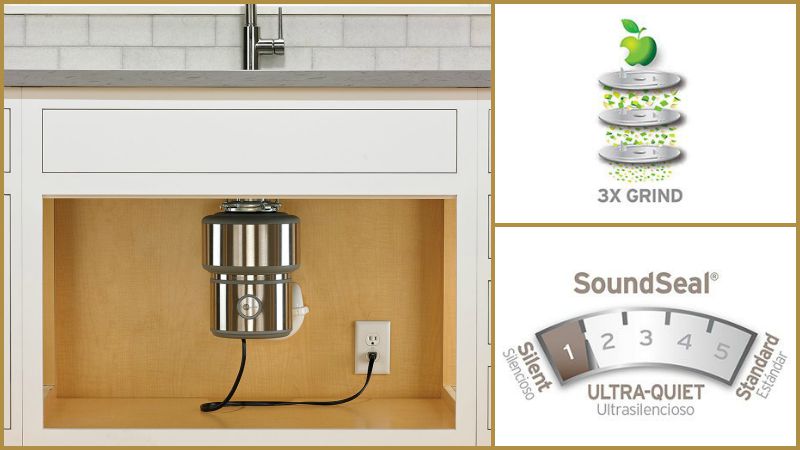 Food disposers are usually loud and they make sinks vibrate. Personally, I find them annoying like regular vacuum cleaners. But hey, it's still a must-have in every apartment and many homes! They help reduce stinky food garbage bags in the household, and can also actually reducethe emission of greenhouse gases. (You can read more about food waste and it's effect on our environment here.) Food waste disposers are an environment friendly alternative to dumping food waste on landfills. In fact, capable waste water treatment plants recycle your food waste into renewable energy!
Now as the title of this review suggests, we feel the InSinkErator Evolution Excel is at the top of the WDU 'food chain'. With that said, expect the price to be higher than most competitors. But with this unit, you definitely get what you pay for!
The first thing you'll notice, and love the most, is how silent it runs. It's VERY quiet, to the point where you may find yourself checking if it's working. You might even start to think you received a defective unit, but don't call for a refund or a replacement! You may have to ask everybody in the house to quieten down if you want to hear the machine running. 😉
The downside to having an ultra quiet food disposal is that you can accidentally leave it running. Fortunately, the Evolution Excel has an automatic shut off to prevent overheating. Now all you have to do is let it cool down for a while — put some ice cubes or run cold water if you want — then push the reset button.
You will also like that the Evolution Excel is more powerful than other WDU's. With its 1 HP motor it will grind just about anything you put in it! It can grind food waste which your ordinary disposer can't, such as chicken and steak bones and fruit pits. And it grinds very well, too! It has a MultiGrind Technology that comprises of three stages, which ensures your food wastes are cut up into very small pieces that won't clog your drains!
Here's a low-tech but brutally honest video review:
The InSinkErator Evolution Excel is also a bigger tank than the others. If you want this food disposer for your kitchen sink, be sure to check dimensions and other specifications here…
Have you already installed this model? What are your impressions. Since nothing is perfect, we'll give it a four out of five 😀