Built area:     50 m2
Construction materials:     Pine and glass
Year Built:     2013
A wall of glass and the soft hues of natural pine combine to create glowing visual and physical warmth in the midst of snow!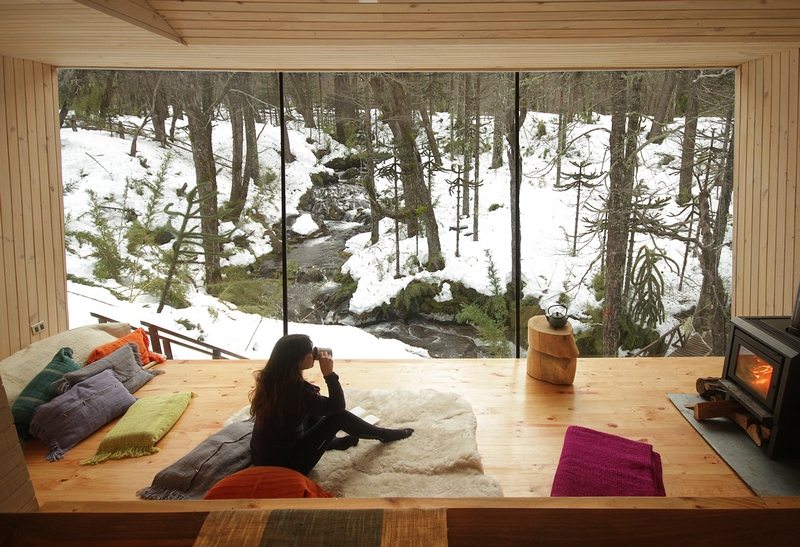 Situated in the ski resort area of Corralco, the massive glass wall faces north to capture winter sun and the view to a small waterfall and the cascading creek.
Access to the cabin is via an elevated timber walkway since metres deep snow often makes access otherwise difficult. Dark external walls help absorb warmth while additional windows provide ample summer ventilation.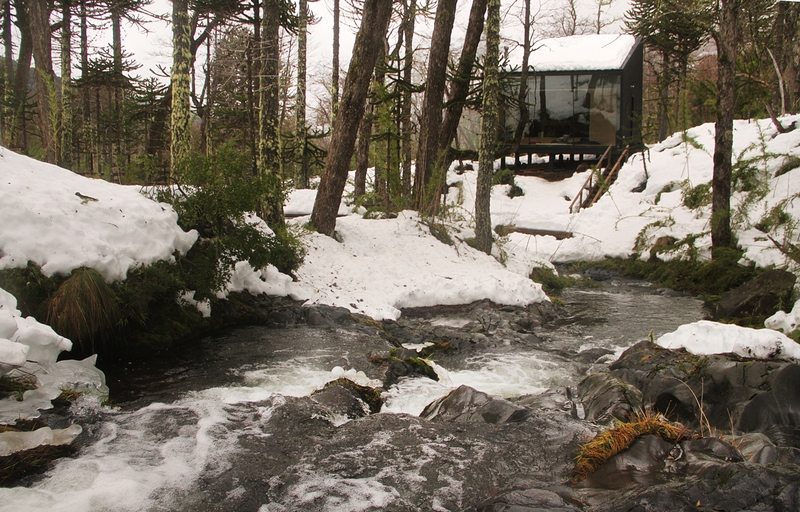 The cabin is designed to blend with the environment while offering a low maintenance getaway.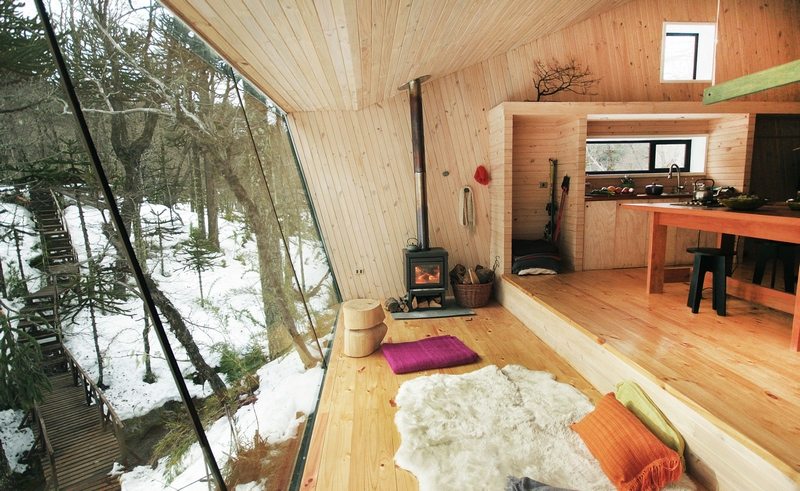 The architect's notes:
The cabin sits between  Araucarias and Oaks, in an almost pristine forest.  In the access to the ski resort of Corralco, Araucanía Region. Chile.
Intended as a winter retreat with minimum dimensions, as a point of observation of nature. The refuge is a slightly inclined prism, oriented north and looking towards a small waterfall. A large window overlooking north presides. A series of smaller, strategically placed windows, allows ventilation and focus to specific views. Outside is painted in  dark brown, blending with the landscape, trying to disappear. The interior is a single space, generous considering its actual size, clear and warm, bleached pine wood. The place to sleep this resolved in separate attics, content and isolated, thus freeing the first plan  for daytime activities.
An elevated wood path crosses across the forest leading to the cabin, since the accumulation of snow ( up to one meter high)  makes practically impossible to access by natural terrain.
Click on any image to start lightbox display.  Use your Esc key to close the lightbox.  You can also view the images as a slideshow if you prefer  

External views:
Internal views:
Plans and drawings:
While here, you might also enjoy viewing Chicken Point Cabin…