A reciprocating saw is a versatile power tool with a back-and-forth blade movement. It's perfect for cutting through many materials, from wood to metal. Whether dismantling old structures or crafting precise cuts, this saw is a must-have for any renovator.
Choosing the proper reciprocating saw is crucial for your home renovation projects. A good saw can speed up your project and offer cleaner cuts. The problem among beginner and professional renovators is the vast range of reciprocating saws on the market. Here are ten heavy-duty options to help you decide.
PowerSmart 20V Cordless Reciprocating Saw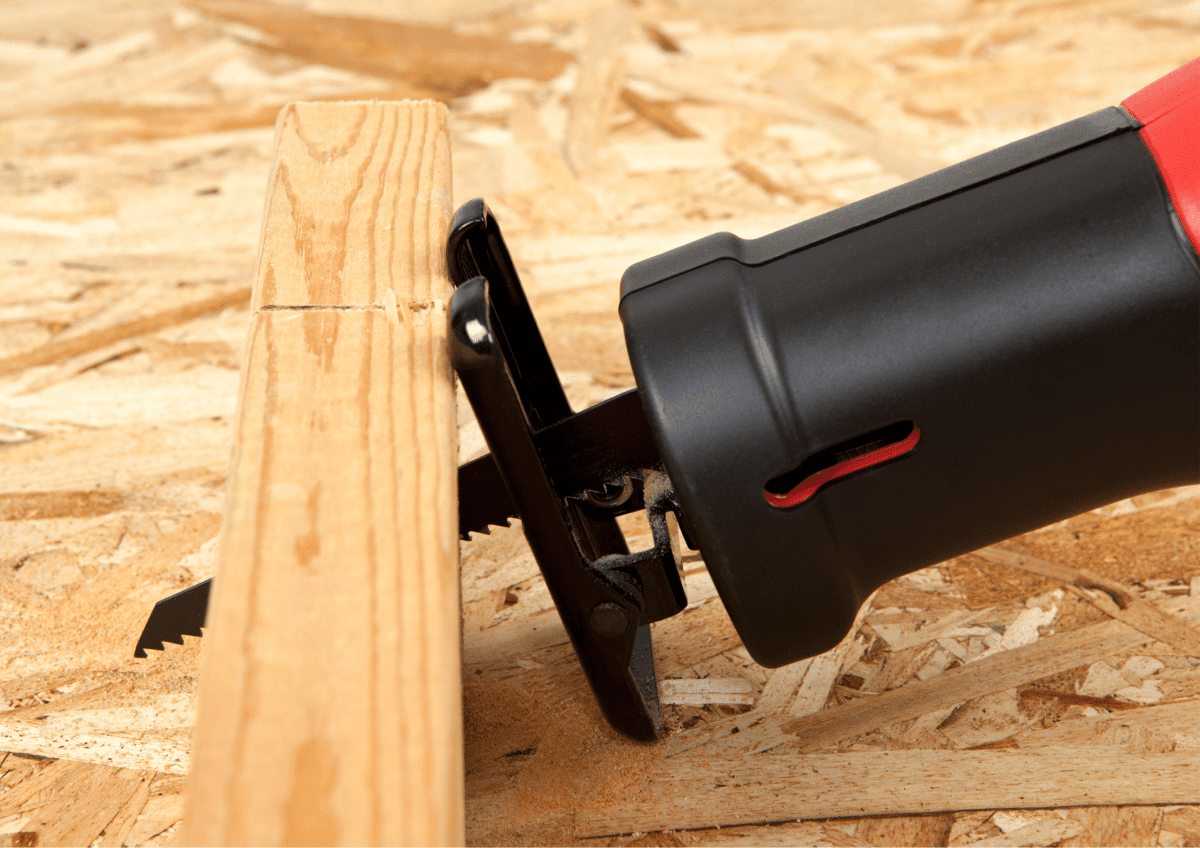 PowerSmart tools are like the cool new kid on the block. Many renovators love them because they are easy to use and can do any project. Their 20V Cordless Reciprocating Saw is no different. It's perfect for those who want to work on their homes without fuss.
Extended Battery Life
Have you ever been in the middle of cutting something, and the battery died? It's annoying, right? PowerSmart knows this feeling. That's why they made sure this saw has a super battery. You can tackle extensive DIY or renovation tasks, such as cutting tree branches, without thinking of exchanging the batteries within a short time. Think about all the things you can get done! Whether fixing your deck or cutting down branches, this tool won't disappoint you. For DIY lovers, this means more doing and less waiting.
Lightweight and Ergonomic Design
Heavy tools can be a pain, especially when working for a long time. But guess what? This PowerSmart saw is light. It feels good in your hands. And it doesn't make your arms tired fast. Imagine working on your ceiling or in tight spots. With this tool, it becomes easier. It's designed for everyone, including those who are starting out renovating their homes or for experienced contractors.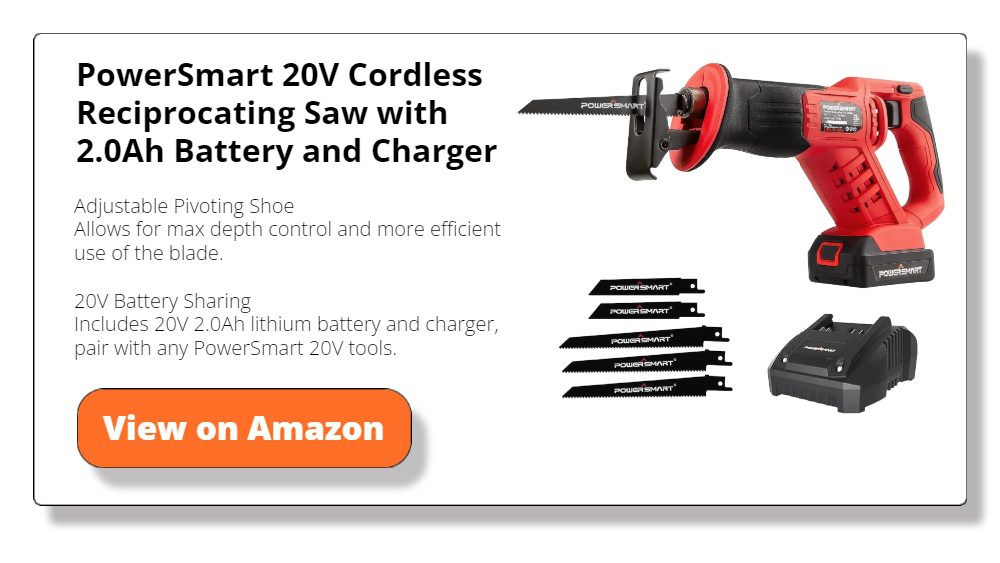 DEWALT 20V MAX* XR Reciprocating Saw
DEWALT is like the superhero of tools. They have been improving their tools for years and making them better than the competition. Their 20V MAX* XR Reciprocating Saw is one example. It's a powerhouse. If you're serious about getting professional results with your renovation projects, the DEWALT reciprocating saw has your back.
Brushless Motor Technology
Engines matter in tools. This DEWALT saw has a special one called a brushless motor. How does this motor help? It stays cool while you are cutting wood or metal! It also lasts longer and works smoothly. When working on a DIY project, the brushless motor lets you focus on making accurate cuts. It feels like having a pro tool in your hands.
Keyless 4-Position Blade Clamp
Versatility is a must-have in any saw, and with the 4-Position Blade Clamp, DEWALT has hit the mark. This feature allows users to make both flush cutting and increased positional versatility with tool-free blade changes. So, whether you're working in tight spaces or need a unique angle for the perfect cut, this tool has you covered. It reduces the need for additional tools or adjustments and streamlines the renovation process.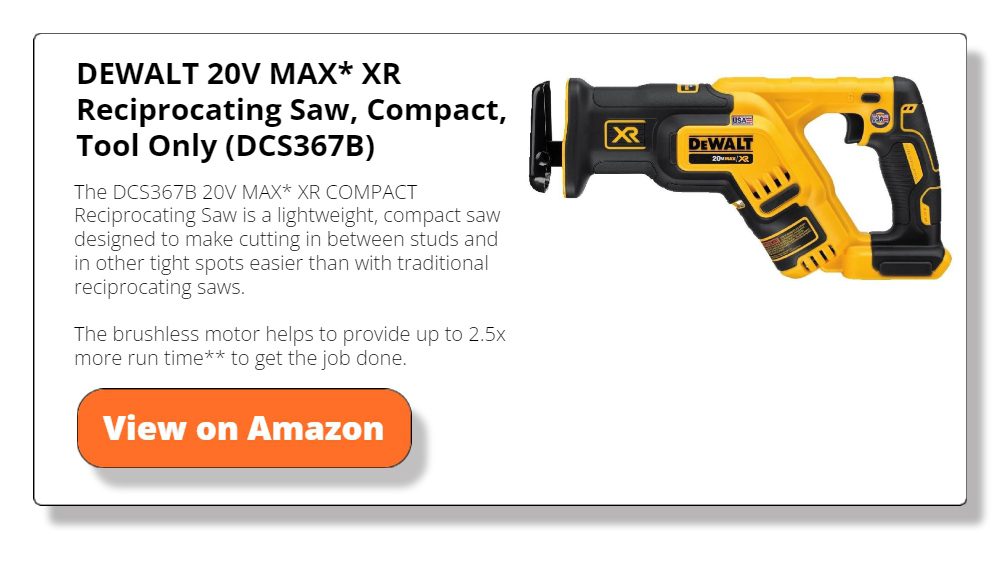 Milwaukee 2625-20 M18 Reciprocating Saw
Milwaukee is a heavyweight in the tool world. Known for their rugged designs and dependable performance, their tools often become the go-to choice for professionals. The 2625-20 M18 Reciprocating Saw is a testament to Milwaukee's commitment to quality. With its compact size and robust power, it's perfect for a myriad of home renovation tasks.
Extended Stroke Length
Milwaukee tools are a favourite among professionals and DIY enthusiasts alike. The 2625-20 M18 Reciprocating Saw stands out in their line-up. One of its best features? The extended stroke length. This means you can cut more with each movement. Whether trimming trees or doing major home renovations, this feature lets you finish tasks faster. You'll save time and energy. It's like having a little helper, making each cut more efficient.
REDLINK Intelligence
But this saw doesn't stop at just cutting well. It's smart. The REDLINK Intelligence is a fancy term, but the tool and battery talk to each other. They work together to prevent overheating and overloading. For you, this means a safer tool and fewer interruptions. Plus, the intelligent feature lessens the wearing on the motor to make it last longer. So, think of it as your saw having its tiny brain, always looking out for you.
Makita XRJ04Z 18V Recipro Saw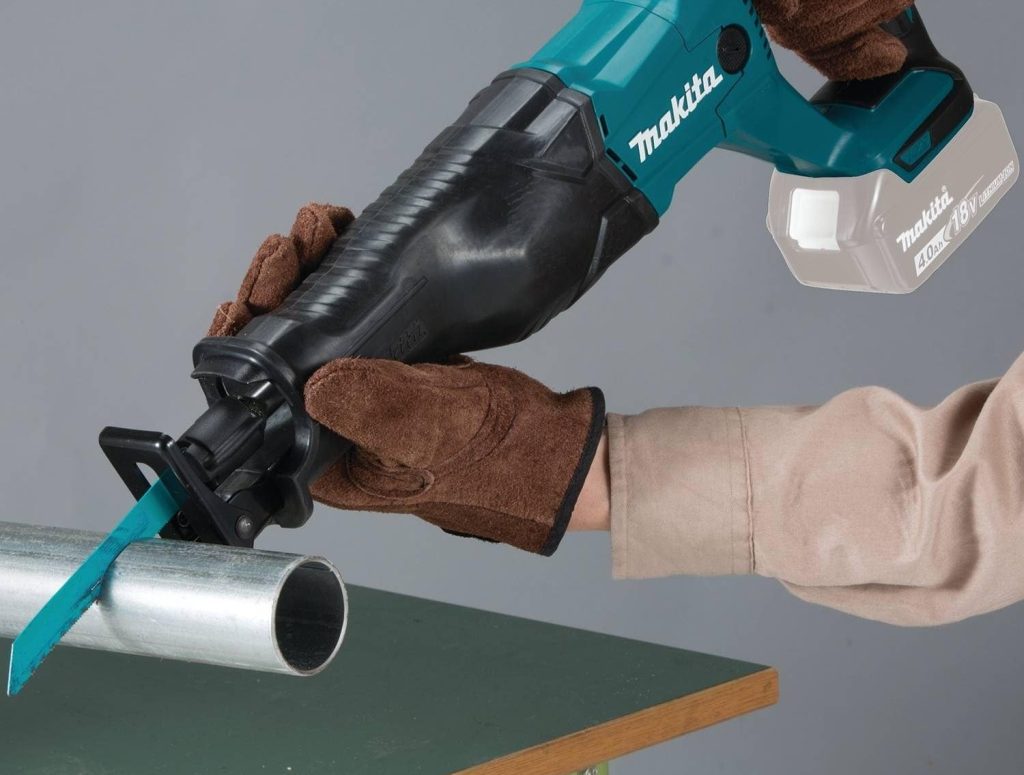 Makita tools are synonymous with endurance and efficiency. The XRJ04Z 18V Recipro Saw continues this legacy, offering a perfect blend of power and precision. Driven by an impressive battery and user-friendly features, this saw ensures that beginners and seasoned renovators can make the most of their projects.
18V LXT Lithium-Ion Battery
Makita is known for making tools that last. Their XRJ04Z 18V Recipro Saw is a beast, especially with its battery. The 18V LXT Lithium-Ion Battery is a star feature. Why? Because it charges super fast and stays charged. For home projects, this means less waiting around and more doing. If you've had a long day of renovations, this battery ensures your saw keeps up with you. It's like giving your saw a big cup of coffee to keep it going!
Tool-Less Blade Change System
Changing blades should be easy, and Makita gets that. You can swap out blades in seconds with their tool-less blade change system. No more hunting for the right tool. No more wasted time. You can quickly swap to a different blade from your utility belt. This feature is a dream for those diving into home projects since there is less fuss while finishing a project.
BOSCH GSA18V-083B 18V Compact Reciprocating Saw
Bosch is a brand synonymous with high-quality tools. When you hear the name, you think of reliability. The GSA18V-083B reciprocating saw is the same. This compact powerhouse combines the brand's world-renowned engineering with practical design. Ideal for DIYers and professionals alike, this tool provides a balance between performance and convenience.
Compact Design
BOSCH has genuinely made a game-changer with their GSA18V-083B. One of the biggest challenges of using power tools in tight spaces is their size. Imagine making a precise cut in a cramped corner with a bulky tool! That's where this BOSCH saw shines. Its compact design allows users to operate it efficiently in tight spots. This is a dream tool for home renovations, especially in older homes with many nooks and crannies. You don't have to remove more wall parts than necessary or struggle with larger tools in awkward positions. Less struggle means cleaner cuts and a more professional finish.
Efficient Power Management
When we hear "compact," we might think it lacks power. But that's not the case here. BOSCH integrated an efficient power management system into this saw. This ensures the tool doesn't compromise on performance even with its smaller size. The last thing anyone wants is for their tool to run out of power during a critical cut. With the BOSCH GSA18V-083B, users get a tool that works longer and ensures that power delivery remains consistent. For home renovators, this means fewer interruptions, faster job completion, and a reduced risk of uneven cuts. It's especially helpful for those extended DIY projects where you don't want to charge your tool multiple times.
​​CRAFTSMAN V20 Reciprocating Saw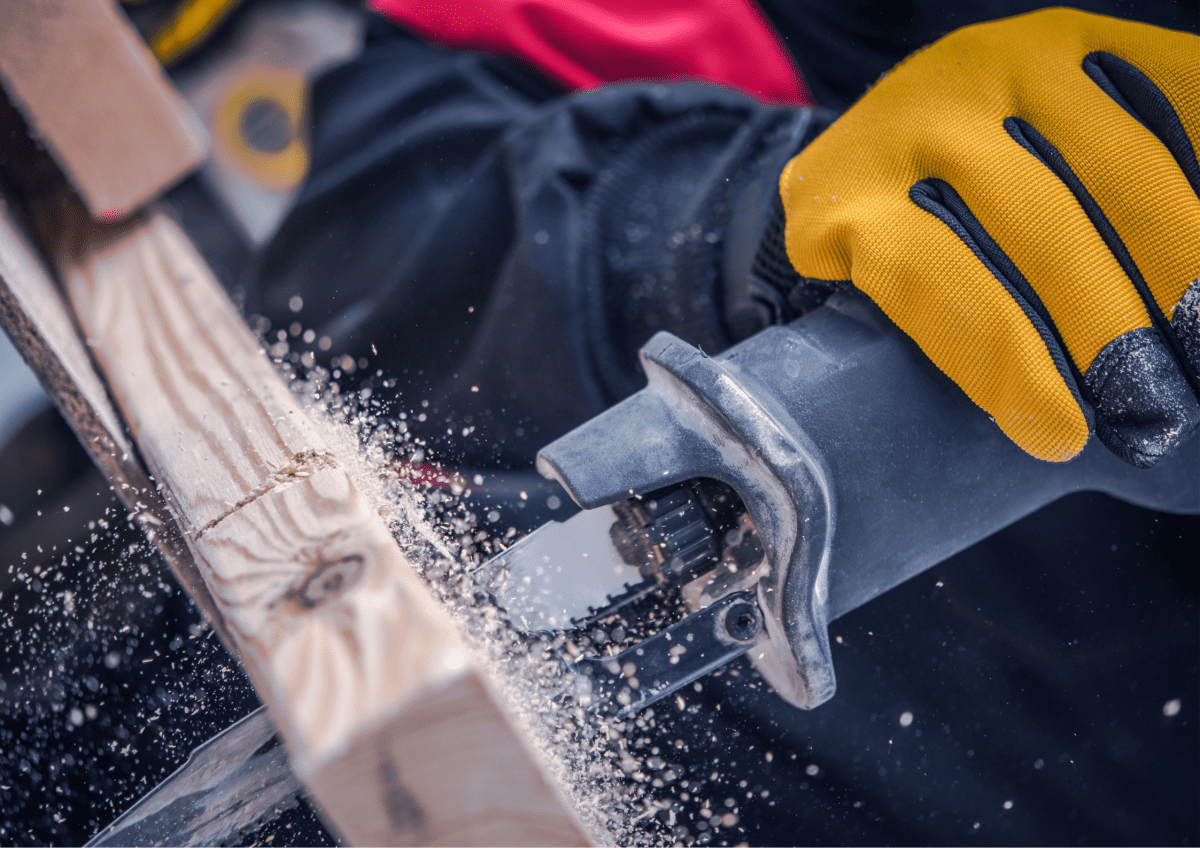 Craftsman has long been a go-to choice for home DIYers. Its reputation for affordable yet quality tools is legendary. The V20 Reciprocating Saw continues that tradition, offering robust performance in a package that won't break the bank. Its versatility and power make it a staple in any home renovation toolkit.
Variable Speed Trigger
The CRAFTSMAN V20 boasts a variable speed trigger, a feature that sets it apart from many competitors. Why is this important? Control. With the ability to adjust the speed of the blade based on the trigger's pressure, users can easily make precision cuts.
It's not just about cutting through the material but about doing so in a controlled manner. For home renovations, this is crucial. Whether cutting through PVC pipes or wooden beams, the variable speed allows for smoother cuts, reducing the risk of mistakes. For DIY enthusiasts, this tool ensures that you get professional-grade results every time.
Tool-Free Blade Change
Anyone who has ever had to stop mid-project to search for a tool to change a blade knows the frustration it can cause. Time is money, and interruptions like these can set back an entire project's schedule. CRAFTSMAN has tackled this challenge by incorporating a tool-free blade change system in the V20.
This user-friendly feature allows for quick and easy blade replacements. For home renovators and DIYers, this means less downtime between tasks and a smoother workflow. Plus, it's safer as well. By reducing the need to fumble with tools, there's a lesser chance of accidents occurring during blade changes.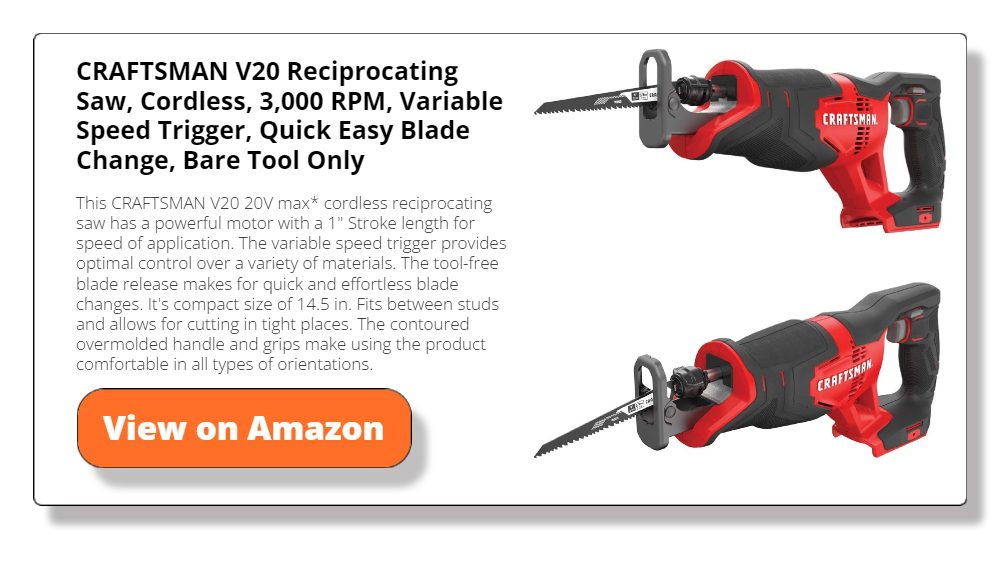 PORTER-CABLE Reciprocating Saw
PORTER-CABLE is a brand synonymous with reliability, and their Reciprocating Saw doesn't disappoint. This saw stands out not just for its performance but for its ease of use for every project. Whether you're a seasoned renovator or a DIY newbie, this tool can simplify the most complex tasks. With features prioritizing user experiences, like the Twist Lock tool-free blade change and a pivoting shoe for stability, it's designed to make every cut count.
Twist Lock Tool-Free Blade Change
Switching blades in the middle of a project can slow you down, but with the PORTER-CABLE Reciprocating Saw's Twist Lock mechanism, the task becomes swift and hassle-free. This tool-free blade change system minimizes the time spent on blade replacements, ensuring continuous workflow. Home renovators will love this feature, as it eliminates the need to fiddle with additional tools, making blade swaps efficient and safe.
Pivoting Shoe
Stability during cutting is crucial, and the pivoting shoe feature on this saw offers just that. It provides consistent contact with the material, ensuring accurate and smooth cuts. For those involved in home renovations, this feature is particularly beneficial when working on uneven surfaces or when precise cuts are essential. It reduces the chances of making errors, ensuring each cut looks professionally done.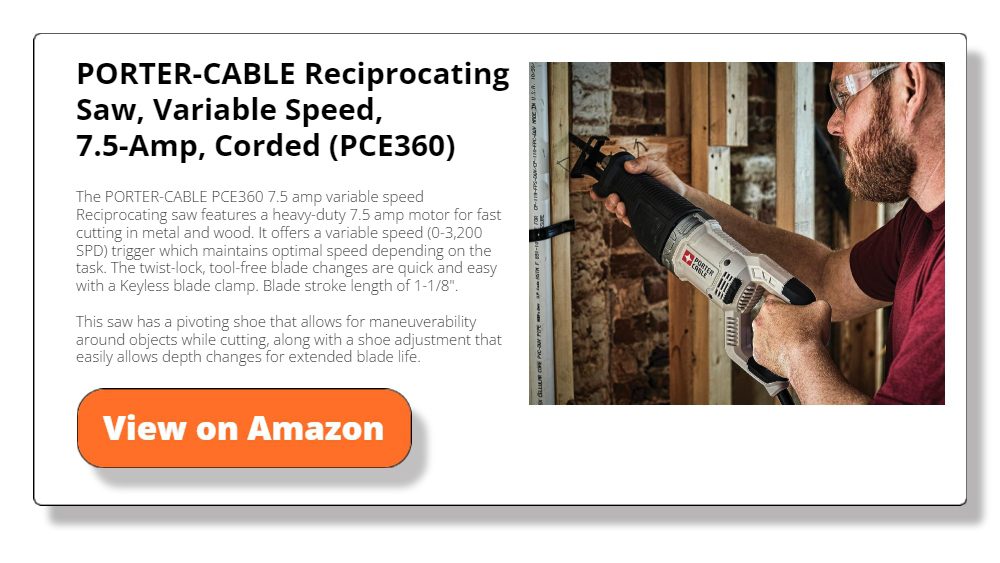 SKIL 13 Amp Corded Reciprocating Saw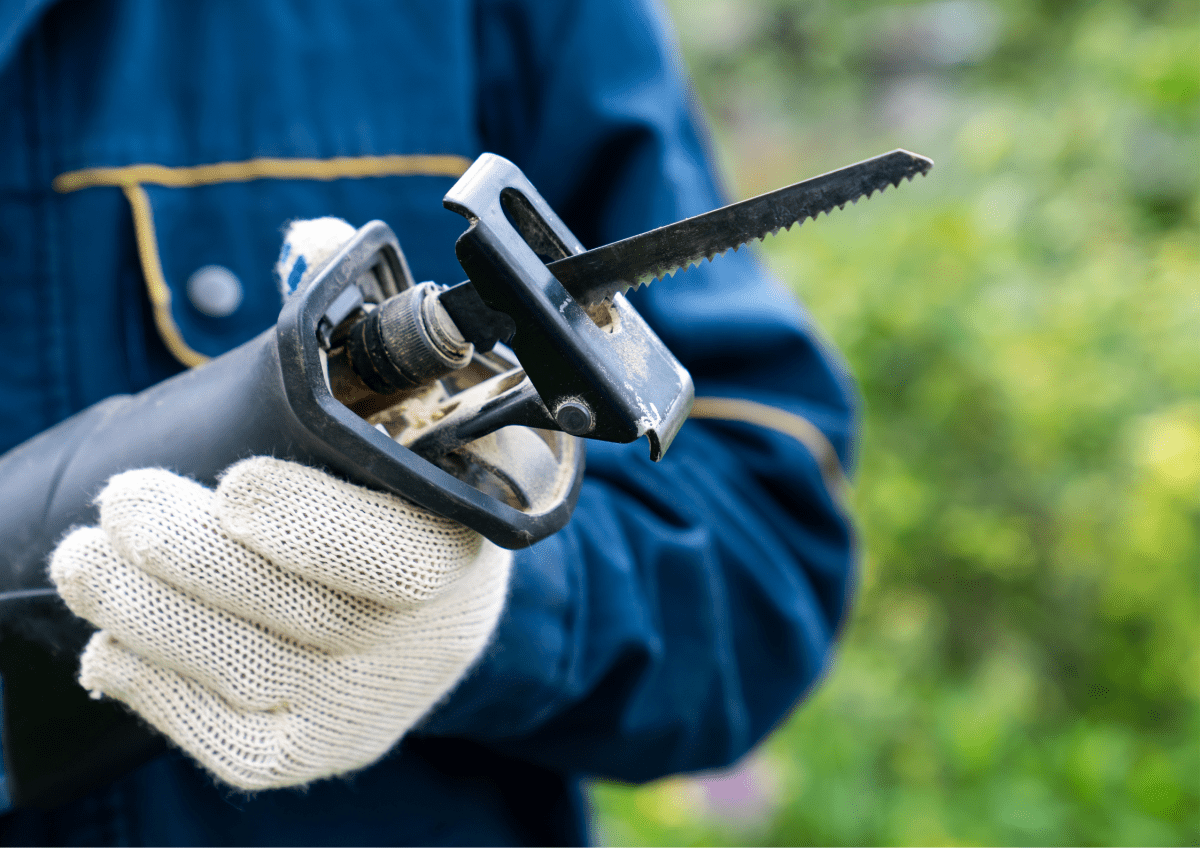 SKIL has a reputation for producing sturdy and dependable tools, and this 13 Amp Corded Reciprocating Saw is no exception. It's tailored for those heavy-duty tasks that require a little extra grunt. With its powerful motor and innovative vibration control feature, this saw ensures that power doesn't come at the expense of precision. It's ideal for those who need a balance between performance and user comfort.
Powerful 13 Amp Motor
With a robust 13 Amp motor, this SKIL saw is designed to tackle heavy-duty tasks easily. Its high power ensures it can swiftly cut through rigid materials, making it perfect for big renovation projects. Home renovators and DIY enthusiasts will appreciate the consistent power delivery, ensuring each task is completed efficiently.
Vibration Reduction
One of the common challenges with power saws is the vibration they produce. SKIL addresses this issue head-on with its advanced vibration reduction technology. Users can enjoy better control by minimizing the vibration, ensuring precise cuts each time. This feature is invaluable for home renovators, especially when working on delicate tasks that require a steady hand and precision.
Speed Control Dial
The SKIL Reciprocating Saw isn't just about power; it's about controlled power. The built-in speed control dial allows users to adjust the speed of the saw according to the material and the nature of the task. From gentle cuts on softwood to more rigorous tasks on metal, the control is literally in your hands. This adaptability ensures you always get the desired results without damaging your materials.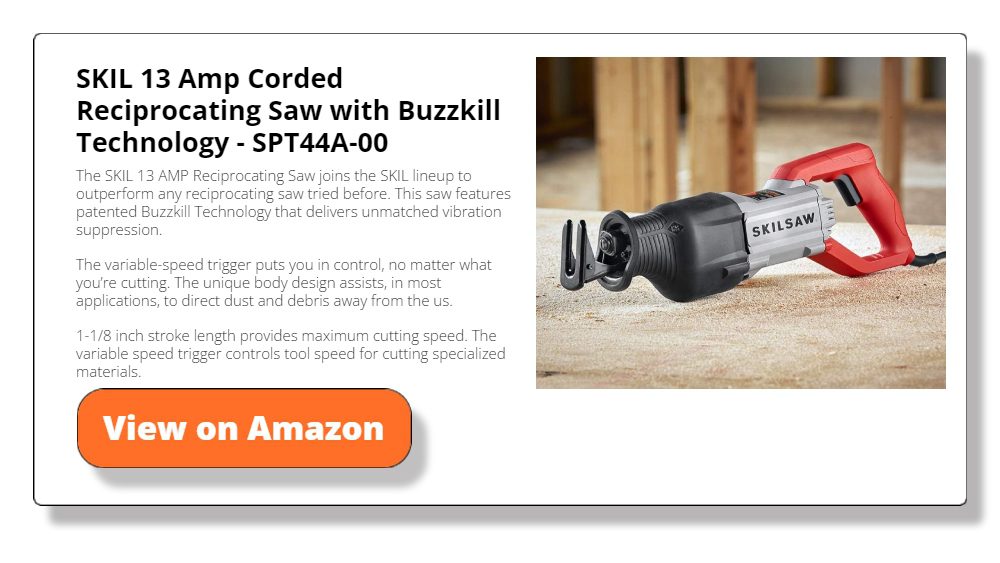 Kobalt XTR 24-Volt Reciprocating Saw
Kobalt brings a tool that embodies efficiency and power with its XTR 24-Volt Reciprocating Saw. It's not just about the impressive voltage; it's about the design that allows users to harness that power easily. Equipped with features like the quick-adjust shoe, this saw places a premium on accuracy, making it a favourite for intricate home renovation tasks.
24-Volt Max Power
Power is the name of the game for the Kobalt XTR. Its 24-volt system delivers strong performance, ensuring quick and efficient cuts on various materials. Whether you're cutting through metal, wood, or plastic during your home renovation, this saw has got you covered. Its high power also means fewer passes are needed, saving time and energy.
Quick-Adjust Shoe
Precision in a saw is as crucial as power, and the quick-adjust shoe feature in the Kobalt XTR ensures you get the best of both. This adjustable component allows users to control the depth of their cuts, offering more precision and reducing material wastage. For those working on intricate design projects or specific renovation tasks, this feature ensures the final result looks professional and polished.
LED Work Light
Working in low-light conditions can be challenging and unsafe. Recognizing this, Kobalt has integrated an LED work light into their XTR Reciprocating Saw. This illuminates the work area, ensuring clear visibility while making cuts. For home renovators, you can work at any time of the day, knowing you'll have a clear line of sight on your project. Safety and precision, all in one.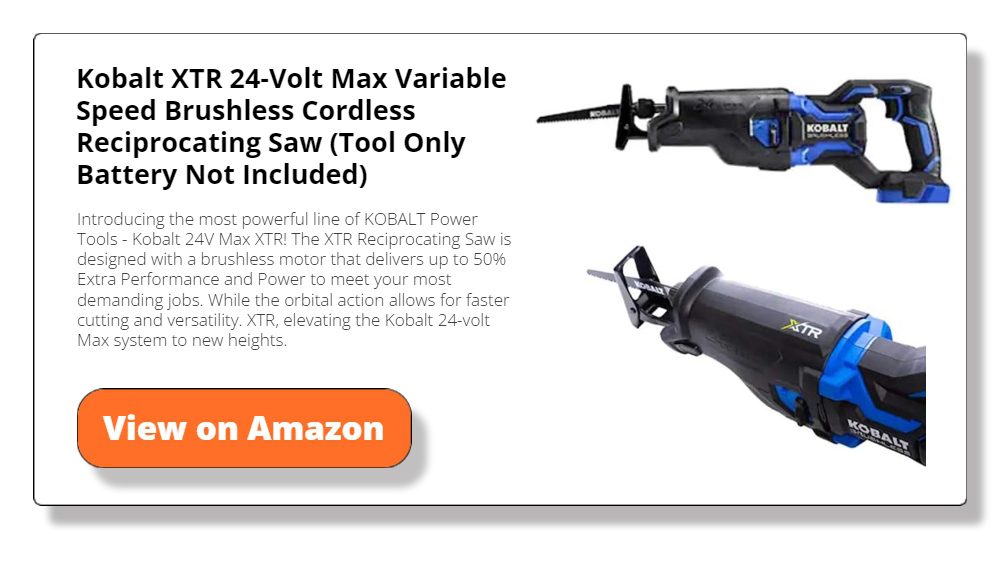 Ingersoll Rand 429 Air Reciprocating Saw
Diverging from the traditional electric-powered tools, the Ingersoll Rand 429 offers an air-powered performance in a league of its own. It promises consistent power and versatile cutting options, making it stand out in the crowded tool market. Designed to handle diverse materials, from plastics to sheet metal, it's the go-to tool for those seeking a blend of power and adaptability.
Air-Powered Performance
Unlike typical electric-powered saws, the Ingersoll Rand 429 uses compressed air. This means consistent power without the fear of battery drain or electric surges. Especially useful for tasks that need continuous power, the air-powered performance ensures that projects progress without unexpected stops.
Versatility in Cutting
Designed with a unique blade system, this saw can efficiently cut through materials like plastics, fibreglass, composites, and sheet metal. This versatility makes it a top choice for those involved in diverse home renovation projects. Whether reshaping a fibreglass tub or trimming sheet metal, this saw provides a reliable cutting solution for various tasks.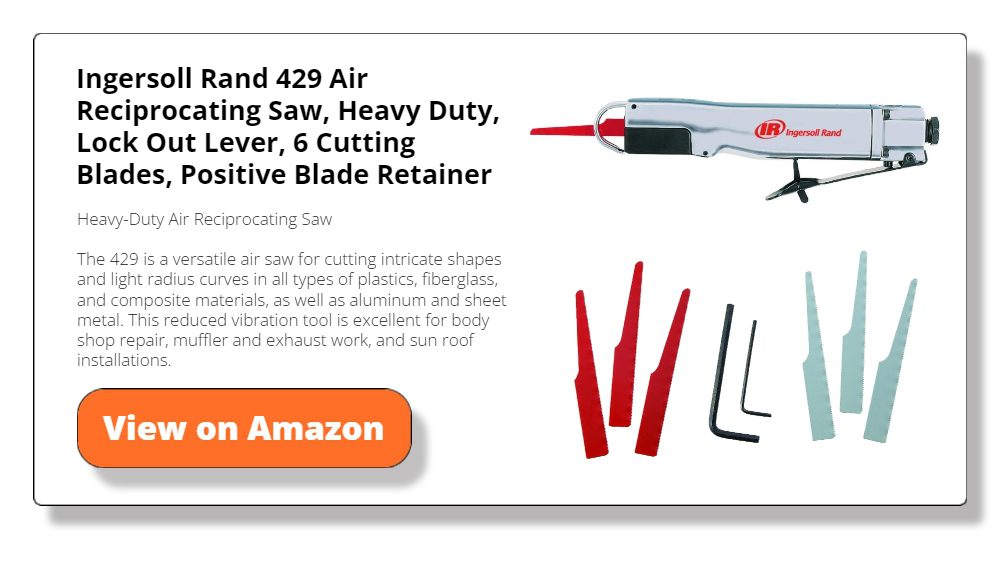 The Best Reciprocating Saw
Among the ten reciprocating saws we've delved into, the DEWALT 20V MAX XR Reciprocating Saw* stands out as the top pick for an experienced renovator. DEWALT's reputation in construction and renovation is unparalleled, a testament to their commitment to producing reliable and robust tools. The saw's brushless motor technology promises longer operational time, reduces wear and tear, and maximizes efficiency — all essential for professionals who demand the utmost from their equipment.
Additionally, its 4-position blade clamp offers unparalleled versatility, allowing for tool-free blade changes and effortless flush cuts, which is invaluable in complex renovation scenarios. While this is my top choice based on the features and brand reputation, it's always essential to consider individual needs, specific project types, and budgets.
Five Tips on Using Reciprocating Saws for Home Renovations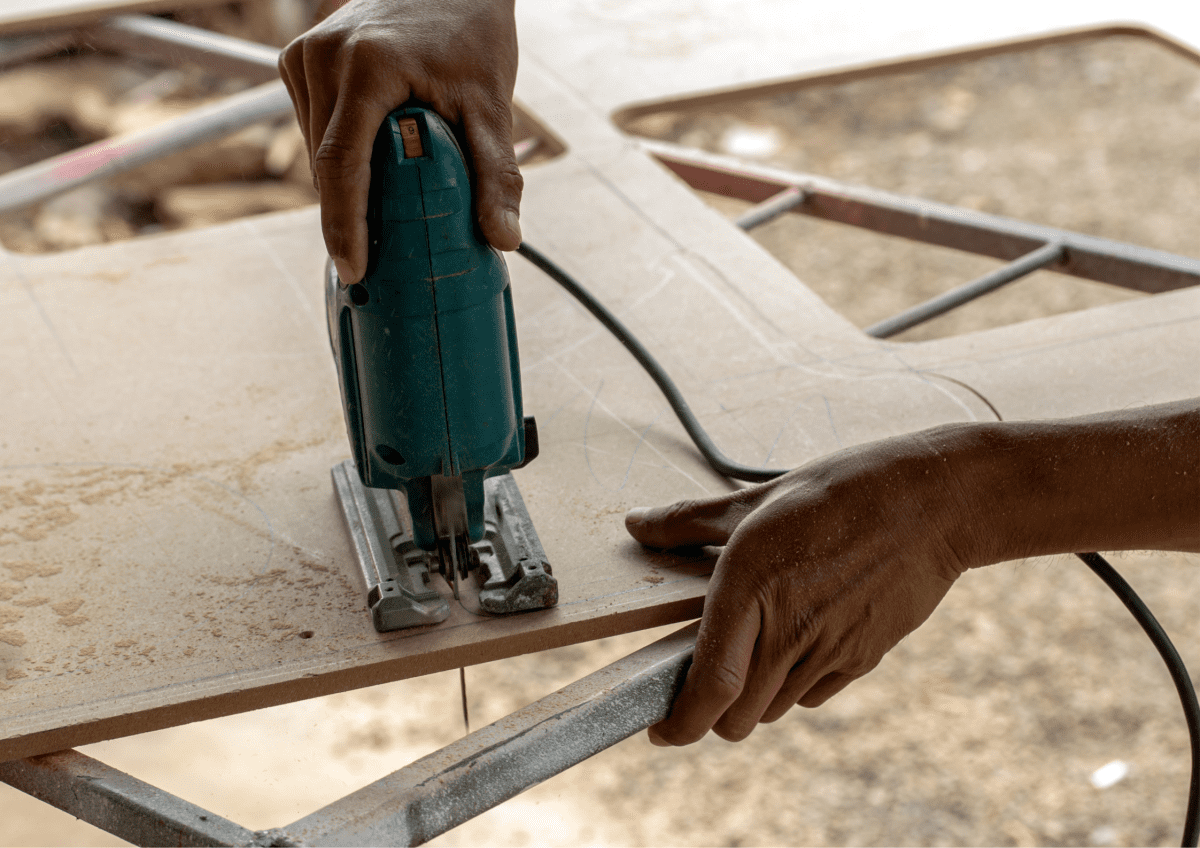 A successful home renovation or DIY project comes down to properly using your reciprocating saws. Here are five helpful tips to make sure every work is done safely and efficiently.
Safety First
Regarding any power tool, your safety should always be the top priority, and reciprocating saws are no exception. Always put on safety glasses to protect your eyes from flying debris. Gloves will shield your hands from potential cuts and provide a better grip on the saw. Ear protection can also be beneficial since saws can be pretty loud.
Before powering the saw, double-check to ensure the blade is securely locked in place. A wobbly blade can become a hazard in seconds.
Finally, always be aware of your surroundings. Ensure that your workspace is clear of unnecessary items or tripping hazards. A safe environment means focusing on the task and reducing the risk of accidents.
Use the Right Blade
Like how a chef picks the correct knife for the job, a renovator must choose the right blade for the material. Different tasks will require various blade types. For instance, cutting through metal will require a blade with finer teeth to ensure a smooth and efficient cut. On the other hand, wood, especially if it's softwood, prefers a coarser blade.
Using the wrong blade can result in jagged cuts, potential damage to the material, or even wear out the blade faster. Investing in a set of high-quality blades and knowing when to use each can make all the difference in the outcome of your renovation project.
Firm Grip and Stance
Handling and operating a reciprocating saw can significantly impact your cutting precision and overall safety. It's essential to position yourself in a stable stance. Keep your feet shoulder-width apart and distribute your weight evenly. This balanced stance will prevent any unexpected movements resulting from the saw's vibration or resistance from the material being cut.
Using both hands to hold the saw gives you more control and distributes the tool's weight, reducing fatigue. Remember, a stable body and a firm grip will give you cleaner cuts and make the whole cutting process safer and more comfortable.
Let the Saw Do the Work
Many beginners make the mistake of forcing the saw through the material. Remember, power tools, especially reciprocating saws, are designed to do most of the heavy lifting for you. When you push too hard, you risk damaging the material, the blade, or the saw.
Start by gently guiding the saw into the material, then allow its power and motion to carry through the cut. You can avoid unnecessary wear and tear by applying enough pressure to keep the blade moving and engaged. Plus, when you let the saw do its job, you get cleaner, straighter cuts, which can save time in the long run and ensure your renovation looks professional.
Regular Maintenance
Like any other tool or equipment, reciprocating saws need regular check-ups to perform at their best. After each use, make it a habit to wipe down the saw to remove any dust or debris. This keeps the tool clean and can prevent any particles from getting into its moving parts, which can lead to wear or malfunction over time.
Periodically, inspect the power cord or battery pack (for cordless models) for any signs of damage. If the blade is becoming dull or shows signs of wear, replace it promptly. A sharp, well-maintained blade cuts more efficiently and is safer to use.
Additionally, lubricate any moving parts as recommended by the manufacturer. Store your saw in a cool, dry place away from direct sunlight and moisture. By dedicating a little time to maintaining your reciprocating saw, you're ensuring its longevity and optimum performance, making every renovation project a smoother experience.
Conclusion
Reciprocating saws are powerful tools that can elevate any home renovation project, but their true potential shines when used correctly and responsibly. The key lies in the details, from selecting the right blade for the job to ensuring consistent maintenance.
Team OBN highly recommends using the proper reciprocating saws or power tools while following safety guidelines to ensure a successful project.