Khanh Hoa, Vietnam  –  

a21 studio
Built Area:      26 sqm (280 sq. ft.)
Year built:      2014
Photography:      a21 studio
Vietnam is a tropical country. It's hot most of the year. An exposed hillside facing due west is far from the ideal spot to build. Despite being in a popular resort area, that exposure had left the land unloved and unused for decades.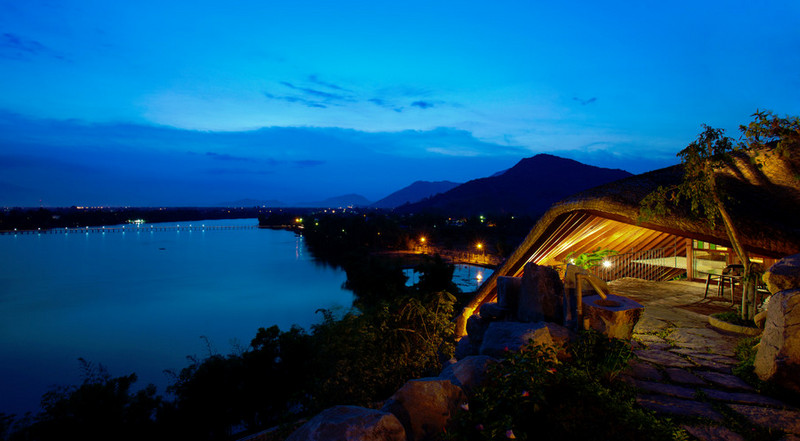 Anyone who lives in a hot climate knows the best way to keep a home cool is to keep the sun off it. But the steep hillside precluded the use of shading trees. Being elevated also meant that an extended veranda would still leave the home exposed to the full force of the afternoon sun.
The area is famous for its hot springs and mineral baths. The owners of the land wanted to build a small spa, but despite stunning views over the water and the nearby city, the block's exposed position seemed an insurmountable challenge.
In an innovative design twist, the architects, a21 Studio, decided to run the roof down past the lower edge of the walls. This prevents the sun from ever touching the internal areas of the dwellings. An air space and the infinity edge pools then ensure a constant flow of cooling fresh air into the 'tents'.
The design uses local timbers, dry stacked stone walls and coconut palm leaves for thatching. Most of the timber is reclaimed, and the construction process uses indigenous building methods including hand made mortice and tenon joints.
For our money, it's glamping at its absolute best!
Click on any image to start lightbox display. Use your Esc key to close the lightbox. You can also view the images as a slideshow if you prefer 😎
If you like this, don't miss viewing Bruit du Frigo…