Year built:     2009
Photography:     Philip Vile
Dovecote:  A shelter with nest holes for domesticated pigeons. Snape Maltings was an abandoned industrial site before being reborn as a music and art centre by none other than Benjamin Britten. The existing ruins used here, once formed a two-storey brick dovecote. The ruins were well known to concert-goers and visiting musicians.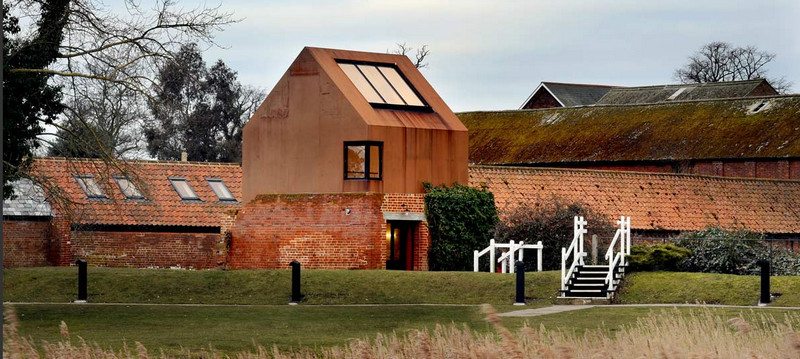 "Its crumbling brickwork and rusting window grilles embodied the site's romantic dereliction, and the balance between decaying buildings and marsh landscape which first drew Benjamin Britten to Snape."
Primarily an art studio, a large northern window provides perfect lighting conditions for artists while a mezzanine level offers a writing desk with extensive views through the corner window. However, the design is flexible enough to be used by artists in residence, by musicians for rehearsals, staff as a meeting facility and even as an exhibition space.
From the architect:
Only the minimum necessary brickwork repairs were carried out to stabilise the existing ruin prior to the new structure being inserted. Decaying existing windows were left alone and vegetation growing over the dovecote was protected to allow it to continue a natural process of ageing and decay. The interior walls and ceiling of the space are lined with spruce plywood to create a timber 'box' within the Cor-ten shell.
Click on any image to start lightbox display. Use your Esc key to close the lightbox. You can also view the images as a slideshow if you prefer 😎
Looking for a quiet space? There are a lot more further down the page…