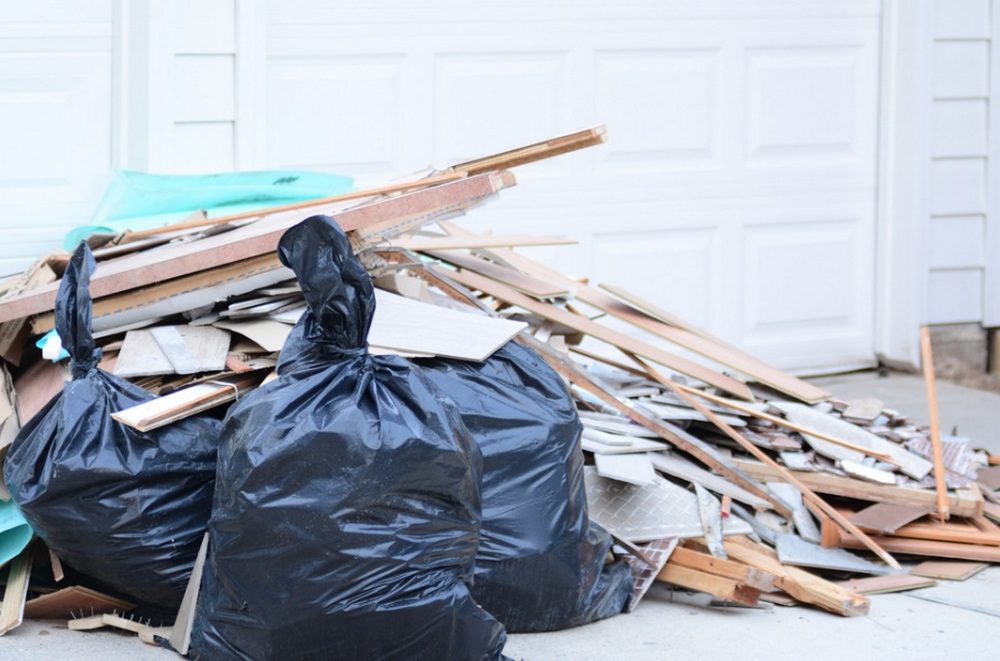 If you're a DIY enthusiast, embarking on a do-it-yourself home renovation project can be an incredibly exciting and fulfilling endeavor. Whether you're remodeling a tired kitchen, revamping a bathroom, or simply giving your living space a fresh new look, there's a sense of accomplishment that comes with completing the work yourself.
However, amidst the hustle and bustle of renovation, it's important not to overlook the proper handling and disposal of rubbish and hazardous waste. Understanding the potential risks and knowing how to handle these materials safely is crucial for the well-being of yourself, your family, and the environment.
How to Safely Deal with Debris from a Renovation
In this guide, we cover everything you need to know to stay safe when dealing with rubbish removal and hazardous waste, so read on to find out more.
How To Get Started: Separate Waste Into Piles
During your DIY renovation, it can be helpful to establish separate waste streams for different types of materials. For starters, create designated areas for non-hazardous waste, recyclables, and hazardous materials.
By separating them, you can ensure they are dealt with in accordance with regulations and guidelines. It is important to keep them clearly labeled and ensure that everyone involved in the renovation process understands the importance of proper waste segregation.
Once you have separated waste into piles, be sure to hire contractors experienced in managing hazardous materials to ensure compliance with safety regulations and reduce the risk of accidents or contamination.
Professionals are trained in handling and disposing of hazardous waste properly, minimizing potential harm to both people and the environment.
What Is Hazardous Waste?
Hazardous waste in home renovation refers to any materials or substances generated during the renovation process that pose a potential risk to human health or the environment if not handled and disposed of properly.
These materials may contain toxic, flammable, corrosive, or reactive components that can be harmful if released into the air, soil, or water. These materials may be encountered during the renovation process, especially if you are renovating an older home where certain hazardous substances were commonly used in the past.
Common Examples Of Hazardous Waste
Before you begin your DIY home renovation project, it is vital that you take the time to identify any hazardous materials that may be present.
Common examples of hazardous materials include lead-based paint, old batteries, asbestos, certain types of mold, certain cleaning agents, and chemicals such as paint thinners, solvents, and pesticides.
Improper handling or disposal of these materials can result in contamination of the surrounding environment, leading to health risks for occupants and pollution of natural resources.
It is important to note that these materials can pose serious health risks if mishandled or improperly disposed of, and should never be placed in your regular rubbish collection bins. 
Thankfully, there are many options to help you dispose of hazardous waste safely, protecting the environment and keeping your home safe. Contact your local waste management authorities or environmental agencies for information on hazardous waste collection centers, community collection events, or authorized drop-off points.
Alternatively, leave the job to the expert and reputable rubbish removal companies or other qualified professionals in your area.
Potential Dangers Of Hazardous Waste
Health Hazards
Hazardous waste, such as lead-based paint, asbestos, or certain cleaning agents, can release harmful substances into the air or surfaces. Inhalation or direct contact with these substances can lead to breathing issues, skin irritation, allergic reactions, and potential long-term health problems.
Contamination of Living Spaces
Improper handling or removal of hazardous waste can contaminate your living spaces. For example, sanding or scraping lead-based paint without proper precautions can release lead dust into the air, which can settle on surfaces and pose a health risk, especially to children, pets, and pregnant women.
You can learn more about lead poisoning to avoid its detrimental effects and take necessary precautions.
Environmental Pollution
Incorrect disposal of hazardous waste can lead to environmental pollution. Chemicals, solvents, or other toxic materials that are poured down drains, dumped into the ground, or disposed of in regular rubbish bins can contaminate soil, water sources, and ecosystems.
This can harm wildlife and vegetation, and contribute to long-term environmental harm.
Fire and Explosions
Some hazardous materials, such as flammable solvents or improperly stored batteries, can be prone to fire or explosions and greatly jeopardize your safety and property.
Legal and Financial Consequences
Improper handling or disposal of hazardous waste may result in fines, penalties, or legal action. Additionally, cleanup costs to remediate contamination caused by improper waste management can be significant.
What About Non-Hazardous Rubbish Removal?
When it comes to non-hazardous waste and building materials, rubbish removal requires careful planning and adherence to safety guidelines to ensure that the process is efficient, organized, and safe:
Step 1: Assessing the Non-Hazardous Waste Materials
Before discarding any materials, assess if any items can be reused or recycled (refer to separated waste streams above). For example, wood scraps can be used for future projects or donated to local organizations. Be sure to check with recycling centers or facilities in your area to determine what materials they accept for recycling.
Step 2: Keep it in A Secure Container
Securely contain and package construction debris to prevent loose materials from becoming airborne or causing accidents during transportation. Use heavy-duty bags, boxes, or bins to safely store and transport the rubbish.
Step 3: Research Local Rules for Disposing of Construction Waste
Research local regulations and guidelines for construction waste disposal. Contact your local council or waste management services to understand the specific requirements and disposal options available in your area. They can provide information on designated collection points, recycling centers, or scheduled pickup services. Find your local rubbish or recycling center here.
Step 4: Transport Securely
When loading rubbish into a car, make sure the items are properly secured to prevent shifting or falling during transportation. Place heavier and bulkier items at the bottom and fill in the gaps with smaller debris. Avoid overloading your car beyond its capacity.
Step 5: Consider Renting a Skip or a Dumpster
For larger renovation projects, consider renting a skip or dumpster. These large containers can be placed on your property and allow for easy disposal of renovation rubbish. Alternatively, consider hiring a professional rubbish removal service.
Top Tip: Always prioritize safety by wearing appropriate PPE, including gloves, safety goggles, and sturdy footwear, to protect yourself from sharp objects, dust, or any potential hazards when disposing of non-hazardous building materials and rubbish.
In A Nutshell
Rubbish removal is a necessary part of any home renovation, but when it involves hazardous waste, extra precautions are crucial. By educating ourselves and responsibly managing hazardous waste, we can ensure a cleaner and safer living environment for everyone.
Remember, when it comes to rubbish removal and hazardous waste, safety should always be the top priority.