Built area:    26.0 m2
Year built:    2017
Photographs: David Fjågesund, Smart Hytter AS
Building huge vacation homes require the cutting down of trees to make way for construction. This creates a negative impact on the environment. The architect thought of designing a home that floats on water.  Thus, the idea for Nisser Micro Cabin was born.
However, planning restrictions on Lake Nisser prevented the house to be actually built on water. The finished product is one that stands on stilts. A small portion of the cabin sits on land.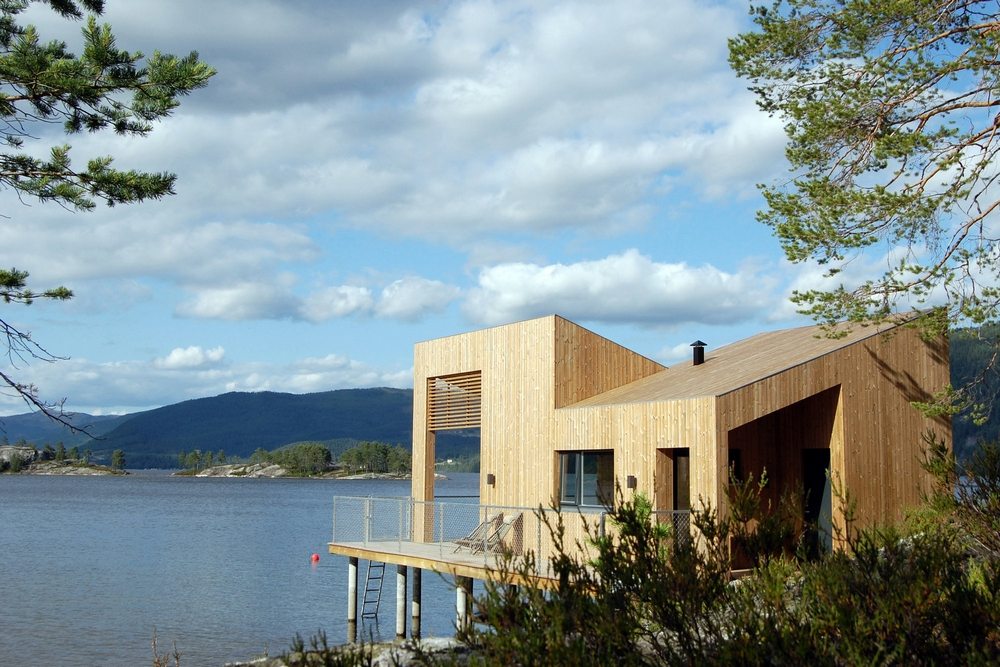 The cabin has a blonde timber façade. This makes for a calming structure amidst the vast green landscape. It features an expansive deck that extends the living areas. For a compact cabin with only 26.0 m2 area, it has surprisingly spacious interiors.
Compact in size but nonetheless comfortable.Nisser Micro Cabin is a perfect hideaway when one wishes to escape the crazy urban life. Quiet, tranquil, and peaceful, this is a place for the ultimate relaxation.
Notes from the Architect:
A local cabin developer contacted Feste Landscape / Architecture to design a floating micro cabin for their portfolio. Due to the local planning restrictions of the Nisser lake in Telemark, Norway, the prototype has been instead designed on stilts. However, the ultimate aim is to develop a floating version of the same cabin in the future.

From a sustainability point of view, the micro cabin offers an alternative to the emerging trend in the Norwegian holiday home market of luxury cabins with sprawling footprints. The design attempts to maximise the user's experience of the lake and the surrounding landscape. The glazed façade between the kitchen/living room and the covered terrace creates a seamless link between the inside and outside.

Externally, the walls and roof of the cabin are clad in thermally treated pinewood, creating a precise and expressive design and at the same time blending in with its surroundings. Gutters and downpipes are integrated into the external walls allowing for clean facades from all angles.

The floorplan measures 26sqm with a small mezzanine loft for sleeping. In total, the cabin sleeps seven people. Access to electricity, water, and sewage is provided through a flexible pipe which enters from underneath the cabin. This system is also designed to function with a floating version of the cabin.
Click on any image to start lightbox display. Use your Esc key to close the lightbox. You can also view the images as a slideshow if you prefer. ?
Exterior Views:
Interior Views:
Drawing Views:
Interested in seeing more cabins? Take a look at this cabin in the woods!