Manchon-dong, Suseong-gu, Daegu, South Korea – SMART ARCHITECTURE
Project Year :      2017
Developed Area :     188.77 m2 ( 2038.71 Sq ft2 )
Photographs :     Yoon Dong-gyu, Moon Jung-sik
The housing scene in Daegu, South Korea consists of small, compact houses that sit as close to each other as physically possible. The highly urbanized cityscape typically provides single room apartments and townhouses for the working class, leaving very little options for families and their growing needs.
Manchon Hohojae smartly maximizes the use of available space in such a small area. The structure has an underground level, three more levels above ground, and a small yard.
The property may not boast of having the best outdoor aesthetics but it has certainly achieved the goal of providing a functional living space for a family of five in a city where space is hard to come by.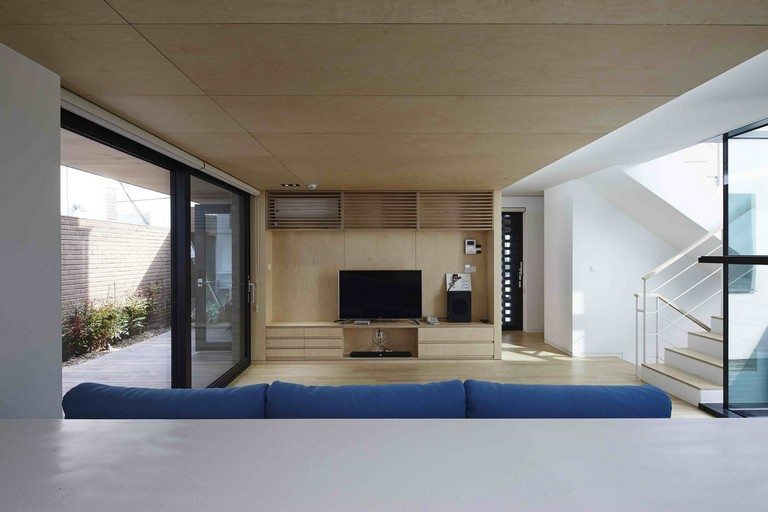 Notes from the Architect:
The "HO(好)" from HO HO JAE((好好斎) has meaning of "good" in Chinese character. By using this word twice in a row, we hope that this house would be a perfect place to live.

HO HO JAE is a urban detached house with three stories above ground and one underground level for a family of five, husband, wife and three children. The house has land area of 133.20㎡(40 pyeong), which is adjust to 8m-wide road to the south and 3m-wide dead-end road to the north.

We hope and plan that this house is in plain mild and naturally assimilate very easily to the environment around house.

The basement level for husband and wife's hobby room is bordered to 3m-wide dead-end road to the north. We secured a privacy of the room by planting bamboo to the road side. It also has enriched street scene.

The first floor consists of living room and kitchen. There is a small yard in front of living room in the east.

The second floor consists of master bedroom and children's room. We partly use aluminium louver as appropriate for their privacy.

The attic is designed for children's play room and is in front of wood deck on rooftop. When planning the attic, we keep our mind on interchange between attic floor and family room on the second floor by eye contact.
Click on any image to start the lightbox display.  Use your Esc key to close the lightbox.  You can also view the images as a slideshow if you prefer  

Exterior View :
Interior View :
Drawing View :
People are looking for a perfect getaway from the urban South Korean jungle. The Cherry Blossom House provides just the perfect form of escape and relaxation.