Bamboo, local timbers, copper, massive beams spanning 20 metres and one of the world's greatest harbours, help to make this a truly unique home. The design drew inspiration from indigenous Brazilian architecture to use natural ventilation to manage the hot and humid climate.
Notes from the architects:
"The roof acts as a big leaf that protects from the sun every room in the house as well as the free spaces between them. These free spaces represent the essence of the project, and how could it be otherwise, are the most interesting spaces and more used by people attending the house. Have in most cases a very high ceiling and allows the dominant southeast wind come frontally towards the sea and through the house, providing to all areas of the house, open or closed, ventilation and passive cooling. Eco-efficiency low-tech, where it has the greatest power to act in a building, the concept of architectural design.
We understand the beach house as a means to improve and make more pleasant the interaction of man with nature. Never separate them completely. There corridors. There is a lot of transparency and integration between inside and outside, almost a fusion between them. Here it is interesting to note the passage of the landscaping floor of the house, either by using vegetation as the pool which crossing the house turns into water mirror on the back porch. This balcony is called by office staff as "Brazilian lounge" by the adoption of networks for the rest area sauna, buried on land that begins to rise from this balcony.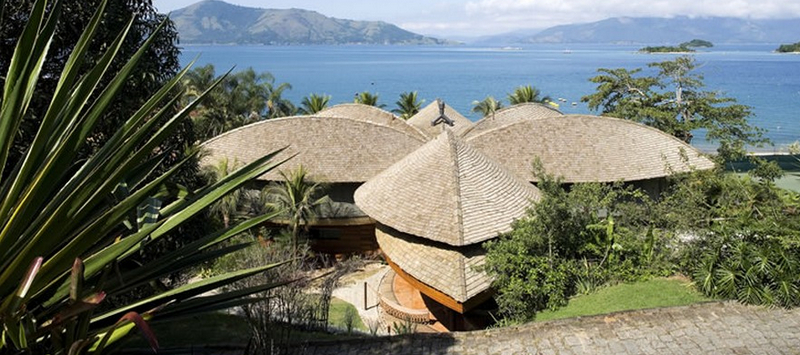 The entire roof structure was made of laminated wood of eucalyptus, which due to its manufacturing process can simultaneously overcome large spans (20 meters is the largest of the house) with ease and aesthetic refinement. The roof, due to its complex geometry is made in small pieces of wood (pine). Eucalyptus, and Pinus species are planted for reforestation and used as feedstock considered renewable by the speed that reach the ideal time to be harvested. All surfaces finishing the house, except to glass and patinated copper are natural: Slate rust strips, natural wood, wood spider pole in the ground floor, and bamboo frames.
The use of natural materials, glass and patinated copper, which acquires a greenish tint and has very long shelf life, and rich organic aesthetic in detail how different rhythms and textures, provoked an interesting fact: The feeling that the house , brand new, there always seem to be in great harmony with the exuberant nature of Angra. The feeling of belonging to the place."
Click on any image to start the lightbox display. Use your Esc key to close the lightbox. You can also view the images as a slideshow if you prefer.
Another seaside home you might enjoy viewing is Kona…