33185 Le Haillan, France – Studio Weave
Year Built:     2017
Photographs:     Yvan Detraz
Le Haut Perché is a unique shelter meant for hikers exploring the French countryside. It sits in the heart of Le Parc des Jalles and is surrounded by watermills. The elevated structure provides free accommodations for up to nine people.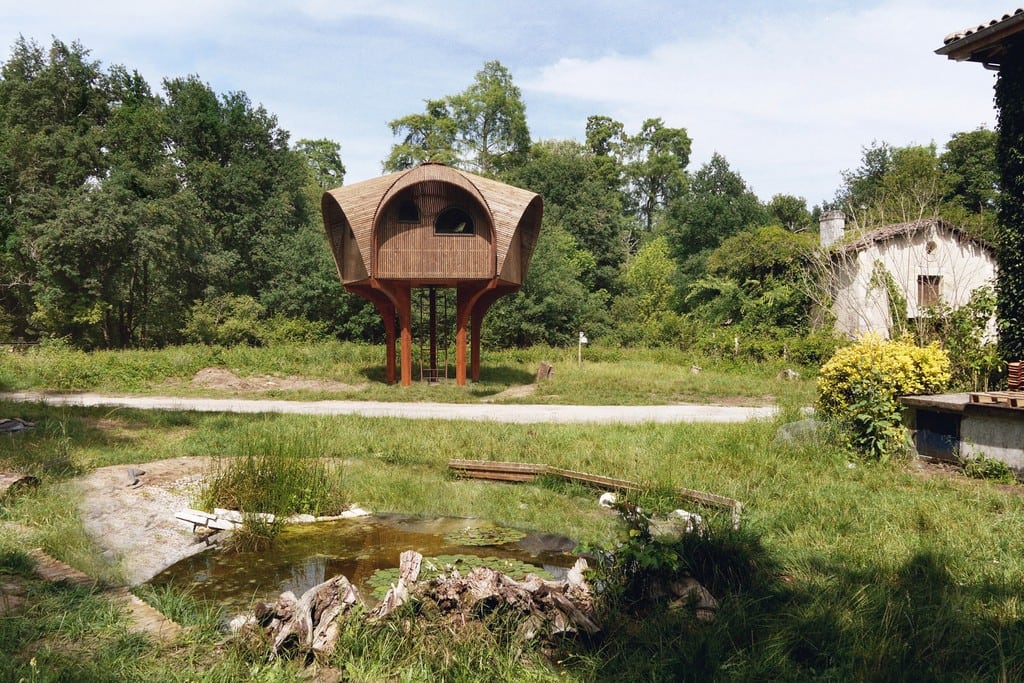 The design of Le Haut Perché takes inspiration from water towers. It is made of weathering steel and timber to allow the shelter to blend well with the rural landscape.
It sits right beside a river, a peaceful respite after a long day of walking. In order to enhance its views of the surrounding scenery, the structure was elevated. A lone steep staircase leads from the ground toward the main floor. It features hooded roofs in its five-sided form – a striking figure from near or far.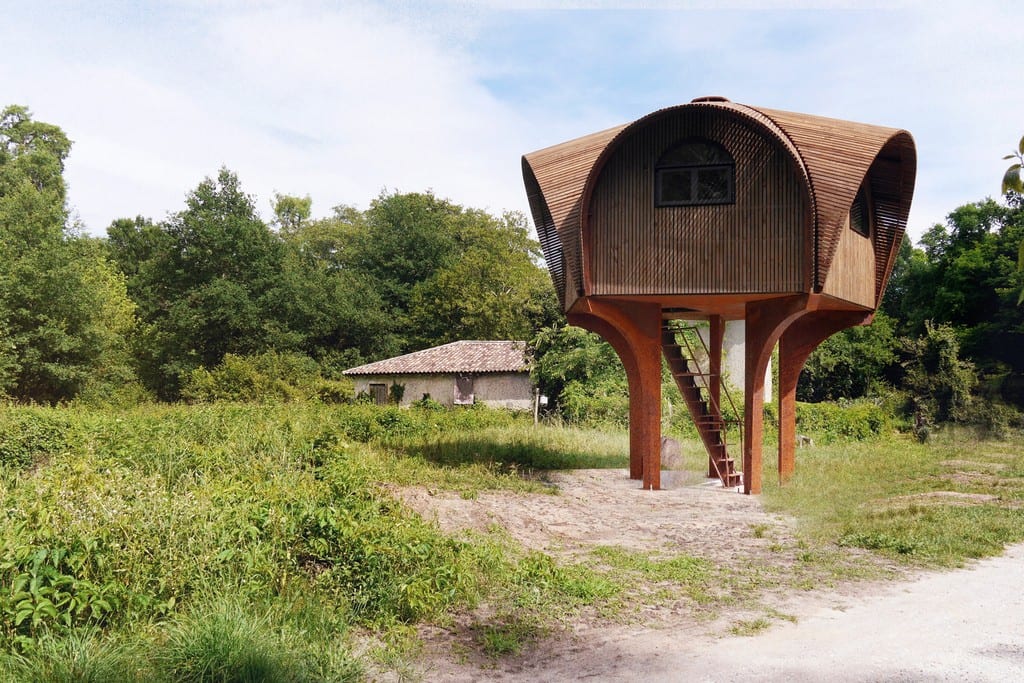 Staying at Le Haut Perché is free, provided that you book ahead of time. This is a perfect way to relax after a long day of exploring the countryside.
Notes from the Architect:
About Refuges Périurbains:

The fringes of Bordeaux remain relatively unknown. As is common to this periphery in most cities, these areas are often overlooked, experienced from afar by car rather than as destinations in their own right. Bridging city and wilderness, peripheral urban sites also offer their own magic and potential. The Refuges Périurbains project encourages the exploration of Bordeaux's fringe sites by creating a network of stay-over shelters on the edge of the city. Each shelter accommodates up to 9 people and is free to stay in.

About Le Haut Perché:

Situated amidst woodland and streams, Le Haut Perché sits quietly atop a Bordeaux Jalle. The site is peaceful, lost in the heart of Le Parc des Jalles. It is accessed by a singular path that goes no further.

Le Haut Perché sits amongst watermills Le Moulin du Moulinat, collectively perched over one of Bordeaux's main water sources. Here, water is extracted to serve the city. Comprised of timber and weathering steel, the shelter references the traditional water tower through its materiality and form. The refuge rests atop a slender neck peering over its Jalle. The arching platform captures focused sounds and vistas of water and woodland. Each opening is composed to frame a particular moment, some to be experienced lying down, others stood or sat-up.
Click on any image to start lightbox display. Use your Esc key to close the lightbox. You can also view the images as a slideshow if you prefer. ?
Exterior View:
Drawing View :
From a hiker's retreat to a rock climber's retreat, check out PV Cabin built in Chile.