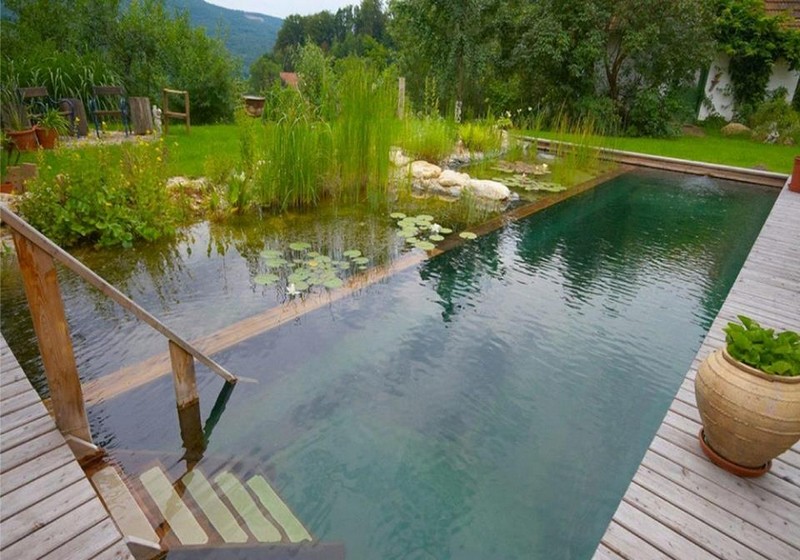 What are Natural swimming ponds?
A swimming pond or plunge is a man-made body of water that is used for recreational swimming, similar to a swimming pool, but natural water is used, meaning the water is not filtered, chlorinated, or otherwise treated.
Natural water bodies that have similar characteristics to swimming ponds include lakes, rivers, natural ponds, streams, and waterfalls.
These ponds also called natural pools, are a wonderful way to recreate nature in your backyard. Natural swimming ponds are swimming pools that use natural materials and plants to create a more natural environment.
They are often made with stone, sand, and gravel, and may include features such as waterfalls, streams, and rock formations. Plants are used to help purify the water and create a habitat for fish and other wildlife.
Natural swimming ponds can be used for swimming, wading, and fishing, and can be a beautiful addition to your backyard.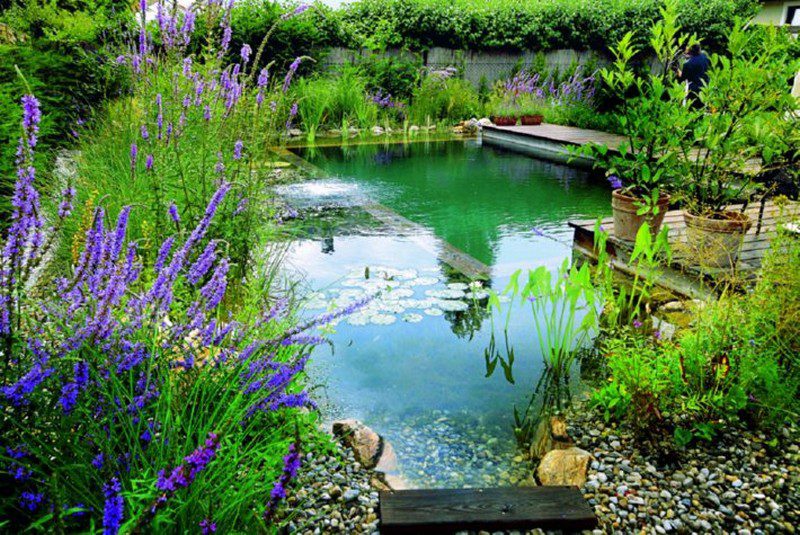 What are the advantages of Natural swimming ponds?
There are many advantages of natural swimming ponds. They offer a much lower maintenance alternative to conventional pools, provides a natural habitat for wildlife, and allow you to swim in clean, chemical-free water.
They are also a great way to cool off in the summer and can be used for swimming, fishing, and even kayaking. Consider this comment from a member, Emma O'Connor:
"I would love one of these. As a swimming teacher by trade, I spend much time in chlorinated water…. not fun for skin, hair, or eyes."
Our Pick
Wetlands have been purifying water for hundreds of millions of years so it should not surprise anyone that you can do the same in your backyard.
In fact, a well-designed natural pond is so efficient that they are becoming increasingly popular for use public – yes, as in municipal, pools. Tests have proven conclusively that the water quality is superior to any chemically treated, conventional alternative!
What are the types of natural swimming ponds?
There are three particular types of natural swimming ponds.
1. Cold Water Swimming Ponds
Natural swimming ponds are created from cold, fast-running water sources, usually springs. They are characterized by excellent water clarity and are often clear year-round. By their nature, natural swimming ponds are usually small and shallow, often less than 5 feet deep.
They are typically surrounded by a forest, with little or no development nearby. Their watersheds are considered to be some of the most biodiverse ecosystems and are protected in many states.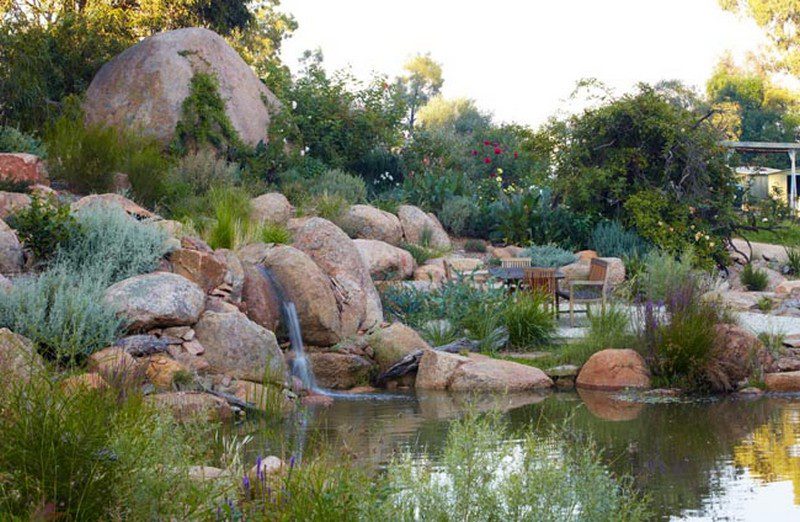 2. Warm Water Swimming Ponds
A warm water natural swimming pond is a pool of water of a temperature to permits comfortable swimming year-round and can be caused by a hot spring nearby. Warm water ponds are located in regions with a generally mild climate and are often man-made but can also be naturally occurring.
Swimming in natural, warm water ponds appears to be a healthier choice. Ponds do not have the same chemicals as swimming pools and contain beneficial minerals such as sulfur, magnesium, calcium, and sodium.
The water in swimming ponds is much warmer than in swimming pools providing exercise that is more challenging and stimulating to the body.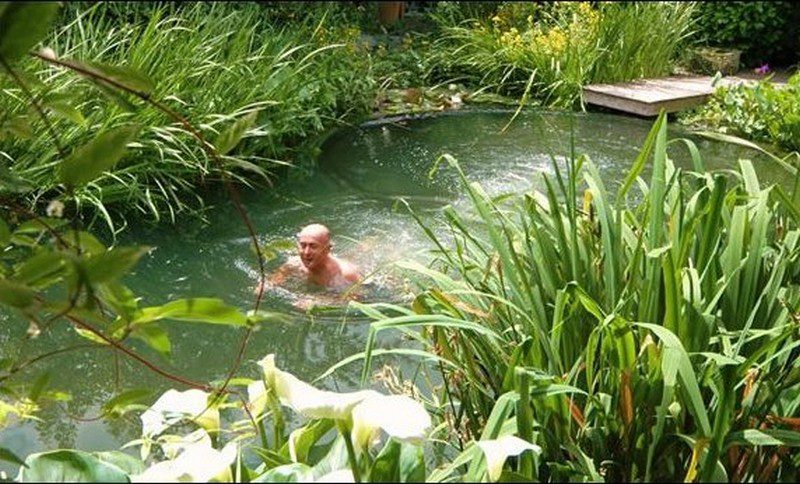 3. Saltwater Swimming Ponds
A saltwater swimming pod is a type of swimming pool that uses salt water as the main medium. It is also called a saltwater spa, saltwater pool, eucalyptus steam room, and other similar terms.
A saltwater swimming pod is a type of sauna that is used for relaxation, like a housewarming party idea, as a social activity, and for a variety of other purposes.
Saltwater swimming pools are built near the beach or sea since such pools use salt water for the water. Saltwater swimming pools are so much more beneficial than normal swimming pools.
Salt Water is better for the skin than normal chlorinated water. These pools are much more economical than conventional chlorine pools.
Saltwater pools are very easy to maintain and are much more environmentally friendly than traditional pools.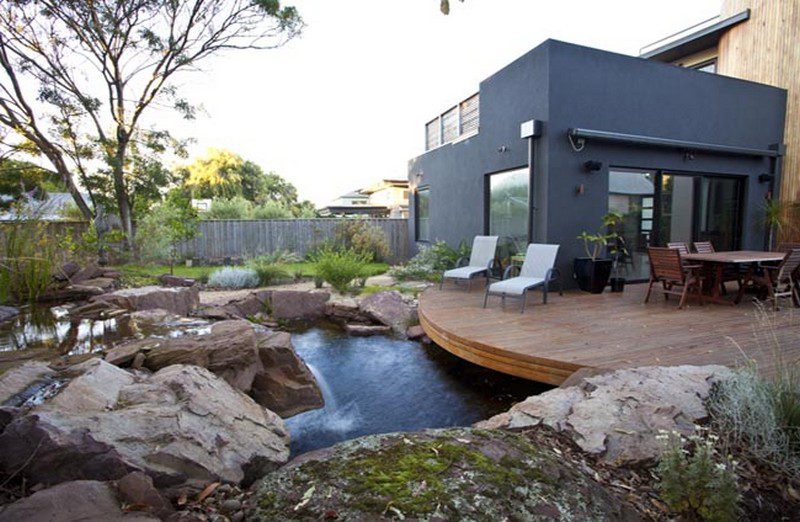 Scenic natural swimming pond ideas.
If you love spending time outdoors and enjoy swimming, then you'll love having a natural swimming pond in your backyard. This type of pond is not only beautiful to look at, but it's also great for the environment.
There are many different ways to design a natural swimming pond. You can choose to have a large pond with a waterfall or a smaller pond that is more intimate. No matter what type of pond you choose, you'll be sure to enjoy spending time in it.
If you're looking for some inspiration for your own natural swimming pond, then check out the following layouts. These ponds are sure to give you some ideas for your own backyard oasis.
Click on any image to start the lightbox display. Use your Esc key to close the lightbox. You can also view the images as a slideshow if you prefer 😎