Fairy gardens are a great way to get your imagination going and get little kids interested in gardening.
But it's not only a fun gardening activity for the whole family. It's also a creative idea for putting broken or old items around the home to good use rather than throwing them straight into the trash bin. Let your imagination run and see if your broken terracotta pots can still be used to hold a fairy garden!
Our Pick
Flower Plant Pots Fairy Garden
The planter has 3 separate chambers to put multiple plants, especially suit for small flowers and succulent plants.
Buy on Amazon
We earn a commission if you make a purchase, at no additional cost to you.
11/26/2022 08:43 pm GMT
Displaying fairy gardens in the garden landscape can be both practical and fun. A fairy garden is a miniature garden that is intended for placing inside a house or a larger garden.
Fairy gardens can be practical since they can be placed in areas that may be difficult to maintain or areas that receive limited sunlight, as long as you do not need to water the plants. It can also be fun to look at because you can use your imagination to create your own miniature world.
Also, don't buy decorating materials just yet! Small, broken tiles and other scrap materials from a construction or renovation project in your home can be used to create the pathways or mini houses in your fairy garden.
Your grown-up kids might also have small toys you can use to add more life to your creation, like mini people and furniture.
A walk in your local area is also sure to bring you some interesting rocks, sticks, or tiny plants to add to your masterpiece.
If you want to create your own fairy garden and want to add some special touches to it, you can always go around your neighborhood and pick up some special rocks, leaves, sticks, or small plants to add to your garden.
How to create your own Fairy Garden?
1. Place container in moist, well-drained soil
Placement is the most important aspect of creating the perfect fairy garden. A small pot, like the ones in which succulents are grown, can be placed almost anywhere because of its small size.
However, you must prefer wider pots that are at least one foot wide and one and a half tall. The taller the pot, the more room there is for more accessories you can put around and play with.
2. Fill container with potting soil
Use potting soil, not soil or garden soil. If you use soil or garden soil, you'll have no drainage, which means the roots of your plants will stay wet and soggy.
This leads to root rot, which kills plants. If you use potting soil, the excess water will drain away, keeping the roots of your plants healthy.
3. Add plants
Fairy garden plants come in so many varieties. The key is to find plants that grow well where you live. Succulent plants work well for fairy gardens because they are drought tolerant.
4. Place stones, moss, or similar for decoration
A fairy garden is indeed a fun, creative, adorable, and inexpensive idea to add more greens at home.
What's not to like?
Be inspired by more fairy garden ideas by scrolling down our list below!
Click on any image to start the lightbox display. Use your Esc key to close the lightbox. You can also view the images as a slideshow if you prefer 😎
Aquarium or Jars (see also How to Make Cute Terrariums)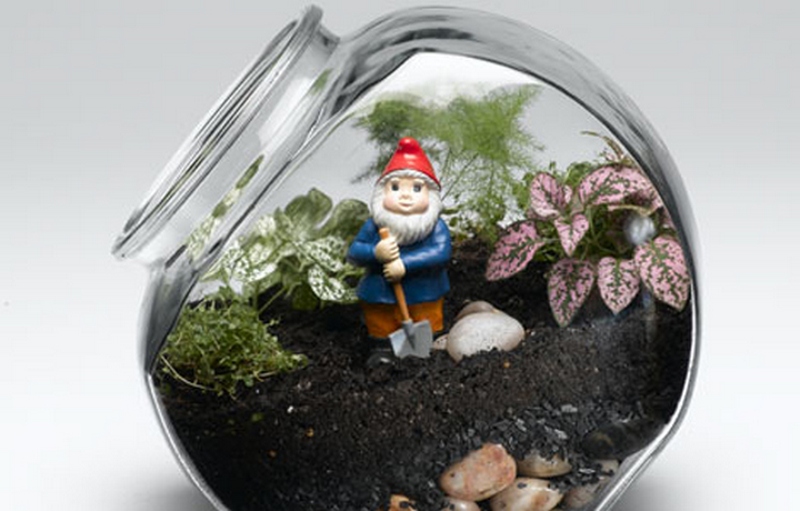 Tree Stump Gnome House
Wheelbarrow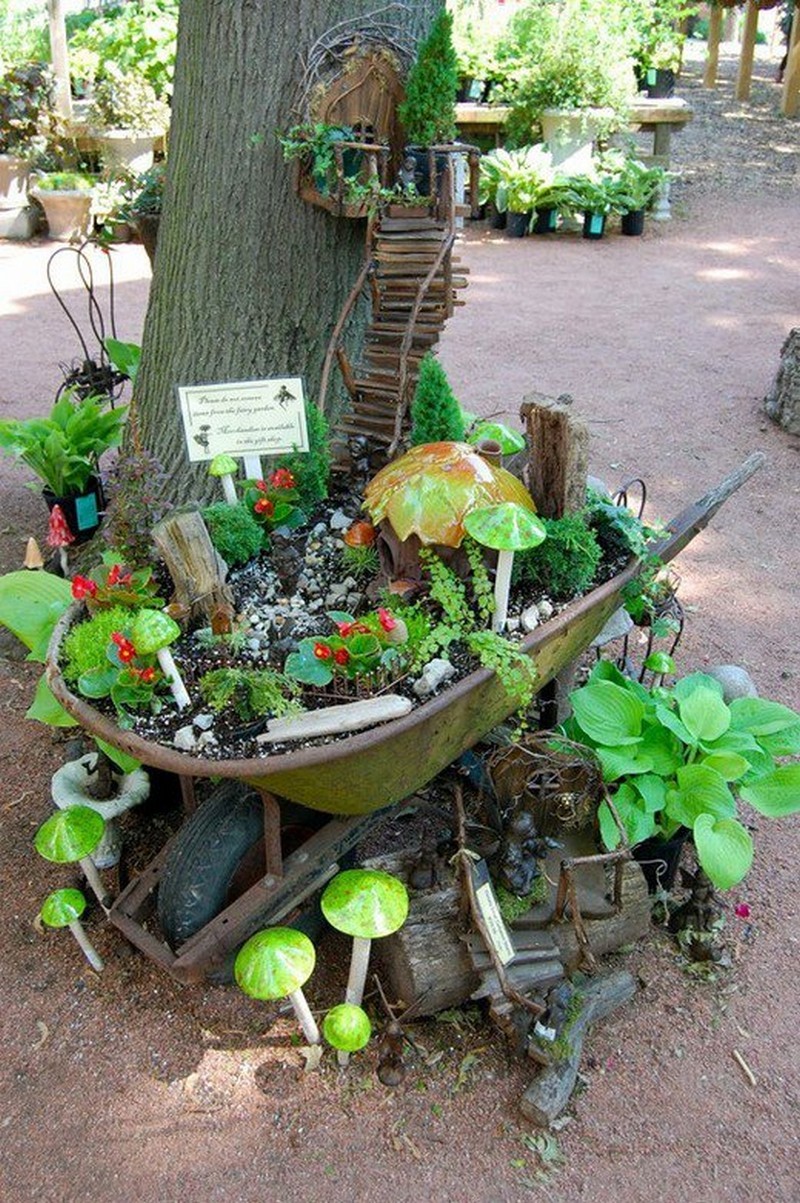 Timber Boxes
Wine Barrels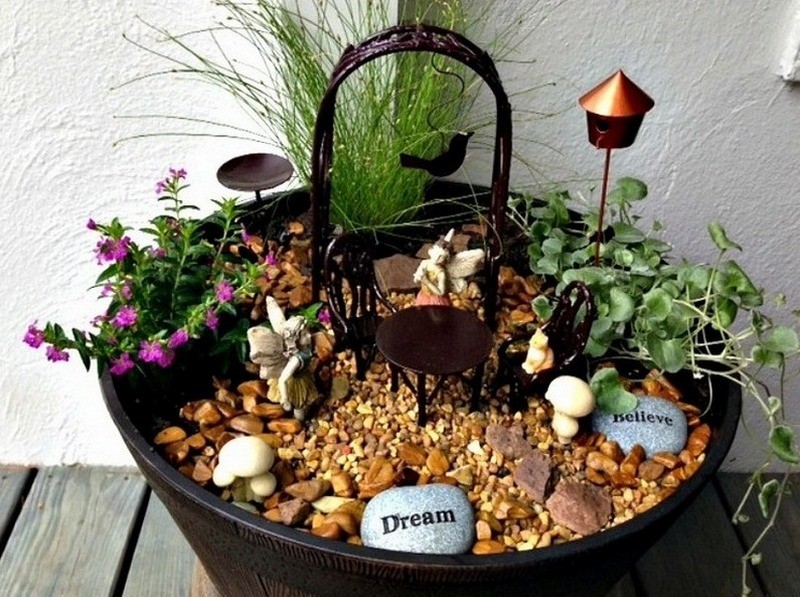 Bath Tubs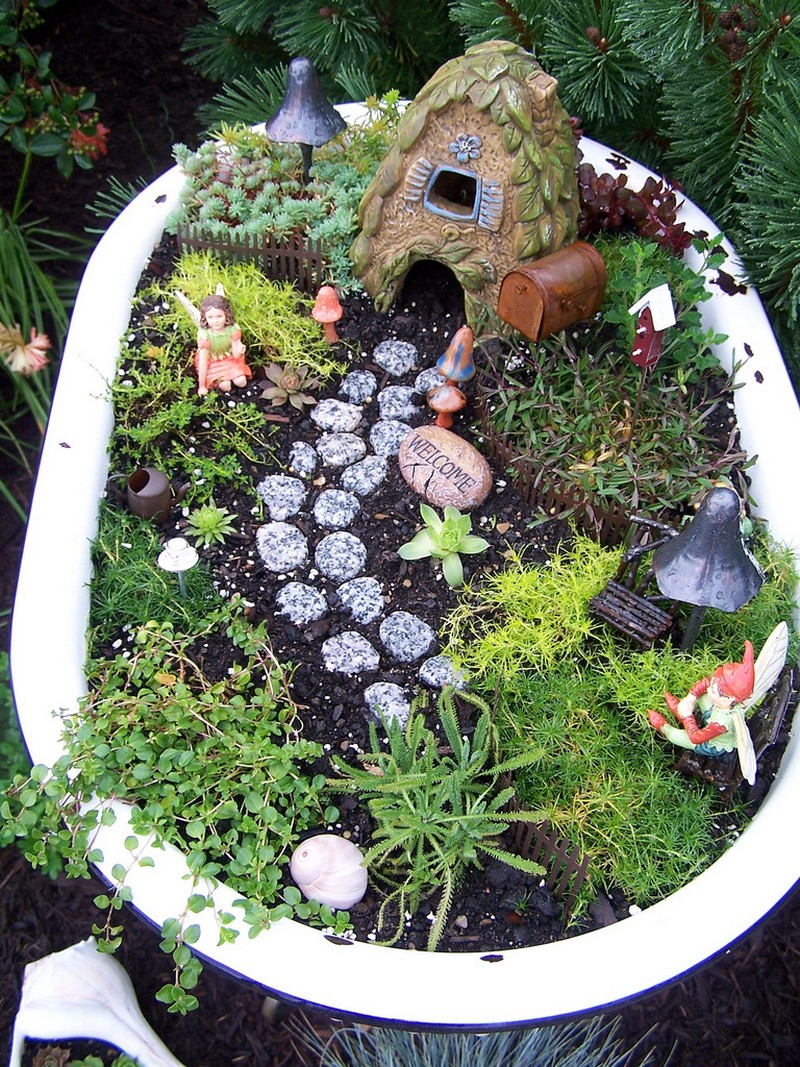 Galvanized Buckets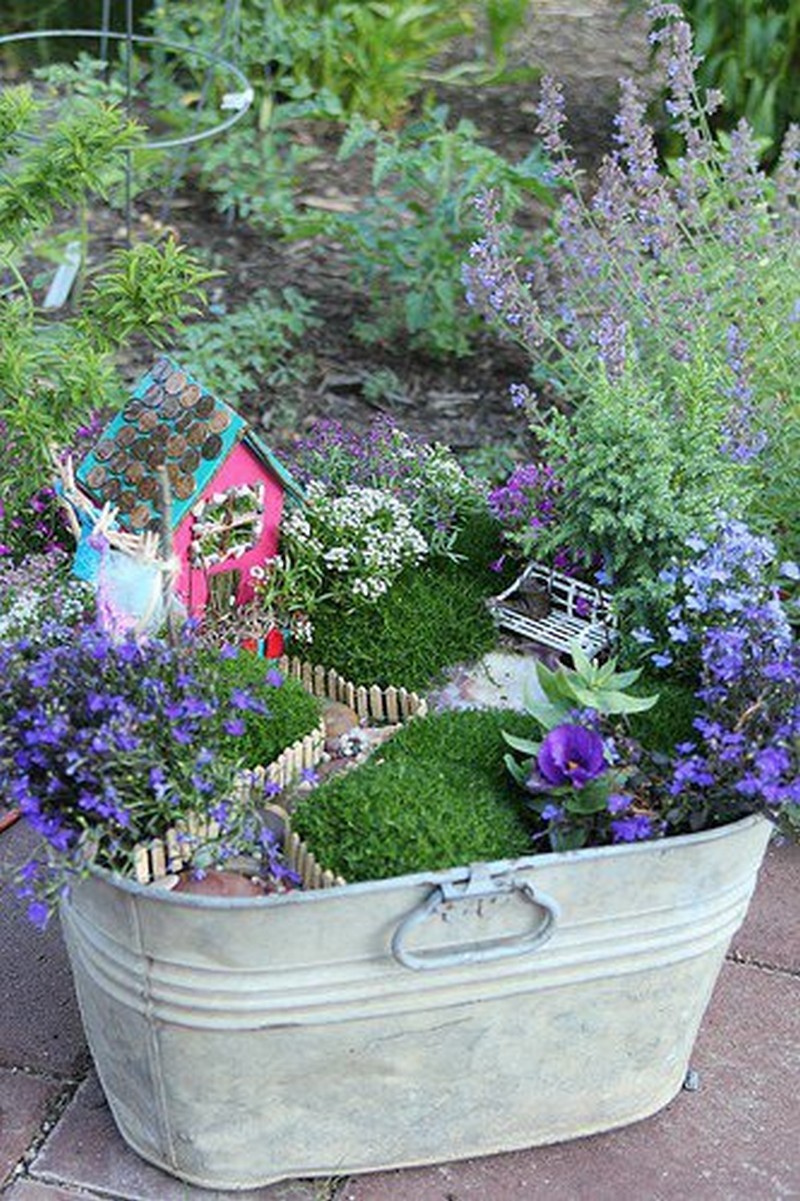 Terra Cotta Lids
Broken Pots
If you liked these, you will also like viewing these easy DIY projects…