Swing beds are a better option than a conventional porch swing if you need day beds like taking a nap or a longer sleep outdoors. It's wider than a porch swing and it allows you to lay down more comfortably. Even if it's just a nap, comfort is of the essence if you want to wake up relaxed instead of cramped.
A swing bed for outdoor day beds allows you to enjoy the benefits of day beds with the option of a swing feature that transforms your daybed into a double lounger.
Daybeds can be a great addition to your backyard, patio, or porch. Daybeds for outdoors make for ideal sunrooms and also come in handy when entertaining guests. Many people like to enjoy the outdoors in the form of a swing bed in the sunshine.
It has enough space that you can even share it with a loved one. It's a great way to enjoy nature and experience the same comfort you get when you sleep indoors.
Swing beds come in a range of designs and materials. And it has come a long way from the conventional designs for swing beds.
They come in different sizes, color, and style. There are no hard and fast rules when it comes to design, but safety in the suspension aspect remains of the essence.
If you can't find one that matches your taste, you can also build your own. This makes it easier for you to play with the dimensions; accommodate more people or fit it in the space you have allocated for it.
It is highly recommended that you customize the materials to meet your concept. It's also one way to lower the cost when you build one.
Customized your day beds for certain purposes. 🙂
Before having a swing bed, you should at least know the purpose of building one. Would it be for sleeping, sitting, napping, or playing? The size of your swing bed will be determined by its purpose.
For Sleeping
If you tend o build a swing bed or a day bed for sleeping outside, you should consider bigger and wider day beds. This will make sure that you will have enough space to sleep comfortably outside.
The overall quality of the bed is also important, and this is why you should pay more attention to the structural stability and the strength of the wood used in building the bed.
This will ensure your safety while sleeping on it.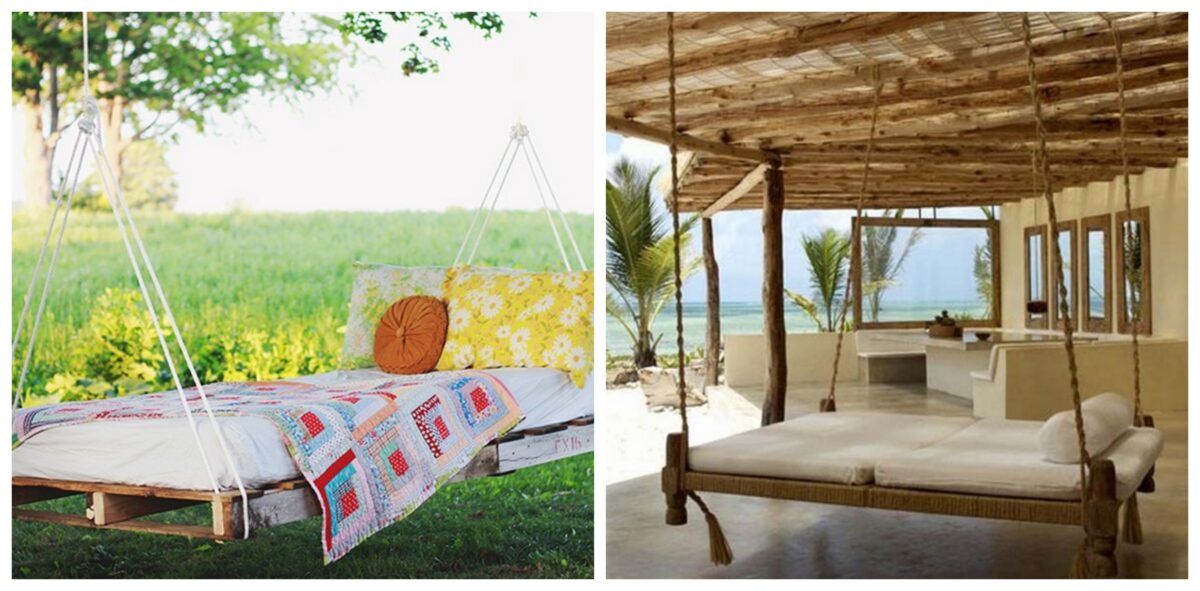 For Sitting
If you need a swing bed that will be used for sitting while having a conversation with a friend, then you need one that is the size or a little larger than your sofa or couch.
With these day beds, you can enjoy your outdoor area while reading your favorite book, or having a sip of your favorite refreshments with your friends.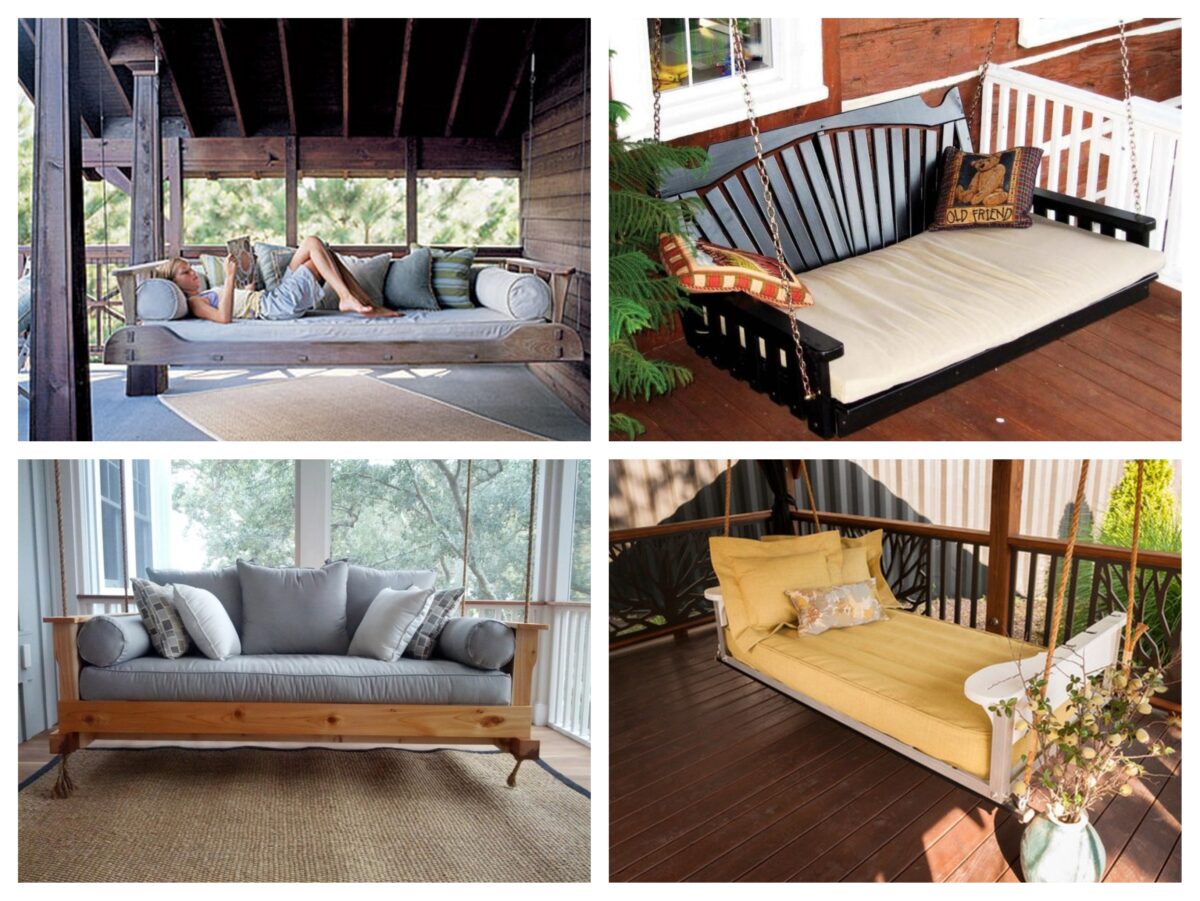 Swing bed for playing
If you try to create a space for your child to play with, this outdoor swing bed will be the best solution. Not only will your children enjoy the swing, but it can also serve as a place where they can enjoy their favorite toys you bought for them.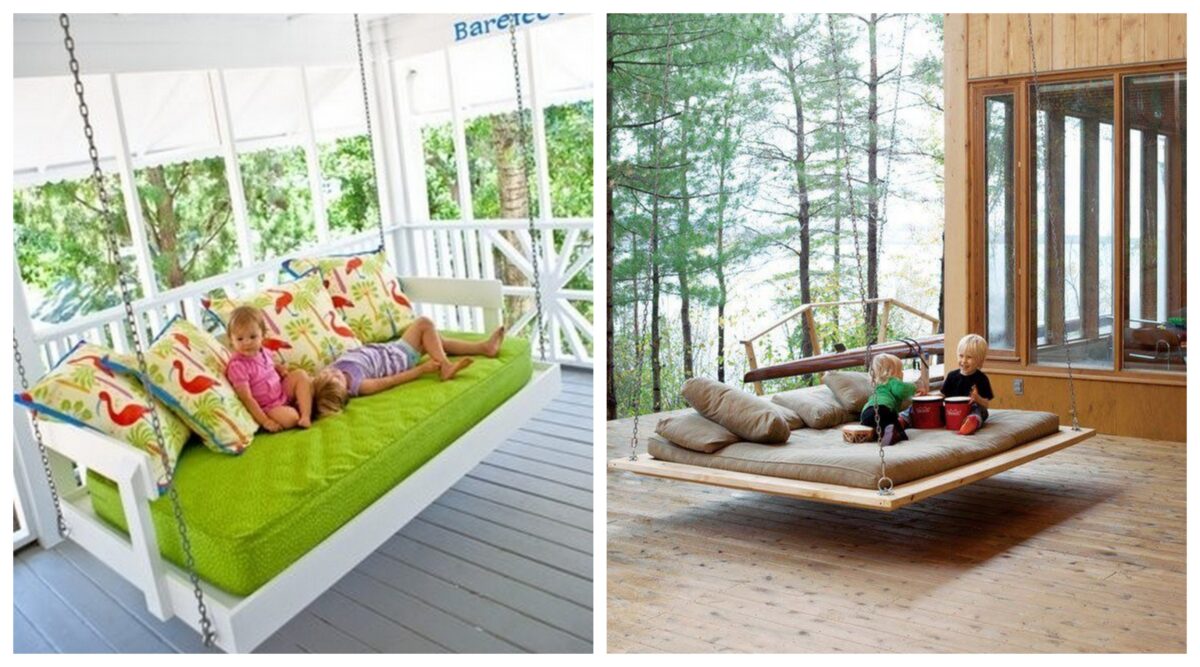 Want to get the most out of your outdoor living space? Get the perfect swing bed for your outdoor living space! View our gallery for inspiration.
Click on any image to start lightbox display. Use your Esc key to close the lightbox. You can also view the images as a slideshow if you prefer 😎
If you liked these, you will also like viewing these swings…