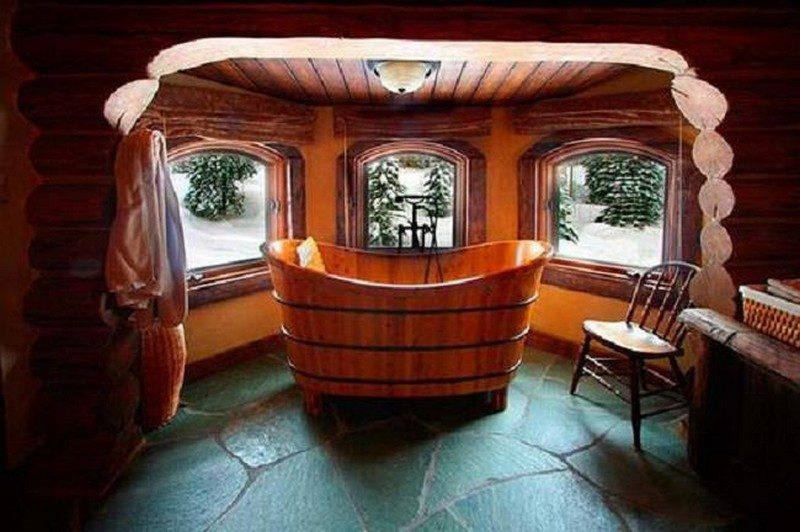 Once upon a time, long before acrylic, ceramic, or cast iron, there was the wooden bathtub. Handcrafted and beautiful in their own right, they also hold heat longer than tubs made of alternative materials.
Yet, we rarely see timber baths. The reason is that in the west, baths are used for cleaning the body. Historically, cleansing agents have been quite strong and have a deteriorating effect on the timber as well as the body.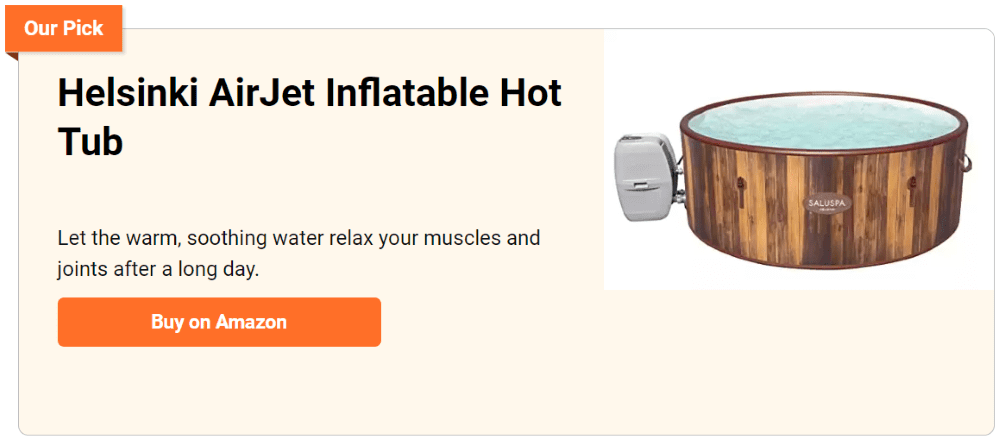 In eastern cultures, however, one thoroughly cleanses oneself before entering the bath. In fact, the bath is used for soaking and relaxing, not for cleansing. For that reason, Japanese baths are typically shared by the entire family, sometimes communally and other times serially.
Water is and will increasingly be, a scarce resource. A typical bath requires between 250 L and 300 L of water to fully immerse a body. If a family of four all take a fresh bath, 1000 L of water has just been consumed.
A Japanese family of four would consume only 250 L of water plus a small amount for cleansing before entering the bath. The water needs to be heated so the western family is not only using four times the water, they are consuming four times the energy to heat that water.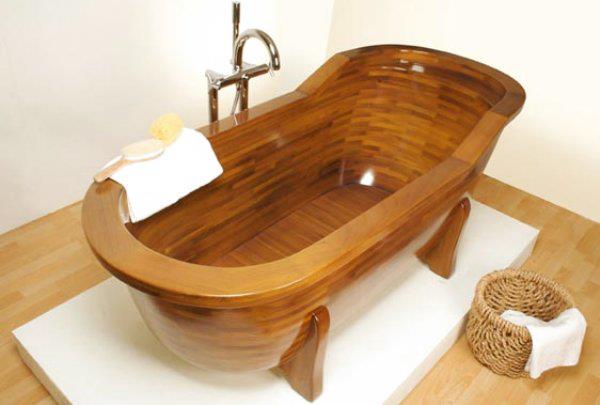 One of the great advantages of timber baths is that they retain the warmth of the water for considerably longer than acrylic or cast-iron bathtub. Anyone who likes to soak in a timber bath knows about adding hot water to keep the temperature up… obviously consuming even more water and heating energy.
And if you don't have an instantaneous hot water system, you also probably just used all the hot water in your house! Another significant advantage is that timber baths can be fully customized to your specifications.
You can have a wider, longer, or deeper tub than standard. However, customization like that, as well as the wooden bathtub itself, comes at a cost. You can expect to pay anything from two to five times the cost of a conventional, similarly sized, quality bathtub.
One of the biggest concerns, when people are considering installing timber baths, is how to retain and maintain the original appearance of the tub. Any timber product is unique. Even timber products made to the same exacting specifications will be different because of the grain of the timber used.
This adds to the beauty of the product. The natural grain is, of course, its biggest asset. The grain can be stained or left in its natural colors.
Regardless, the timber will need to be finished in such a way as to provide long-term protection.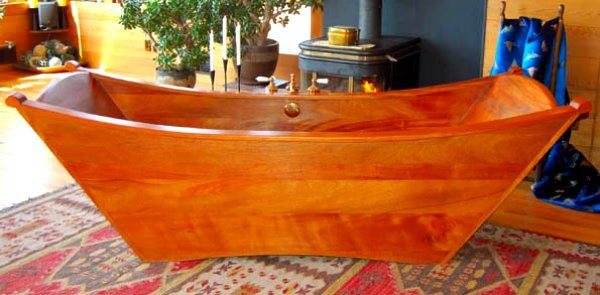 Selecting the timber:
The best protection comes from selecting the right timbers for the bath. Some timbers are denser, harder, or have a much higher oil content than others. A teak or ipe tub will have a natural resistance to water because of the high oil content in the timber.
Timbers such as these, absorb much less moisture and are more resistant to rot. The downside is that they are much harder to work and accordingly, will be considerably more expensive.
The very best quality Japanese tubs, ofuro, are made from a cypress called hinoki. It's considered sacred and is used in the construction of palaces, temples, and shrines.
It is renowned for its beauty, strength, and durability. It grows only in Japan and accordingly, it is very expensive. A Hinoki tub imported into Australia or the USA will cost in the vicinity of $10,000.
At the other extreme is pine. It is readily available, cheap, and easy to work but will have a more limited life span due to the softness and the low-density nature of the timber. It easily absorbs moisture, which leads to swelling, shrinking, and cracking at a much faster and higher rate than a quality timber like ipe, hinoki, or teak.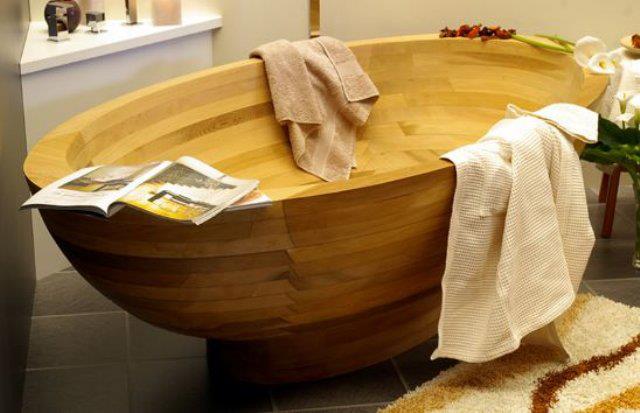 If timber baths are made from low-oil timber, the manufacturer will normally recommend that the timber baths be used at least once per week to stop them from drying out.
In other words, a certain level of moisture content is necessary for baths of that type. Of course, assuming that you enjoy taking baths, that would be a pro rather than a con!
If you are heading away from home for more than a week, these timber baths require that you place a bowl of water in the tub. The bowl should have a sponge in it that has at least 25% of the sponge exposed to air as an aid to evaporation.
The timber baths then need to be covered with a non-permeable cover. This ensures high humidity inside the timber baths so that the timber doesn't dry out.
An excellent compromise is a cedar, which although softwood, has a high oil content, repels water, and is naturally resistant to decay.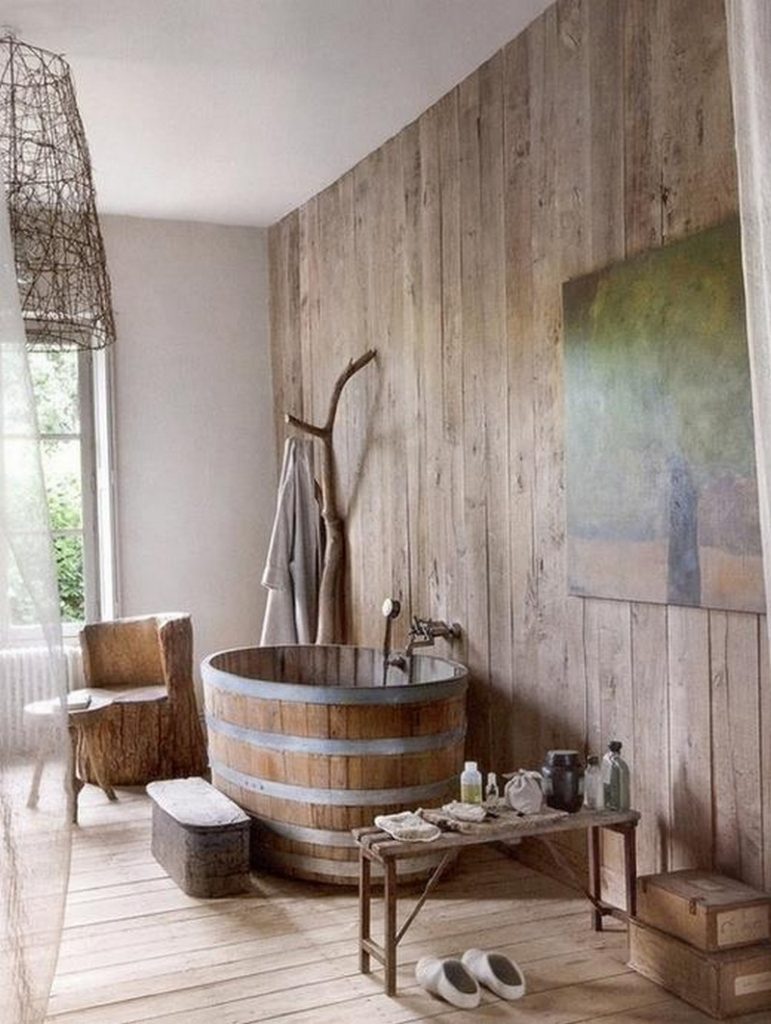 The traditional Chinese and Korean baths are usually made from cedar. As mentioned above, hinoki is the preferred timber in Japan, however, because of the cost, cedar is a popular alternative. A cedar tub made in Japan will typically cost around $4,000 – $5,000 landed in Australia or the USA.
Chinese-made cedar tubs, similar to the one shown below, can be purchased FOB for as little $500. Add freight and associated import costs and these still represent a bargain.
Most are handmade by small specialist manufacturers in China, such as Kangxi. Customization is therefore easy. In fact, even 'one-off' designs can be accommodated.
Maintenance of Timber Baths
Most new timber baths are treated by the manufacturer with multiple coats of sealer. Some are given clear coats of fiberglass. If the tub is sealed in this way, a simple abrasion-free cleaner is all that is required.
If the timber baths are sealed with oil, a wipe-down with vinegar will normally suffice. Of course, oiled surfaces can be easily and quickly refreshed according to the manufacturer's instructions. But all manufacturers of wooden tubs recommend that their products be used for soaking, not cleansing.
Veneer bathtubs:
A hybrid timber bath is one made from timber veneers, saturated in resin, and then compressed and shaped under very high pressure. The result is a bath that is as maintenance-free as a standard acrylic bath with the warm beauty of timber. Because veneers are used rather than solid timber, contours can be formed into the tub giving very fluid lines.
A wooden tub will require a little more work than a cast-iron or acrylic equivalent but will reward you for many years with its beautiful appearance. But if you intend to use the tub for cleaning, we suggest you stick with a nice acrylic tub and use timber accents to create a similar ambiance to a traditional ofuro.
We are absolutely knocked out by some of these. Which one is your favorite, or does a more standard bath better suit your personality?
Tell us what you think by commenting as you go through the images. 🙂
Click on any image to start the lightbox display. Use your Esc key to close the lightbox. You can also view the images as a slideshow if you prefer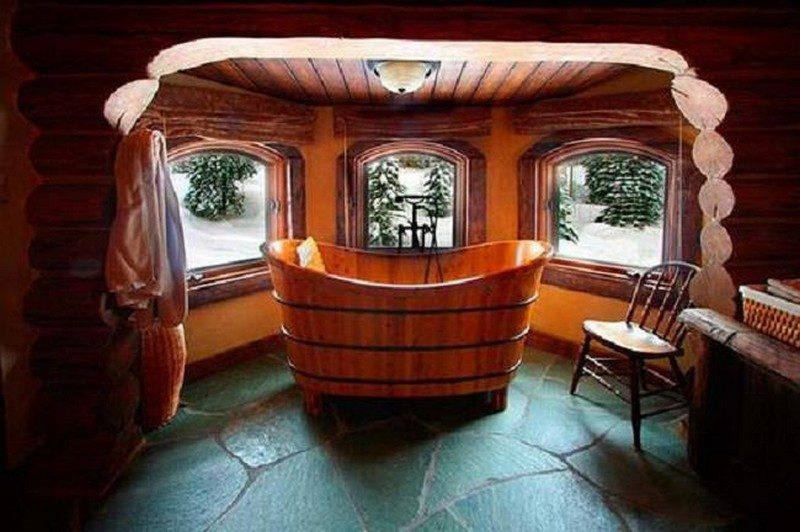 If you liked these, you will also like viewing these bathroom ideas…