Ceiling fans can be super useful for moving air around in your home — in the summer, they can create a cooling breeze that allows you to turn your thermostat up a few degrees. Reverse the fan's direction in the winter, and it can push warm air down from the ceiling to make your home feel warmer with less energy expenditure.
But, to get the most from your ceiling fans, you have to have the right size fans in each room. Fans come in a wide range of sizes, from 29 inches to 99 inches or more! A too-large fan can obviously crowd the space on your ceiling, while a too-small fan will struggle to keep. You may have to end up running it at full speed much more often, which doesn't do your power bills any favors, and you'll have to replace it sooner. Instead, size your ceiling fan according to the square footage of your room and the height of your ceiling.
Ceiling Fan Sizes and What They Mean
Ceiling fan sizes are measured in inches. On a fan with an even number of blades, the fan's size or "sweep" is measured from the tip of one blade, all the way across the fan to the tip of the corresponding blade. On a fan with an odd number of blades, the sweep is measured as double the number of inches from the end of one fan blade to the middle of the fan.
Ceiling fan sweeps start at about 29 inches and work their way up to 60 inches or more. The larger the fan, the larger the room it can cool — you can even buy ceiling fans that have a sweep of 99 inches or larger! However, if you have a very large space to cool, you may want to go ahead and install multiple fans instead of one large one.
Size Your Ceiling Fan According to Your Room's Square Footage
The American Lighting Association offers a size guide to help you determine what fan sweep is appropriate for your space, based on the room's square footage:
Choose a fan with a sweep of 36 inches or less if your room's square footage is less than 75 square feet.
Choose a fan with a sweep of 36 to 42 inches if your room is 75 to 144 square feet.
Choose a fan with a sweep of at least 50 inches for larger rooms.
Consider the Height of Your Ceiling
Because ceiling fans hang down from the ceiling, ceiling height is a big factor when choosing what kind of fan to install. You need to leave at least seven feet of clearance under your fan so that household members can safely walk under it. Ideally, there should be about eight inches of clearance between the fan blades and the ceiling, to allow the spinning blades to circulate air effectively.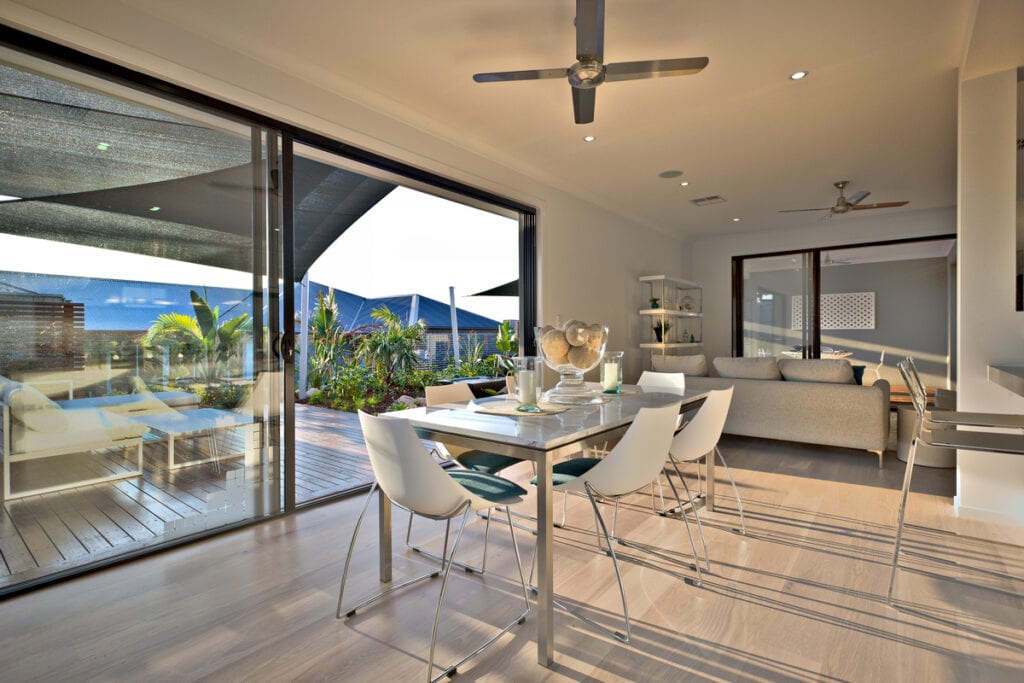 Many ceiling fans have an extension rod or otherwise drop down from the ceiling. The larger the fan, the longer the drop from the ceiling, so that's something to consider when sizing fans. If you're installing a ceiling fan with a light fixture attached, plan to hang the fan about a foot higher than you otherwise would have to accommodate the lights.
If you have low ceilings, that doesn't necessarily mean you can't have ceiling fans. There are many low-profile and flush-mount ceiling fan models available that can be used in a room with lower ceilings.
Sizing Ceiling Fans for Odd Room Configurations
Square footage and ceiling height aren't the only considerations when it comes to sizing ceiling fans. You also need to consider potential obstacles on the ceiling — for example, if one side of your ceiling is slanted, you may need a downrod to keep your fan blades from knocking into it. You may need to buy a smaller fan to accommodate odd ceiling shapes, lights, and other architectural features that could get in your fan's way.
With so many ceiling fan sizes on the market, choosing the right one can feel overwhelming. It's actually pretty easy if you take into account your room's square footage and ceiling height. Soon, your new fan will be creating cool breezes all summer long.