Project Year:  2015
Area:  170.0 m2
Photographers:  Simon Oberhofer

House T sits in the expansive, rolling landscape of a peaceful Austrian vineyard. It is found on top of a hill, blending naturally with its surroundings. It's where an old vintner's house used to be. After being remodelled in 2015, the house is given a newer, more modern upgrade.
The homeowners, two winegrowers, decided to retain the original structure. Because of this, the house has a cubed layout and a gabled roof.  Inside, a split staircase was incorporated, sitting on top of a 400 year-old wine cellar.
An adjacent building houses the garage, living room, dining and kitchen areas. It has an open floor-plan, making the area more spacious. Large floor-to-ceiling windows allow unrestricted views of the outdoor scenery.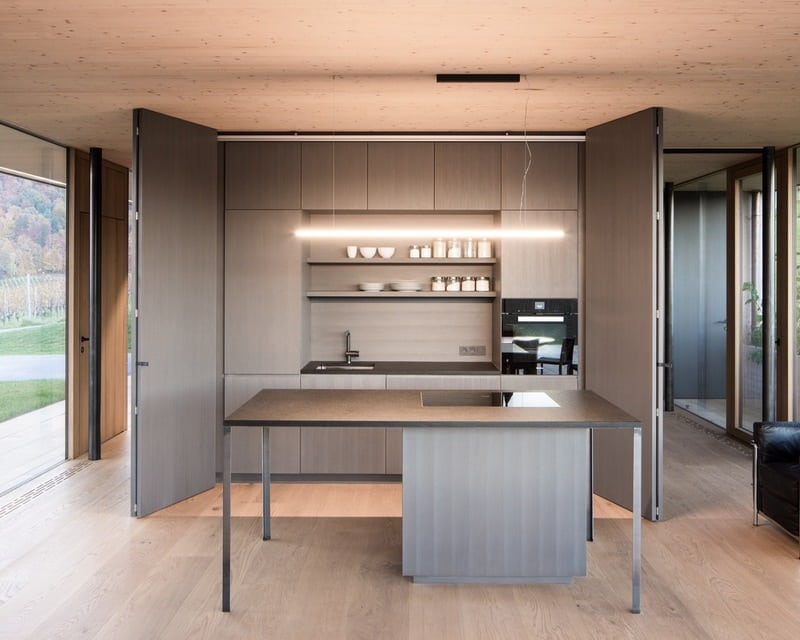 Notes from the Architect:
Nestled in a gentle hilly landscape, the house naturally integrates into the surrounding vineyards of the hilltop. Despite the exposed location, it forms a unity with the landscape due to the materiality and its formal restraint and sits self-confidently, looking at the gable towards the valley, on a slope.

The starting point for the detached house is an existing building from the 60s, which was completely removed except for the underlying vaulted stone cellar. The new building is divided into two buildings: a rectangular cube with a pitched roof was placed over the stone cellar – an homage to the former building, which had stood here in the same orientation and similar cubature. The monolithic construction of colored insulation concrete, the structure of the sawn wooden board formwork and the few square openings give the building an introverted character.

Accordingly, inside the sleeping and wet area and a gallery as a retreat. The brown color and the haptic texture of the concrete walls convey comfort and only occasionally reproduce selected image details of the 360 ​​degree panorama through the wide wooden frames of the windows. on the east side of the building, orthogonally adjoins a flat, elongated structure that integrates the living, dining and cooking areas as well as the garage.
Click on any image to start lightbox display. Use your Esc key to close the lightbox. You can also view the images as a slideshow if you prefer 

Exterior Views:
Interior Views:
Drawing Views:
Don't miss out on reading about Adelaide's Bridge House!