What started as a private retreat for one of Australia's great entrepreneurs, developed over time to become one of the country's most exclusive and luxurious getaways.  The development is less than 90 minutes north of Sydney's CBD. It sits in one of the world's most beautiful environments – the Hawkesbury Sandstone Basin – surrounded by the spectacular bushland and waterways of the Bouddi National Park.
Of course, being in such a location brings obligations as well as benefits. There are many restrictions placed on development including tree preservation orders. Most people would walk away from the challenge but the owner of this block, set high on the escarpment above Pretty Beach,  took a slightly different approach. He chose to incorporate the natural beauty of the block into the building.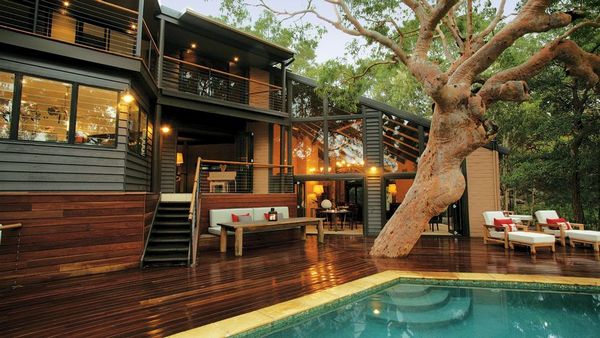 When we originally featured this development on our Facebook Page, there were a few comments about the fire risks. Sadly, in December, 2012, an arsonist decided to set fire to the development… not to the forest, just the development – perhaps to prove a point.
One day we might see the resort rebuilt. In the meantime, we'll need to be content with these images and the video (see link below the galley).
Click on any image to start lightbox display.  Use your Esc key to close the lightbox.  You can also view the images as a slideshow if you prefer  😎
If you liked this, you will also enjoy viewing 

Koh Tao Beach Villas…