Do you ever find yourself dreaming of owning a mobile tiny home? Perhaps you fantasise yourself travelling the country in your own comfortable home on wheels. Or maybe you picture a simpler life in a mobile home park, surrounded by friendly neighbours.
Designed: 1985
One of the reasons behind the tiny home movement is that many of the designs totally bypass conventional planning and building requirements. This means that people who want to build a tiny home do not have to go through traditional channels to get permission and approval.
If it's on wheels, it's not considered a fixed structure. If it's not fixed, it can't be classified as a dwelling. If it's not a dwelling or fixed, then the building code doesn't apply. And 'I'll build it however I want to'!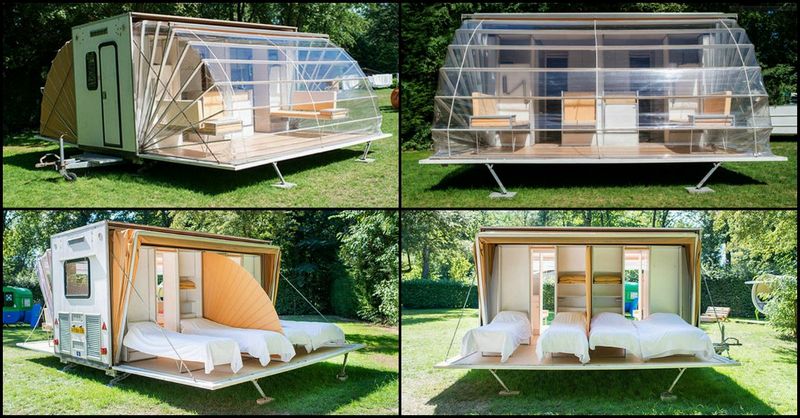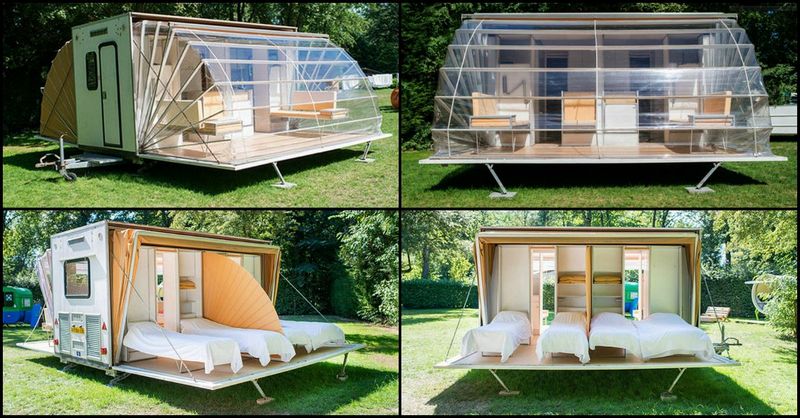 Caravans can make great temporary tiny homes, but they have clear limitations as permanent residences. The most obvious is lack of space, which can be especially problematic when the weather isn't good enough to spend time outdoors. Most caravans are a single area adding to the 'crowding' effect. Most caravans have just one main living area, which can make the space feel very cramped.
"De Markies" (The Awning) was a 1985 entry in the "Temporary Living" competition. It was conceived as a mobile tiny home. On the road, it measures just 2.00 metres x 4.50 metres, but once at its destination, the floor space is increased by 300% in a matter of seconds.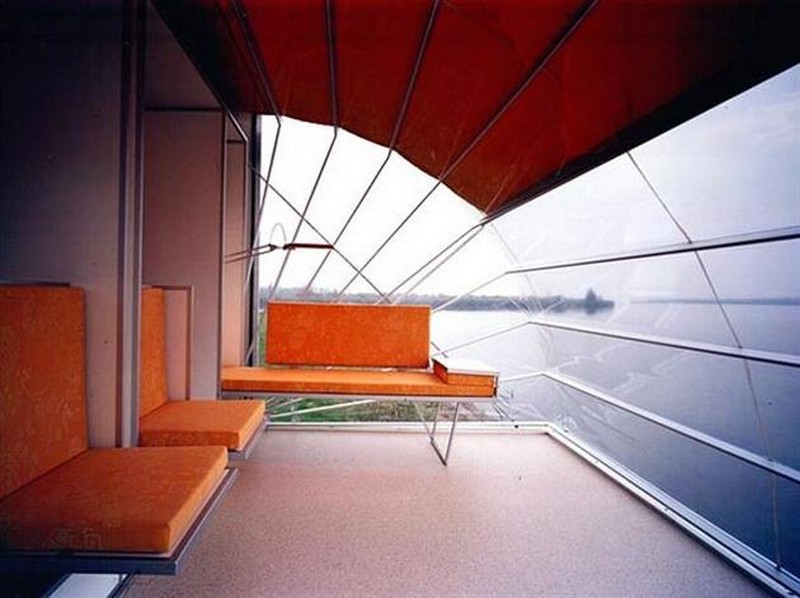 The Awning is made of high-quality materials and is equipped with all the necessary amenities for comfortable living, making it the perfect solution for those who want to enjoy the freedom of the open road without sacrificing the comforts of home.
It offers multiple 'rooms' giving occupants some 'personal space'. In fact, we say it takes the concept of caravan living to a whole new level! These caravans provide all the comforts of home, without the expensive price tag or the need for towing a large trailer.
Interestingly, the "De Markies" design was awarded the Public Prize at the Rotterdam Design Prize in 1996, yet it appears that the design never went into production. It's possible that the design was ahead of its time, or that the costs of production were too high to make the design feasible.
In any case, it's a shame that this tiny home design never made it to production, as it would have surely been a popular item. With the development of so many new polymers and composites over the last decade, it would appear to us that any technical challenges that may have existed are probably now moot.
The maximum allowable width and length of a 'towable' van in Australia is 2.5 metres by 12.5 metres. That's a significant 31 m2 (337 sq. ft.). Now treble that with the 'De Markies' design and you have a real home – without a single building or planning permit.
Would you like to travel around with a tiny home, but are worried about planning approvals? Then you should think about 'De Markies'.
This unique option offers many interesting possibilities for those who need a home office or simply want to downsize their living situation. With 'De Markies', you can have the best of both worlds – the freedom to travel and the stability of a traditional home.
Click on any image to start the lightbox display. Use your Esc key to close the lightbox. You can also view the images as a slideshow if you prefer 😎
BTW, if you like this, you'll love these Tiny Homes…