Year Built:      2014
Total Livable Space:     340 sq. ft.
Photography:     Mark Lipczynski
While driving though Kansas, architect Christoph Kaiser , noticed a dismantled 1955 era grain silo. A short conversation with the farmer owner and the bits and pieces has a new owner, and soon, a new address. The idea was to create a comfortable, affordable and sustainable home from a very compact space with the lowest possible carbon footprint!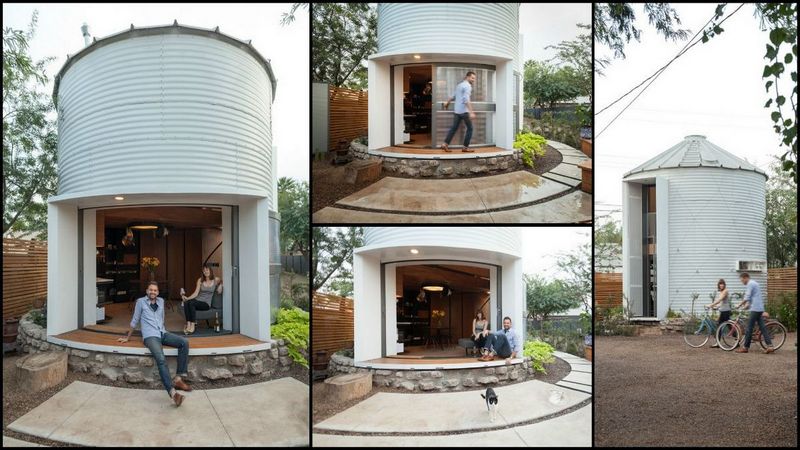 The interior to exterior contrast of this two-story house couldn't be greater yet the two nonetheless  complement each other. The exterior shell is dressed with a white finish, that not only reflects the sun's heat, but maintains its rural and agricultural identity and suits the surrounding simple neighbourhood. Inside, the modern interior which is mainly comprised of wood and steel provides a completely functional dwelling for two.
From the Architect:
"With a 230sf footprint and 340sf total livable space, a central design challenge was attaining a sense of 'home' within a shape and size foreign to common perceptions of home.  Spaciousness and simplicity are achieved by accommodating all functions for living in a two-story walnut and black steel crescent that hugs the silo's southern perimeter.  This approach maximizes construction efficiency, usable floor space, and the perceived spatial volume of the interior.  Subterranean air ducts that mitigate mechanical noise from the air conditioning system also work passively, in conjunction with an operable skylight at the top of the silo to deliver passive cooling."
This project was accepted and recognized by the City of Phoenix Historic Preservation as an inspiration for working into entire community rehabilitation. As Christopher states it, this project is "…very appealing from a carbon-footprint, sustainability, and, shall we say, 'architectural rigor' standpoint."
Click on any image to start lightbox display. Use your Esc key to close the lightbox.